Brace Yourselves, the Drought's Not Close to Over Yet
Unless we get a lot of rain, soon, the U.S. is heading for another summer of drought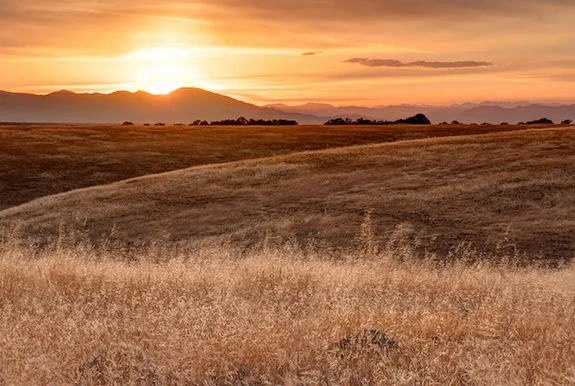 Across the United States, the ongoing drought, which has affected some regions for two years or more, is in all likelihood about to get much, much worse.
This past summer, the Department of Agriculture deemed most of the southwest, the midwest and the southeast in a state of natural disaster. The drought sapped groundwater stores, triggered gridlock on the mighty Mississippi, and threatened to reverse the flow of the Chicago River. The drought has already affected international food prices, and a shortage of water could upset energy infrastructure.
Now, says Climate Central, the countdown is on: "Without repeated, significant bouts of heavy snow and rain in the remaining days of winter, a large part of the country will face serious water supply shortages this spring and summer."
The National Oceanic and Atmospheric Administration released their seasonal drought forecast yesterday, and the outlook is dire.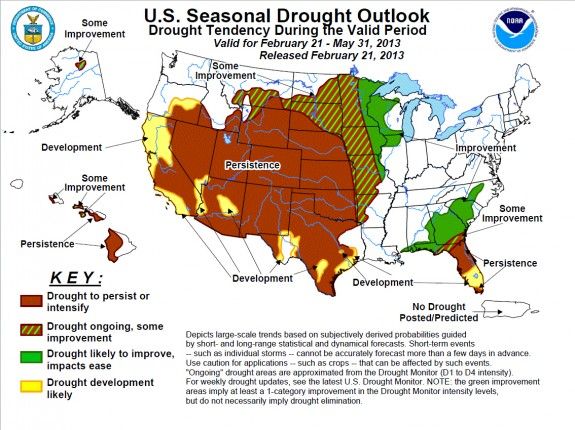 Climate Central:
Federal forecasters predict that drought will persist in the Rocky Mountain and Plains states, expand throughout northern and southern California and return to most of Texas, a state that has been mired in drought since 2011.
With the on-going lack of water, the worries about irrigation shortages and rising prices are giving way to concerns over the availability of fresh water.
With drought extending into its second or even third year in some areas, the main concerns are shifting from agriculture and recreation to water supplies as rivers run dry and reservoirs shrink.

… "We've got the same trend we had last year," Strobel said. "But prior to last year, we had very good snowpack, so there was a lot of moisture in reservoirs and soil" when drought conditions hit. This year, reservoirs are running low and soils are dry, which could magnify the impact of a winter without much snow buildup.
A continued drought could see a recap of the issues faced last summer, says Climate Central, including crop shortfalls, low rivers, and, possibly, a stage set for wildfires.
More from Smithsonian.com:
Watch Drought Dry Up America's Groundwater
U.S. Faces Worst Drought Since 1956