Astronaut Scott Carpenter, the Second American to Orbit the Planet, Dies at 88
John Glenn, who was a close friend to Carpenter, is now the last surviving astronaut from NASA's Project Mercury, the original space program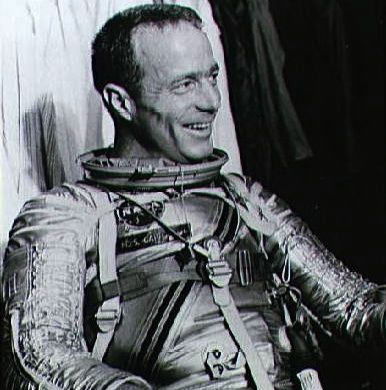 Former astronaut Scott Carpenter, 88, passed away on Thursday due to complications from a recent stroke. In 1962, Carpenter became the second American to ever orbit Earth. The New York Times comments on the significance of this achievement:
When Lieutenant Commander Carpenter splashed down off Puerto Rico in his Aurora 7 capsule on May 24, 1962, after a harrowing mission, he had fulfilled a dream.

"I volunteered for a number of reasons," he wrote in "We Seven," a book of reflections by the original astronauts published in 1962. "One of these, quite frankly, was that I thought this was a chance for immortality. Pioneering in space was something I would willingly give my life for."
Carpenter's family was well aware of this dream, and of the possibility that Carpenter might never return from his mission. Before Carpenter embarked upon that flight, his father sent him an encouraging letter, writing:
Dear Son, Just a few words on the eve of your great adventure–the adventure for which you have trained yourself and have anticipated for so long–to let you know that we shall share it with you, vicariously.

As I think I remarked to you at the outset of the space program, you are privileged to share in a pioneering project on a grand scale–in fact the grandest scale yet known to man. And I venture to predict that after all the huzzas have been uttered and the public acclaim is but a memory you will derive the greatest satisfaction from the serene knowledge that you have discovered new truths.

I find myself in my writings frequently calling upon Mother Nature to explain things and citing Her as responsible for the order in the universe. She is a very satisfactory divinity for me. And so I shall call upon Her to watch over you and guard you and, if she so desires, share with you some of Her secrets which She is usually so ready to share with those who have high purpose.
As the Times recounts, NASA actually thought that Carpenter had not survived his famous flight; he landed 250 nautical miles from his target, and it took a Navy search plane 39 minutes to locate Carpenter's Aurora 7 capsule and confirm his safety.
Here, you can watch a recount of that nearly disastrous flight:
After his flight, Carpenter went on to become an aquanaut, spending 28 days living in the underwater habitat SEALAB II and promoting ocean research and exploration throughout his life. "He was just as proud of being an aquanaut as being an astronaut," Cape Canaveral correspondent John Barbree told NBC News. He also went on to work as a movie consultant for space and ocean-themed films and wrote two novels and an autobiography, NBC News adds.
With Carpenter's passing, the Times writes, John Glenn, who was a close friend to Carpenter, is now the last surviving astronaut from NASA's Project Mercury, the original space program.
More from Smithsonian.com:
On May 5, 1961, Alan Shepard Went to Outer Space and Came Home
Apollo 11 Moonwalk Montage