America's Founders Were Scarily Young on July 4, 1776
How old were famous Revolutionary War figures on July 4, 1776?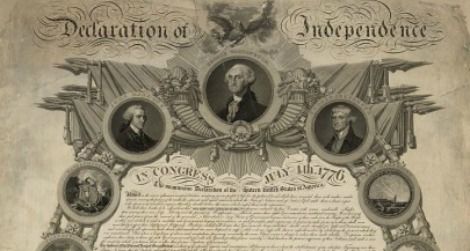 If the leaders of the Revolutionary War birthed America, then America's parents were young. Very young. When the nascent United States declared its independence on July 4, 1776, its youngest signer, Edward Rutledge from South Carolina, was just 26. But Rutledge wasn't the only young face to join the battle against the British.
Todd Andrlik, author of the book Reporting the Revolutionary War: Before It Was History, It Was News, compiled a list of the ages of many of Revolutionary War's notable figures, as of that first Independence Day.
Take Andrew Jackson, for example: long before he was President, from 1829 to 1837, he fought for America. The war began when he was just 9, and Jackson joined the cause a few years later. The Hermitage:
When he was thirteen, Jackson and his brothers joined the patriotic cause and volunteered to fight the British. His oldest brother Hugh died of heat stroke following the Battle of Stono Ferry in 1779. The following year, Jackson saw battlefield action at the Battle of Hanging Rock.
Andrlik's list goes on:
Not everyone who participated in the Revolution was so young. All in all the list spans seven decades, capping off with Samuel Whittemore: he went to battle during the early days of the war and, at 81 on July 4, 1776, beat out even Benjamin Franklin for the title of oldest revolutionary.
More from Smithsonian.com:
Where Are the Great Revolutionary War Films?
America's Issues with Voter Turnout Stretch Back More Than 200 Years