A Bust of Richard III, 3D-Printed From a Scan of His Recently Exhumed Skull
A forensic art team reconstructed Richard III's face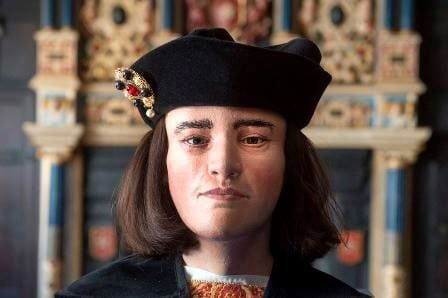 King Richard III, the leader of England from 1483 to 1485, was the last English king killed in battle—struck by an arrow during a fight for the throne. His body was buried in a church, the Greyfriars in Leicester, but as centuries passed his burial grounds were lost. In September, word came from a team at the University of Leicester that they may have found the dead king's body, buried beneath a parking lot.
Follow up work, including genetic testing, doubled-down on the assessment, an the question became what to do with the late king's recently-exhumed remains. Some want him re-buried in Leicester, where he fell. His family wants his body brought to York, to be buried alongside his relatives. But wherever Richard III's real skull goes, forensic artists working with the Richard III Society in Leicester are trying to make sure his visage is not lost again. They've created a bust of Richard III's head, which will go on tour around England over the next few years.
The forensic art team, says the Atlantic, tried to " determine what the king's face would have looked like in person (well, "in person")."
From there, the team used stereolithography – yep, 3D printing — to convert that rendering into a physical model of the king's face. They extrapolated details like hair color and clothing style from portraits painted during Richard's time.

The results of this endeavor are fairly creepily Tussaudian: The twisted-spined king, in the form of a 3D-printed bust, looks essentially like a decapitated wax figure. But it's a high-tech wax figure. The forensics-based model — which, yes, will now be going on a tour throughout England — offers a new perspective on an old story: It brings a new dimension, quite literally, to ancient history.
The first stop of that tour begins today, at the Leicester Guildhall.
More from Smithsonian.com:
Skeleton Found Under a Parking Lot May Be English King Richard III
The Battle Over Richard III's Bones…And His Reputation