This 13-Year-Old Girl Just Finished One of the World's Hardest Rock Climbs
Ashima Shiraishi scaled Spain's 'Open Your Mind Direct' in about ten minutes after a few days working on the project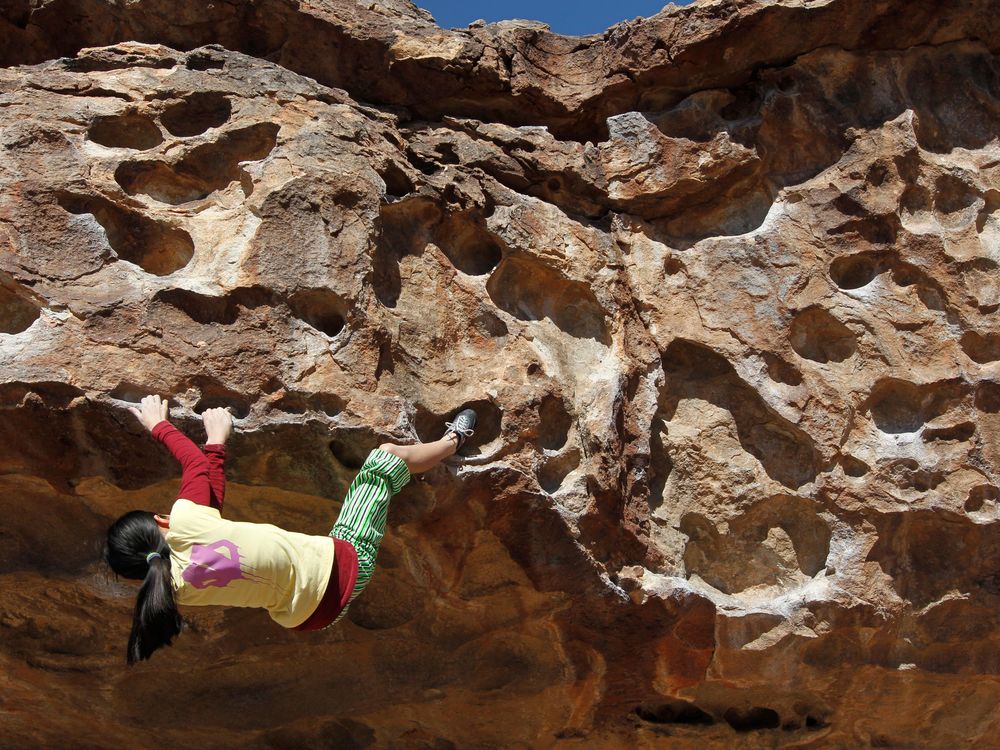 Open Your Mind Direct is the name given to a notoriously tricky rock climbing route in north-east Spain. On the lower part of the route, reddish brown rock curves like the inside of a barrel. On the upper part, climbers must swing their bodies in complex knots in order to reach the top of the overhanging cliff before their muscles "pump out." Only rock climbing's top men have managed to scale the route until now. 
The first woman to do it climbed the route in 10 minutes last week. Ashima Shiraishi is only 13 years old. The skilled climber from New York City announced her triumph on her Instagram:
The route was rated 9a in the European grading scale, until a hold near the top snapped off. That change has climbers saying the route is a solid 9a+ or 5.15a climb. As the Guardian reports, "No female climber, woman or girl, has ever climbed a 9a+ / 5.15a climb. There are only two recognized grades of difficulty above this, at the very pinnacle of rock climbing." The bump up in the grade needs to be made official, but that doesn't change the fact that Ashima's feat is extraordinary.
She powered her way up on the fourth day of her attempt. The Guardian explains:
Sport climbing, as it is known, means bolts have already been drilled into the rock for climbers to clip their rope to using carabiners, giving a high level of safety that leaves them free to battle wafer-thin holds, miniscule cracks – and gravity.

In the first attempt on her fourth day of trying, she climbed the rock in one go, moving fast in order to prevent her arm muscles burning out, which was when she reckoned she took around 10 minutes.

Ashima described one of the hardest sections, which required both power and endurance, and the agility needed to grip an overhanging section of rock with the few millimeters at the top of her fingers.
The New York Times profiled Ashima two years ago: the video gives a bit of insight into the dedication she has for her sport. She says she climbs three to four hours a day, five times a week, at climbing gyms in New York City. Bouldering provides her foundation—it involves climbing lower to the ground and requires navigating technically challenging routes without safety ropes.
Ashima's father, who immigrated from Japan before she was born, is one of her biggest supporters. Her dad was a dancer, she explains in the video, which gives him a unique perspective on Ashima's climbing.  "I can't teach her climbing technique," he says, "so I try to teach her how to move the body and focus." 
Ashima's pre-climb ritual involves a focusing exercise taught by her father. She told the Guardian that the translation from Japanese is imperfect but "is something like making your mind and your soul quiet and strong." 
At 13 Ashima is already conquering the routes experienced climbers find the most challenging. It's possible that as her body grows and her muscle-to-weight ratio changes, her skill may change. However, much of climbing is knowing how to move and place your body and how to stick with a route. "My dream is to climb around the world," she says in the video. "Hopefully climbing can be in the Olympics."