While the U.S. East Shivers, Unusual Heat Stirs Trouble Across the Globe
Cancelled dog-sled races and restless grizzly bears serve as reminders that global warming is still at work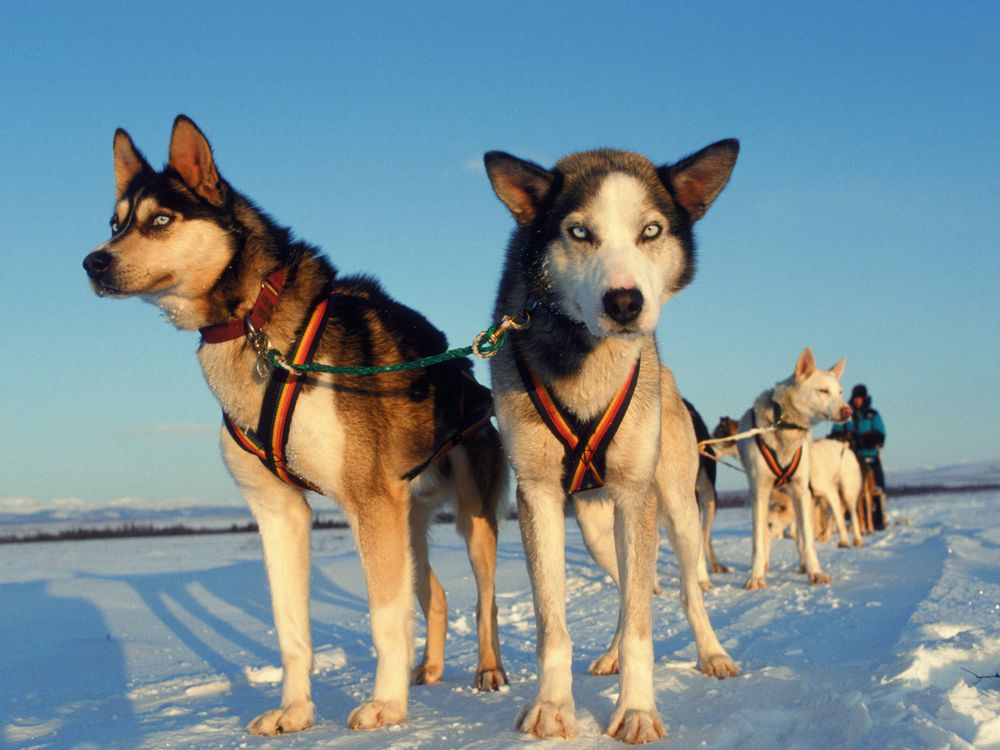 Last week, Oklahoma Senator James Inhofe brought a snowball onto the Senate floor as proof that climate change was a hoax. He was wrong, of course. Yes, it has snowed this winter in Washington, D.C., Boston has seen record snowfalls and the eastern half of the United States has generally been colder than average. But that doesn't mean global warming isn't happening—only that it's been a rough winter in one section of the world.
Climate change means that the globe is getting warmer as a whole, and last year was the warmest on record. But weather will vary geographically and from month to month, with some regions getting warmer than average and others colder. So though the U.S. East Coast may have been frozen for much of the winter, the story is different in other parts of the world, where people have been experiencing average to higher-than-normal temperatures.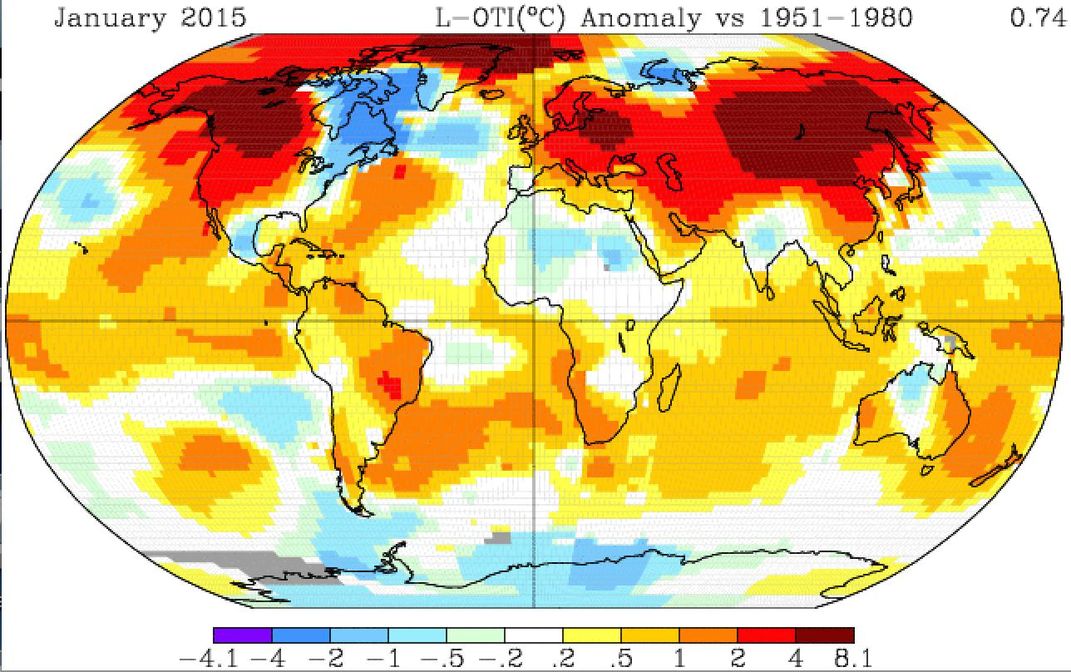 Here are a few examples of how this winter has played out in other regions:
Iditarod Moves North
The legendary Iditarod dog sled race typically starts in Anchorage, Alaska, ending 987 miles away in Nome. This year, though, the race's start was moved 300 miles north to Fairbanks due to lack of snow, which would have made some parts of the trail impassable. Iditarod mushers will still be able to compete, but those in another race, the Fur Rondy World Championship, will have to wait. That race, which has been run every year since 1946, was cancelled due to the unseasonably warm weather. Future dog sled races may face similar problems, as Alaska is warming twice as fast as the rest of the United States.
England Sees Record Sunshine
The UK Met Office (the official keepers of weather and climate records in that country) calculates that England probably saw its sunniest winter since 1929, with at least 189 hours of sunshine this past winter, according to preliminary data. More than just a happy circumstance for British citizens, sunny weather is an outcome of climate change. Storms are becoming more intense but fewer in number, and the flip side of that is more sunny days in between storms. Scotland, meanwhile, wasn't so lucky—that part of Great Britain had one of its wettest winters since 1910.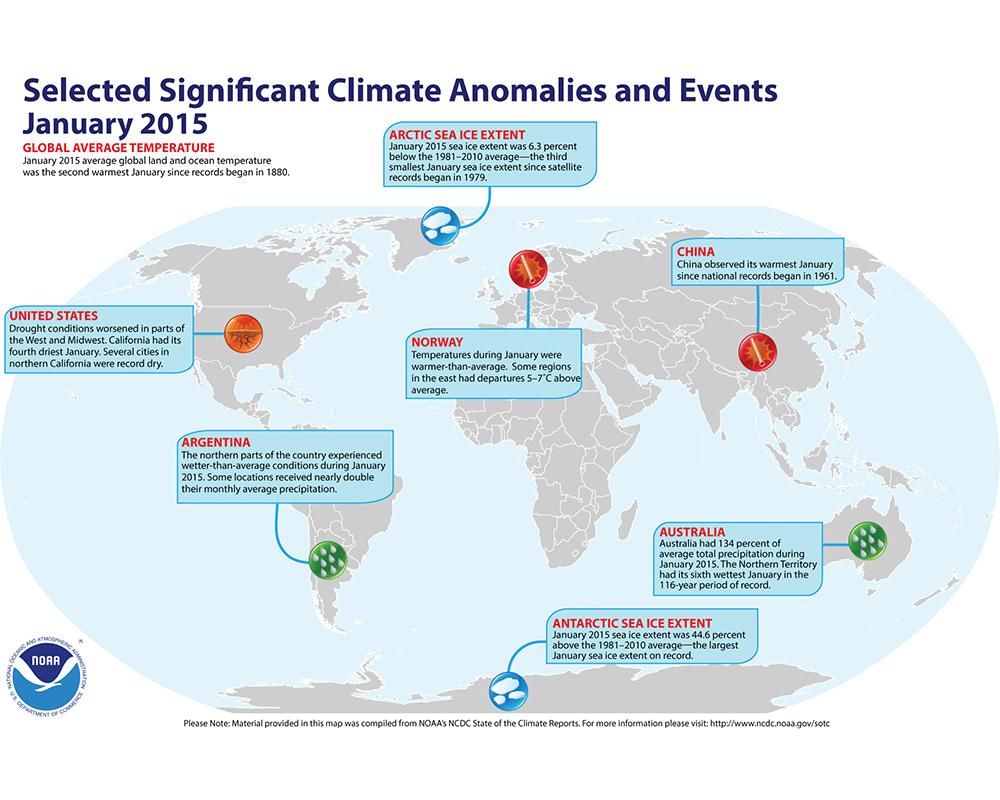 Early Wakeup for Yellowstone Grizzlies
Out West, states have been experiencing warmer temperatures and more often getting rain instead of snow. That prompted Yellowstone grizzly bears to start coming out of hibernation about a month earlier than normal. Early spring is also showing up in Vancouver—blueberry bushes began budding in mid-February, and the city is now enjoying its cherry blossom season. Such seasonal shifts are expected to occur more frequently with climate change, but there is a downside: mismatches in timing can occur that may cause ecological messes. A bird may arrive early to a feeding site, for instance, only to find that its food has not yet emerged from winter.
Exposed Trash in California
California is now in year three of a record-setting drought, which scientists say has resulted from a combination of dry conditions and rising temperatures caused by climate change. Lakes, reservoirs and other water bodies around the state are drying up. At Lake Perris, those falling water levels have exposed an array of trash buried when the lake's dam was built in the 1970s, as well as boats, lawn chairs and a "reef" of abandoned truck tires.
Australian Farms Overrun by Thirsty Camels
Unusual heat has also been plaguing the summertime months in the Southern Hemisphere. Western Australia, for instance, has been baking, with new records set in some spots, such as the Goldfields region east of Perth. Under these hot, dry conditions, feral camels from the Great Victoria Desert to the east have wandered into huge farms where livestock are raised in search of water. "It's a big problem at the moment, and we're getting over 200 camels at one windmill," one property manager told ABC news. "We've had troughs, fences, yards, tanks all completely destroyed by them." Hordes of thirsty camels may be the least of Western Australia's worries in the coming years. That part of the world is warming quickly and may see twice as many days of severe fire risk in 2030 compared with today.