What Conservation Buys You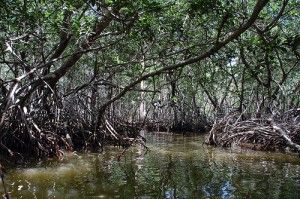 There's nothing that conservationists would like better than proving that protecting nature is good for people too, which is one reason why I try to remain skeptical about such claims. After all, when you fence in forests and wildlife, you're eliminating an important source of income, food and land for locals. In addition, protected areas are often located in the most impoverished areas, where communities have little chance of opposing pressure for conservation.
But a study published this week in Proceedings of the National Academy of Sciences provides some powerful new evidence that protected areas in Costa Rica and Thailand have boosted livelihoods. Although people near protected areas are still less well-off than the rest of the country, researchers found this had more to do with confounding variables such as forest cover, land productivity and access to transportation, which influenced both the placement of parks and the livelihood of residents. After removing those effects, the researchers found that the presence of parks reduced poverty in Costa Rica and Thailand by 10 percent and 30 percent, respectively.
The new study isn't the only evidence that conservation is good for the economy. In the current issue of Nature Conservancy magazine, I examined the value of mangrove forests to local communities. Off the Gulf of California in Mexico, for instance, fishermen living near the biggest mangroves reel in the most fish and crab. Specifically, each acre of mangrove brought in about $15,000 per year in seafood, a dollar amount 200 times higher than the forest's timber value.
Mangroves also save lives. Their spidery roots can reduce the force of waves pummeling the land during severe storms. Saudamini Das, an economist with India's Institute of Economic Growth, estimates that mangroves saved nearly 20,000 lives during the 1999 Orissa Cyclone in the Indian Ocean.
On the other hand, not every ecosystem will have as many tangible benefits as mangroves, and not every country can be Costa Rica, which has set aside a quarter of its land for conservation. As the Nature Conservancy's chief scientist, Peter Kareiva, puts it, "Quantifying ecosystem services will not protect all of the nature you want to protect, but it will generate public support for an awful lot of conservation."
Brendan Borrell will be guest blogging this month. He lives in New York and writes about science and the environment; for Smithsonian magazine and Smithsonian.com, he has covered the ecology of chili peppers, diamonds in Arkansas and the world's most dangerous bird.