Top 10 Science Volunteer Positions Around the Smithsonian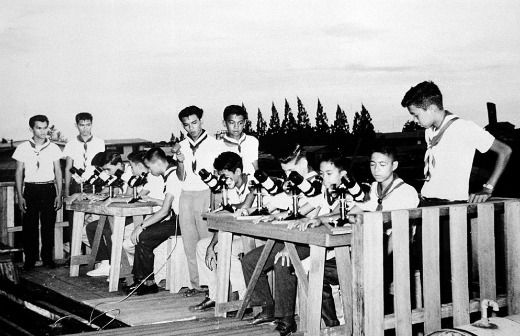 In 2009, nearly 6,700 volunteers labored for well over half a million hours for the Smithsonian Institution. "I feel pretty confident in saying the Smithsonian has one of the largest (if not THE largest) volunteer base of any cultural organization in the world," Amy Lemon, coordinator of Smithsonian's Behind-the-Scenes Volunteer Program (BVP) told me. "Anything a paid staff person would do at Smithsonian, a volunteer could be found doing the same thing."
Including oodles of science.
It would be impossible to do justice to every volunteer's work—each volunteer at Smithsonian does something especially fascinating—but here is a list of 10 of the top science-based volunteer gigs around the Mall and beyond:
Volunteer Forensic Anthropologist
After working in the department of anthropology at the National Museum of Natural History under forensic anthropologist and division head Doug Owsley, Sarah Spatz Schlachtmeyer wrote a book about her activities. A Death Decoded: Robert Kennicott and the Alaska Telegraph untangles the mystery of young scientist Robert Kennicott's death as he was exploring the Yukon River more than 150 years ago. No bones about it, volunteering time to fiddle around with human skeletal remains is definitely one of the more fascinating opportunities at the Smithsonian.
Volunteer Amphibian Research Biologist
The Smithsonian Tropical Research Institute in Panama offers opportunities for aspiring (and veteran) biologists. For example, Roberto Ibanez, STRI's leading amphibian research biologist, runs the Panama Amphibian Rescue and Conservation project, which rescues and establishes captive colonies of threatened and endangered amphibian species. Volunteers help to feed and house the amphibians. The project is just one of many programs at STRI actively seeking a large volunteer base. The 40 permanent scientists at STRI host nearly 1,000 visiting scientists every year and have projects in more than 40 tropical countries, with massive potential for anyone interested in volunteering.
Volunteer Entomologist and Tarantula Handler (Arachnologist)
Volunteers with the National Museum of Natural History's O. Orkin Insect Zoo (no it's not an attempt at irony, the extermination company contributed funds to the bug menagerie) regale visitors with insect factoids and, yes, put on live shows with the zoo's many tarantula residents. These volunteers attempt to "make connections between visitors and these seemingly alien creatures," says Bridget McGee-Sullivan NMNH volunteer manager. It's certainly not the volunteer position for me, though (I kept my distance from the eight-legged monsters, even with a quarter-inch pane of glass in between us); I would much prefer the Butterfly Pavilion.
Volunteer Primatologist
One of the many behind-the-scenes volunteer positions at the National Zoological Park—jobs that include collecting panda dung for study and keeping tabs on the intricacies of flamingo behavior—is golden lion tamarin monitor. Though the tamarins have not been ranging free this summer across the grounds of the zoo, usually they are tracked by a dedicated corps of volunteers who take notes on the Brazilian primates and explain to visitors their endangered status, part of the zoo's nearly 40-year project of golden lion tamarin conservation.
Each month more than 450 people volunteer through Friends of the National Zoo, says Mike Frick, who manages FONZ's Behavior Watch program. They donate their time and energy to help zoo staff care for and collect scientific data on the animals exhibited at the zoo and those located at the zoo's Front Royal, Virginia campus, the Smithsonian Conservation Biology Institute.
Data collected by volunteers is used for national conservation efforts, monitoring breeding behavior of the zoo's animals, helping zoo keepers prepare diets for the animals and "research into the life history of animals that are either so rare or elusive in the wild that studies on captive individuals are the only means by which scientists have to understand them," Frick says.
Volunteer Horticulturalist
Amateur gardeners, retired botanists and other interested individuals can find a place to call home among the fecund gardens of the National Zoo. The Pollinarium, Heritage Gardens and Butterfly Garden are home to a vast array of wild and rare plants and flowers that all need gardening and care. Volunteer horticulturalists can also be found beyond the zoo's grounds; eight Smithsonian gardens are located around the National Mall, all requiring dedicated volunteers to tend.
Volunteer Forest Ecology Researcher
At the Smithsonian Environmental Research Center on the Chesapeake Bay, bank executives and other volunteers gather data from Maryland's forests on how it is being affected by logging and climate change. There are 18 research laboratories at SERC studying topics that range from earthworms to native orchids to forest ecosystems, says SERC outreach coordinator Karen McDonald. SERC usually hosts 60 to 90 volunteers, depending on the season, who take part in tasks that include tagging blue crabs and building fences to limit deer movement  for studying the effects they have on their ecosystem.
Volunteer Planetary Geologist
Throughout the National Air and Space Museum, volunteers are strategically placed with 12 "Discovery Carts" giving demonstrations on all manner of topics, such as aviation and astrophysics, allowing visitors to interact with items that relate to the collection. One standout is the falling-stars cart, which lets visitors touch pieces of meteorite that have made their way to Earth from around the solar system. Visitors learn from the cart's volunteer planetary geologists about these meteorites and what their different properties and chemical make-ups can tell us about our solar system. "There's something magical about handing someone a rock that looks like a piece of coal then seeing their face when you tell them that it's as old as the solar system," Tom Hill, an NASM volunteer, told discovery station program coordinator Beth Wilson.
Volunteer Chemist and Innovation Facilitator
At the National Museum of American History's Spark!Lab, volunteers encourage the young and young-at-heart to express their own inventiveness. Volunteers and staff facilitate interactive experiments in chemistry, physics and genetics. It's just the place for a volunteer mad scientist.
Around the Mall talked to Spark!Lab's "Resident Eccentric," Steven Madwell, a couple of years ago.
Volunteer Naturalist
Volunteers at the Smithsonian's Naturalist Center in Leesburg, Virginia, spend their days answering questions of inquisitive minds, from kindergartners to high school seniors. "Every day is an adventure for Naturalist Center volunteers," NMNH's McGee-Sullivan says. "You never know who will walk in the door and what type of question will be asked of a volunteer." One five-year-old girl brought in a partial skull from the playground, McGee-Sullivan says. The volunteers at the Naturalist Center helped her discover that it was the skull of a cottontail rabbit.
Volunteer Zoologist
Within the walls of the National Museum of Natural History's Discovery Room, volunteers interact with visitors as they examine fossils, skulls, shells and other objects from the museum's collection. These volunteers have one of the most important jobs of all: inspiring scientific curiosity in Smithsonian visitors and honing the visitors'skills in observation and inquiry, giving them the tools they need to answer all their questions about the natural world.
Outside of Smithsonian Institution and Washington, D.C. there are an abundance of opportunities for citizen scientists to get their volunteer on. Behind-the-Scenes Volunteer Program's Lemon says rough estimates indicate there are more than a million volunteers at America's 17,000-plus museums.
Michael Gold and the rest of the staff at ScienceForCitizens.net have developed an entire online community for citizen scientists. The Web site allows those wishing to volunteer for science to connect with real volunteer projects and research opportunities in their area to match their interests.