Melinda French Gates on Saving Lives
The co-chair of the world's largest philanthropy talks about what can be done to improve global health and poverty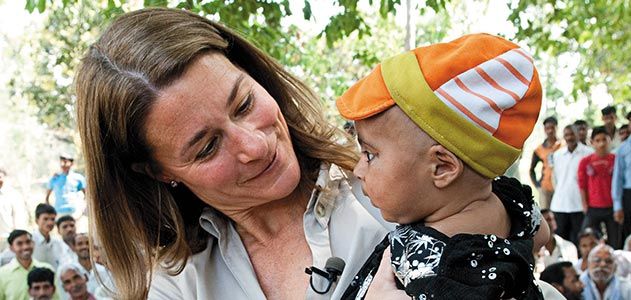 "We decided we would use our money to help give everyone, no matter where they live, the opportunity to live a healthy and productive life," Melinda French Gates tells Smithsonian.
One of the few people in the world who can say such a thing and mean it literally, Gates is a co-chair of and, by most accounts, the conscience of the Bill & Melinda Gates Foundation, the world's largest philanthropy.
It was in 1994 that Melinda French, then a Microsoft executive, married the company's founder and chairman, Bill Gates. The couple launched the foundation that same year with a donation of stock worth $94 million, and has since made contributions valued at $28 billion.
The foundation has given some $22.7 billion to development, education and health projects in the United States and more than 100 nations. Executive editor Terence Monmaney's e-mail exchange with Melinda Gates focused on the charity's health efforts.
Your foundation has donated $1.5 billion to the GAVI Alliance, a partnership to deliver vaccines to children in developing nations. The program may have averted as many as five million premature deaths. What does its success mean?
It reinforces our conviction that strategic investments can make a huge difference in poor people's lives. GAVI also teaches us that partnerships are critical to having an impact at the scale we're aiming for. If these partnerships keep growing, we believe vaccines can significantly reduce child mortality rates in the near future. That's why vaccines are the foundation's number one priority. We've already spent $4.5 billion to help develop and deliver vaccines, and in January we announced a $10 billion commitment to extend this work over the next decade.
As you look toward 2050, what achievements in global health do you anticipate?
I believe polio and malaria will be eradicated. I hope an AIDS vaccine will be widely available. Not only will those three changes alone save about three million lives per year compared to today; they will also save billions of dollars we're currently spending on treatment, which means we can invest more in other priority areas.
One of those areas is neonatal and maternal health. I expect that by 2050, women around the world will have the ability to give birth in a safe, healthy environment and have access to basic health care for themselves and their families. Right now, almost nine million children under the age of 5 die every year, four million of which are newborns. I am confident we'll see a dramatic decline in both of these numbers. In fact, we believe that the total number of deaths among children younger than 5 can be cut in half by 2025, using tools that are already available.
Poverty is often viewed as intractable. What has your experience taught you about it?
History has shown that it's possible for people to overcome even extreme poverty and hunger. Many countries that used to receive aid in the 1960s, like Brazil and Thailand, are now net donors. In fact, the number of countries receiving aid has been cut in half since the 1960s.
We also know that certain strategies have an immense impact. Investing in agriculture, for example. Advances in agriculture during the Green Revolution doubled food production, saved hundreds of millions of lives and laid the groundwork for broader development in many countries.
Recent history has also shown that access to financial services can empower people, especially women, and build up families and entire communities. At the Gates Foundation, we are particularly interested in the potential of small-scale savings accounts to improve poor people's lives. When people have reliable access to savings, they don't risk total destitution if there's a death in the family or a bad crop.
In January, I visited some villages being served by Opportunity International Bank of Malawi to see how savings impact people on the ground. It's building inexpensive bank branches—one was made out of three shipping containers—and setting up kiosks in shopping centers and post offices. It also operates seven trucks that bring banks to remote places, which is important since 85 percent of Malawians live in rural areas. I saw people waiting in an hour-long line to make an average deposit of about 200 Kwacha, or $1.40. That's how much demand there is for savings in poor communities!
Are there foreign aid approaches that are not as effective as you once thought they would be?
Certainly there has been spending that hasn't had its intended impact, and we've learned a lot from those experiences. But on the whole, the things that Bill and I have seen and heard on our travels—as well as the key statistical indicators—make it clear that U.S. investments in global health are working. Dollar for dollar, global health is the U.S. government's best investment.
But too many Americans have no idea about the extraordinary value of these programs. Nearly half of Americans think that foreign aid is one of the biggest parts of the federal budget, even though it actually accounts for less than 1 percent of government spending. And global health funding accounts for just a quarter of all foreign aid—about one-quarter of 1 percent of the overall federal budget.
What will make a lasting impact on poverty?
I'm excited about the ways technology is helping poor people make progress faster. In Kenya, nearly nine million people are using mobile phones to transfer money. That means that if a person needs to send money to her mother in a faraway village, it's now as easy as sending a text message. As regulators find ways to ensure the safety and security of new financial services and more new products are designed to meet the needs of the poor, financial security will be within reach for millions of families in the developing world. They will have the ability to save for emergencies, pay for health care for their families, start a business or send their children to school.
What importance does the Gates Foundation put on curbing population growth?
We often get asked if improving health or lowering child mortality rates will contribute to overpopulation. Bill and I used to ask ourselves the same question. We learned that just the opposite is true. When a country's health improves, it sees tremendous benefits in all sorts of areas, including lower birthrates. Research shows that when women know their children will survive to adulthood, they choose to have fewer children.
Inevitably, the foundation has been criticized as too powerful and insufficiently transparent. What do you make of such criticisms?
It's essential that critics challenge our thinking and question our strategies. That's how we get better at what we do. We have always been adamant that our success depends on our partners in the field, and we make a point of getting their feedback. We recently conducted an exhaustive survey of all our grantees to understand how we can work more effectively with them. We also have advisory boards that provide regular, expert counsel to our three program areas. In terms of transparency, we publish updates about our strategies and what we are learning at www.gatesfoundation.org.
You have referred to mistakes as "learning opportunities." Which have had the greatest impact on your thinking?
One thing that was driven home on my last trip to India was how important it is to pair the best science with a deep understanding of traditional cultures. I was in Rae Bareli, a rural village in northern India, to see a project called Shivgarh. This is a Johns Hopkins research site that our foundation and USAID funded together, and the goal is to decrease infant mortality. The first six months of the Shivgarh project was spent on research to understand current newborn care practices, with a focus on identifying the practices that lead to neonatal deaths, and analyzing the perceptions on which these practices are based.
The researchers found that most mothers didn't understand the importance of skin-to-skin contact, immediate breast-feeding or keeping the umbilical cord clean. However, by making analogies to important local customs, health workers were able not just to tell women what to do but also to explain why they should do it. In less than two years, Shivgarh has seen a 54 percent reduction in neonatal deaths in the target areas.
Studies suggest development aid goes furthest if it is directed to women. Is that your experience?
The health of women is inextricably linked to the health of young children, families and entire communities. We invest in programs like Save the Children's "Saving Newborn Lives" initiative, which helps pregnant women and their babies with simple strategies like increased access to skilled birth attendants and education about hygiene and breast-feeding. We also support programs to increase access to family planning and HIV prevention services in developing countries.
But agriculture may be the area where the special role of women in development is most clear. Most small farmers in sub-Saharan Africa and South Asia are women, but a lot of agricultural interventions don't take that into account. Some programs aim to increase the productivity of crops without understanding that higher production can mean that women have to work longer and harder in the field, leaving them less time to care for their households; that can undermine the welfare of the household in general. And we know that when a woman gets cash for her work, she is more likely than her husband to spend it on things like food and school fees.
In your travels, what experience has moved you most?
I was in Malawi earlier this year, and at a hospital in Dowa, I saw two newborn babies lying in an incubator, side by side. The first baby, who had just been born at the hospital, wasn't breathing because of birth asphyxia. The baby turned purple, and I watched as the doctors worked to clear the lungs. They administered oxygen and were able to get the baby breathing again. The second baby was also born with birth asphyxia. Only that baby wasn't born in the hospital; it was born a few hours before and brought to the clinic. For that baby, it was too late. That tragedy made it very clear what's at stake with the newborn health work we're investing in. The work our partners are doing to help mothers deliver their babies in a healthy environment saves lives.
It's heartbreaking and inspiring to be in these rural villages and see what the mothers and fathers are up against—and how much they overcome. When I see that a baby in Malawi can be saved because she's born in a hospital, I am filled with hope that a similar approach will work for mothers and babies in other countries. To know that real change is possible is what gives me optimism.