Keep Kangaroos at Bay the Dingo Way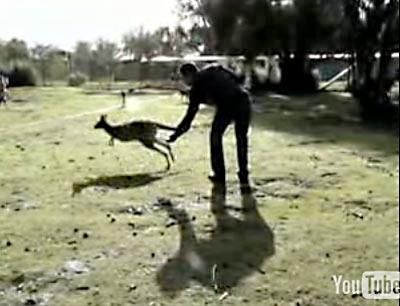 Cheers to New Scientist's Environment blog for keeping us up to date on current research in dingo urine. (If you're pressed for time, watch the YouTube clip: 28 seconds.)​
Turns out Australia has upwards of 50 million kangaroos hippity-hoppitying around the arid continent. Cute as they are, kangaroos are major pests on farms and rangelands. To get the general idea, imagine your garden variety rabbit or woodchuck, scale it up to about 200 pounds, and ask it what it wants for dinner.
Current kangaroo reduction measures include shooting, poisoning, supplying birth control, and distributing recipes online. (Herb and caraway crusted kangaroo escalopes on soft olive polenta, anyone?)
But all it takes is a whiff of fresh dingo urine to send a kangaroo fleeing. The YouTube still above shows a kangaroo just moments after taking a full dose straight up both nostrils.
Perceptive Gist readers may be less than astounded to find that kangaroos find the smell of urine objectionable. But apparently they only flee from dingo pee - human urine causes them no consternation at all, and coyote whiz produces only momentary pause.
The last remaining details to be worked out involve the, er, supply side. It turns out that high-quality dingo urine can be hard to lay your hands on. It has to be fresh to be effective, and apparently you can't artificially bump up a dingo's productivity without compromising the effectiveness of the result. Nature must be allowed to run its course, it appears.
As a result, dingo urine fetches around 350 Australian dollars per liter (about as much as a bottle of Cristal) and gets shipped around the country on liquid nitrogen to keep it fresh, New Scientist reports.
There were no details about how the wonder solution is collected.