Have You Seen These Women?
Female scientists in history, photos and blogs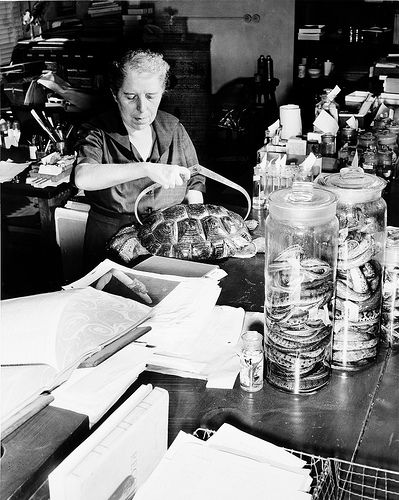 Though underrepresented in some fields, female scientists are no longer rare. That wasn't the case for a very long time. Usually when you see historical photos of scientists, there will be only a woman or two among them. The Smithsonian Institution Archives, though, has put together a collection of historical photos of female scientists and published it on its Flickr page.
My favorite is this 1954 photo of Doris Mable Cochran (1898-1968) as she measures a turtle shell. Cochran was a herpetologist here at the Smithsonian Institution. Through the course of her career, she described more than 100 species and published dozens of papers and several books on reptiles and amphibians. To learn more about Cochran, check out this post from The Clutter Museum.
And for more blog posts about women in science, go to findingada.com. More than 1,500 bloggers have pledged to blog about women in science today in honor of Ada Lovelace, daughter of the poet Byron and one of the world's first computer programmers.