Every Day a Different Dish: Klari Reis' Petri Paintings
This year, a San Francisco-based artist will unveil 365 new paintings, reminiscent of growing bacteria, on her blog, The Daily Dish
For all 94 days of 2013 thus far, Klari Reis has kept to her resolution. The San Francisco-based artist has posted a new petri dish painting—eye candy for any sci-art lover—to her blog, The Daily Dish.
Reis' circular art pieces are explosions of color. The yellows, pinks, purples, greens, oranges, reds and blues in the paintings take on a smattering of different shapes, including amorphous blobs, radiating fireworks and wavy veins that resemble, quite intentionally on Reis' part, what a scientist might see when gazing through a microscope. The artist gives her creations playful names, little quips, really, that spring to mind when she looks at the designs. Blueberry Pie. That One Time in the 80′s. Peachy Keen. Jellyfish with a Brooch. Absinthe on the Rocks.
Just yesterday, she introduced Taylor Swift—a flower-like pattern in lemon yellow. (Check it out, above.)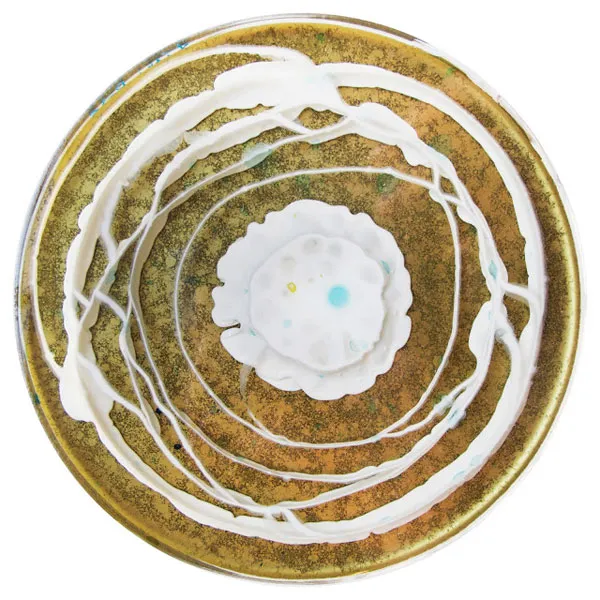 The project, though begun in earnest this year, has been a long time coming. Reis, now in her mid-30s, was diagnosed with Crohn's disease more than a decade ago. Shortly after her diagnosis, she left a stressful job as an architect in San Francisco to pursue a career in fine art. While studying at City and Guilds of London Art School, she was in and out of the hospital, trying to wrap her head around the differences between medications she was being prescribed in the United Kingdom and those she had been given in the United States. "I knew I was allergic to this one medicine in the U.S., but they called it something different in the U.K.," says Reis. "So, I just felt like it was pretty important for me to understand what these drugs really were and what they did on the inside."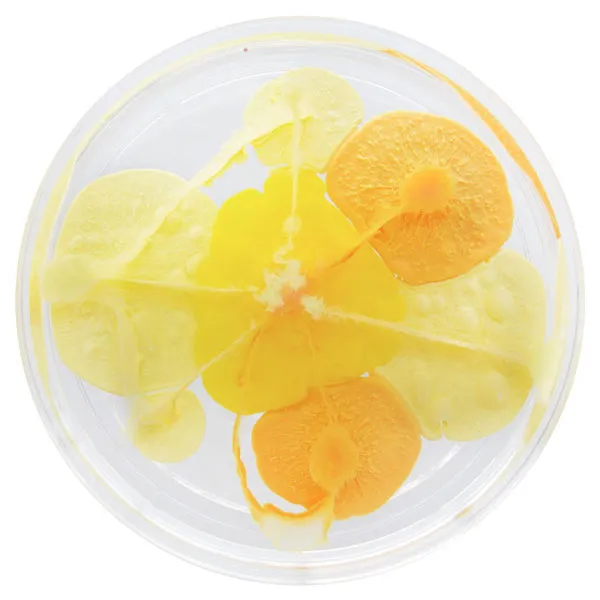 In 2002, Reis' doctor at St. Thomas' Hospital, a teaching hospital connected to King's College, invited her to his lab. There, under a microscope, he showed her dozens of samples of her blood reacting to different medicines. Intrigued with the cellular reactions she saw, particularly how cells morph and duplicate when different influences enter the body, Reis began painting some of the imagery on canvas and wood and aluminum panels, by memory. "My first 100 paintings were all named after different drugs," she says. "They weren't exact replicas of what I saw under the microscope, but were very much inspired by it."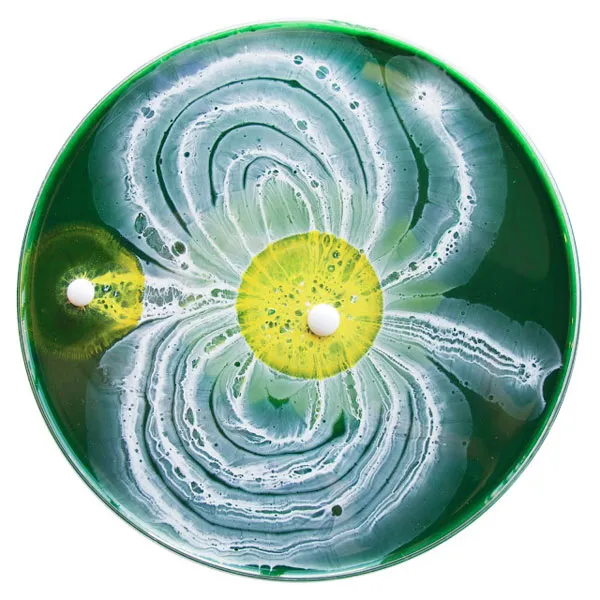 After three years in London, Reis returned to San Francisco, where she continued to work at the intersection of art and science. Several biotech companies in the Bay area granted her access to their labs and commissioned educational paintings from her, depicting pharmaceuticals in action. But, then about four years ago, in what she describes as a very natural progression, Reis branched away from this work, and away from canvas, wood and aluminum, to create paintings within actual petri dishes.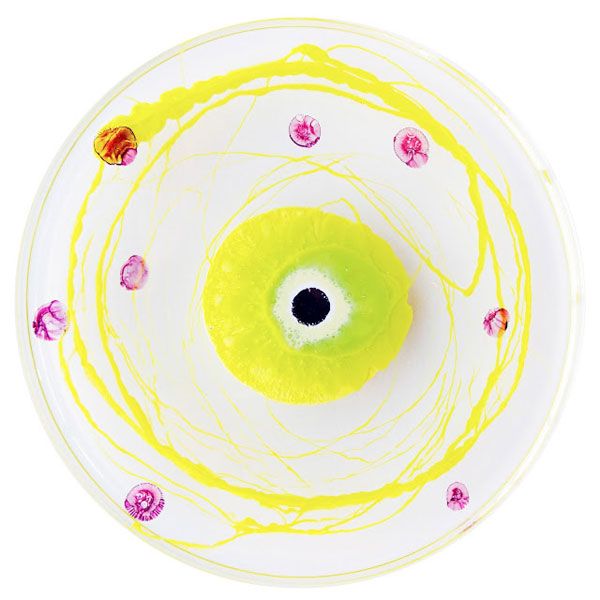 "What I like about what I do is that it is different," says Reis. "I use unconventional materials."
Reis starts with a petri dish, one of three sizes of dishes she purchases from a biotech supply company. The smallest dishes are about three inches in diameter. The medium-sized dishes, standard in high school science labs, measure 4.5 inches, and the largest ones are about six inches across. Then, wearing a mask and a biohazard suit, she heats up epoxy polymer—a shiny plastic medium found not at an art store but at a place like Home Depot because it is often mixed with cement to create flooring (she was first exposed to the product during her days as an architect)—and adds color to it using powders and industrial dyes. Once the plastic is a syrupy consistency, she applies between three and five layers within a petri dish. Reis has become looser and more abstract in her designs, but they still call to mind cultures of bacteria growing in petri dishes.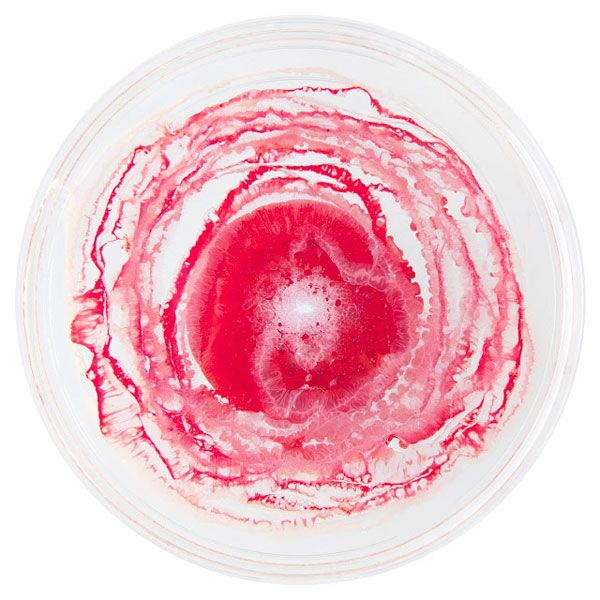 Just when you think Reis may have exhausted her options, she unveils a delightful new design. Each petri dish is remarkably different. "I feel like there are endless possibilities," says Reis.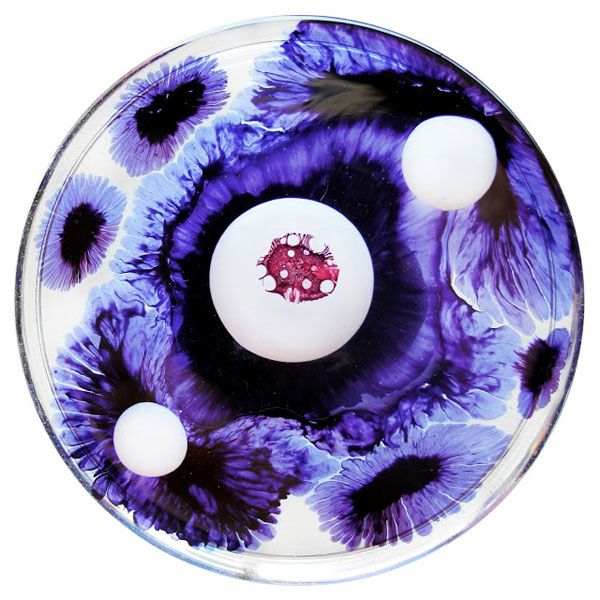 "What does the next one look like?" I ask, hoping for an inside scoop on the next dish to hit her blog.
"Ah," Reis says, "You'll have to wait and see."