Dinosaur Sightings: Rusty Bones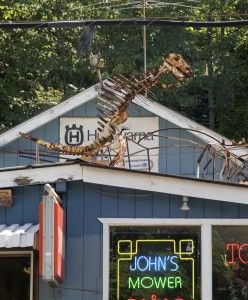 Today's Dinosaur Sighting comes to us from reader Mark Ryan.
While traveling along Route 97 just outside of Port Jervis, New York, Mark spotted this rusty spinosaur on a business rooftop. Looks to me like this dinosaur could use a touch of Rust-Oleum.
Have you stumbled across a dinosaur in an unexpected place? If you have, and have a photo of the encounter, send it to us via [email protected]!