Death in Happy Valley
A son of the colonial aristocracy goes on trial for killing a poacher in Kenya, where an exploding human population is heightening tensions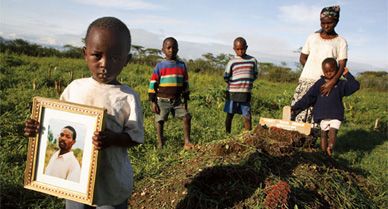 Editor's note:On May 7, 2009, Tom Cholmondeley was convicted of manslaughter in the 2006 shooting of Robert Njoya.
One afternoon last May, a bearded 36-year-old black man named Robert Njoya set out with friends to hunt for bush meat on a private ranch called Soysambu, in the heart of Kenya's Great Rift Valley. They brought along a pack of dogs for running animals into wire snares, and they carried an iron bar for clubbing their catch, and pangas, or machetes, for butchering the meat.
That same day, a 38-year-old white man named Tom Cholmondeley, whose family has owned and managed Soysambu for almost a century, was touring the 48,000-acre property with a friend. He carried a 30-06 rifle loaded with soft point bullets, as a precaution against buffalo.
Late that afternoon, in a dense stand of acacia trees and lelechwe bushes, the two parties crossed paths. Cholmondeley knelt and fired a series of shots. Two dogs died on the spot. One bullet also hit Njoya, who was carrying a partly butchered impala. The bullet entered the outside of Njoya's upper left buttock, burst through the pelvic girdle, lacerated the femoral artery leading to the left leg, cut the sacrum in half, shattered the pelvic girdle on the right side and lodged in the muscle between hip and waist. Soon after, at a hospital up the road, Njoya was dead, of massive bleeding.
It was the second time Cholmondeley had shot and killed a black man on the ranch in little more than a year. The first incident had passed without criminal charges, because Cholmondeley said he had mistaken the victim, a wildlife officer, for an armed robber in an area where robberies are epidemic. But this time much of Kenya erupted in outrage. Cholmondeley (pronounced Chumley) suddenly looked like a throwback to the arrogant behavior of early British colonists, notably including his own great-grandfather, Hugh Cholmondeley, the third Baron Delamere, unofficial leader of the British settlers who began arriving in Kenya in 1903. In the aftermath of the Njoya killing, politicians proposed stripping the family of Soysambu and distributing the land to poor farmers. Police took Cholmondeley away to prison in Nairobi, where he is currently on trial on a charge of murder, with a maximum penalty of death by hanging.
The Njoya killing was only the latest incident in a wave of violence around the lakes of Kenya's Great Rift Valley. In another notorious case, a few months earlier and a few miles down the road, a gunman armed with an AK-47 had slain Joan Root, the noted filmmaker and conservationist, in her bedroom overlooking Lake Naivasha. Police called it a robbery. Friends said it was a contract killing provoked by her highly public efforts to keep poachers from destroying the fish in Lake Naivasha.
The violence seemed to pitch whites against blacks. But race was largely incidental to the underlying issue—the struggle to protect wildlife, water and other resources, in the face of a rapidly expanding human population desperate to feed their families. Longtime residents of the lakes remembered when they could lie in bed and hear lions roar, and when herds of large animals still wandered freely there. But now it seemed as if people were fighting and dying their way down to the bottom of the food chain. Nor was the body count limited to human beings and the animals they eat. Throughout 2006, the vast flocks of flamingos for which the lakes are famous were also falling victim to a malady puzzled scientists dubbed "the pink death." Robert Njoya and Joan Root were thus merely the most prominent victims in what some valley residents were beginning to fear might be a broad ecological collapse.
At least in the imagination, few places on earth seem as vast and unchangeable as the Great Rift Valley. It's a broad seismic cleft running much of the length of Africa, from Ethiopia down to Mozambique. Astronauts in orbit have described it as one of the earth's most visible geologic features. Paleontologists have celebrated it as the birthplace of humanity, because of the discovery of Lucy and other early hominid fossils there. Writers also have dwelt lovingly on the Great Rift Valley, particularly on the area in Kenya from Lake Naivasha up through lakes Elmenteita and Nakuru. This picturesque landscape was pioneer territory for the hunters and settlers in Karen Blixen's Out of Africa And it became infamous in books such as White Mischief; as"Happy Valley" where aristocratic settlers, including Lord Delamere himself, indulged in a movable feast of drugs, drink and debauchery.
From Nairobi, it's now a two-hour trip out to the lakes, and my driver, a 48-year-old Kenyan named Jagata Sospeter, turned the journey into a chronicle of loss. At Mimahu, where the left side of the road suddenly opens up to reveal the broad, dusty bottom of the valley far below, he said, "In the 1970s, there were no houses here. It was all forest. I used to come here on foot." At Maingu, where young men played soccer on a marsh dried out by years of unreliable rainfall, he said, "We had rhinos here 20 years ago. There was very much water then." And crossing the Malewa River, he added, "It used to have hippos. But now the water is very low.
Kenya's human population has doubled since 1980, to 35 million, and much of it now sprawls out along the A104 highway, turning the open spaces of the Rift Valley into a patchwork of shambas, tin-roofed farmhouses surrounded by an acre or two of parched maize plants. In the booming agricultural centers of Naivasha and Nakuru, newcomers have thrown together dense slums of stone and scrap lumber. On the outskirts, pockets of red-tile roofs appear on the sort of prosperous houses you might find in a California exurb. Every stretch of bare soil sports a hand-painted real estate sign: "Plots for sale."
Since the mid-1980s, Naivasha has become the center of Kenya's flower export industry, attracting European companies with its low wages, rich volcanic soil and water from the lake. Greenhouses for roses and chrysanthemums now crowd the shoreline in tight formation. From a distance, it can seem as if Mount Longonot, a defunct volcano, has spilled down a seamless lava flow of plastic sheeting. Women in bright green work coats walk to and from flower farms along the road. They've come from all over Kenya, with thousands of others still unemployed, for jobs that pay $72 a month.
According to her friends, Joan Root didn't so much resist this change as attempt to moderate its worst excesses. She and filmmaker Alan Root had bought an 88-acre farm beside the lake in 1963, when they were a young married couple and Naivasha was still a backwater. They used it as a retreat when they weren't off in the bush filming wildlife.
Alan and Joan Root had made their name as one of the most successful natural history filmmaking teams in the business. He dreamed up stories for the BBC or National Geographic, and she organized the details to make them happen in the field. After the marriage ended in the 1980s, the farm became a sanctuary both for Joan and for the wildlife that were her great passion. Hippos still snarfle in the dense stand of papyrus along the shoreline there. Dik-diks, a type of mousy little antelope, graze on the front lawn. A pair of crowned cranes pester staffers for food.
At the farm, Root gradually took up a new life as a conservationist. The lake itself was shrinking because of the demand from the flower farms and their workers. Small farmers in the surrounding hills were also stripping away the forests and diverting tributaries for irrigation. Lake Naivasha, once so clear you could see to the bottom, had turned murky with agricultural runoff and overflowing pit latrines.
Root focused her efforts on poachers who threatened to empty the lake of fish with their nets. They also cut down the dense lakeshore papyrus, to avoid being ambushed by hippos and buffalo hiding there. Root tried to explain that the water around the papyrus served as the nursery for next year's fish. She advocated things like gill nets with a bigger mesh, so smaller fish could get through and live to breed. Root enlisted the poachers themselves to patrol the lake as a private anti-poaching task force. Friends told her it was foolish to become so personally identified with the task force. Her efforts caused the entire fishery to shut down for a year of recovery. "It was very easy to turn around and say, 'Because of that bloody woman, we've lost our livelihood,'" said Adrian Luckhurst, a friend and business partner. Getting in the way of that livelihood could be dangerous.
Root's house, now closed up, is a modest one-story structure in a stand of tall, graceful yellow-fever acacia trees. It has a rusting tin roof, and the skull of a hippo gathers dust in a corner of the porch. An askari, or watchman, named Khalif Abdile patrolled the property the day I visited. He was recovering from a hippo attack and bent his slender frame into a frail stick that served as a cane.
Abdile was the askari on duty the night in January 2006 when Joan Root was shot to death. He pointed out the fork of a fallen tree where he'd been lying, his head on one trunk and his feet on the other, when two intruders first appeared around a stand of bushes a few feet away. One carried a panga, the other an AK-47. They wore hoods to hide their faces. Abdile pressed a button, setting off a noisy alarm atop the house and sending a telephone alert to a private security force. The intruders briefly debated whether to find and kill the askari, but then proceeded instead to the house. "Let's do the work," Abdile heard one say.
Abdile retraced their footsteps for me from window to window around the house. At the back of the house, they opened a gate to a tortoise compound and walked up to Root's bedroom. The AK-47 blew open the lock on an outside door leading to the bathroom. But a steel security door just inside stopped them. Then, said Abdile, they broke open a bedroom window and started talking to Root: "Open the door and we won't kill you. We just need the money." They moved to another window, where Root was now on the phone calling for help. The gunman sprayed the room with bullets, hitting Root and knocking her to the floor. Then the two of them turned to leave, thinking they had killed her.
But Root had only suffered a wound to the thigh, and now, said Abdile, she reached for a flashlight, perhaps to find her mobile phone or her eyeglasses. ("That was Joan," an American friend said later. "She always had a flashlight nearby.") One of the attackers saw the light come on and said, "She's still alive." They turned back and the gunman fired again through a window as Root dragged herself around the bed toward the bathroom, where the high windows and the steel door promised refuge. Hit by more bullets, she died, at age 69, on the bathroom floor.
Police quickly traced the assailants to a slum called Karagita, a few miles up the road. Among those the police arrested was a former poacher who had become Root's right-hand man on the anti-poaching task force.
In the handsome neo-Classical law courts building in downtown Nairobi, the trial of Tom Cholmondeley in the killing of Robert Njoya proceeded by fits and starts. Justice Muga Apondi was hearing the case without a jury, during a week of testimony in September, another week at the end of October and another in early December. No one seemed to be in any hurry, least of all the defense, perhaps in part because public outrage about the case seemed to fade with each passing month. Cholmondeley, the future sixth Baron Delamere, sat on a wooden bench at one side of the courtroom throughout, tight-lipped and expressionless. He was tall and lean, with thinning blond hair and blue eyes, cast down, behind rimless glasses. He wore a beige suit, with a paisley tie, a red handkerchief in the breast pocket and a pair of handcuffs.
His friends, both black and white, described Cholmondeley as an ardent conservationist. He helped found the Nakuru Wildlife Conservancy, to help protect Lake Nakuru National Park just north of Soysambu. He also went out of his way to enlist a black neighbor among the founding members. He worked closely with the park on poaching problems, and Kenya Wildlife Service (KWS) appointed him an honorary game warden. Though Soysambu was a working cattle ranch, Cholmondely also maintained a huge area around Lake Elmenteita as a wildlife sanctuary. Like the rest of Soysambu, it was dusty, infertile soil and littered with volcanic rock. But it harbored about 10,000 head of antelope, zebras, buffalo and other species. The lake itself would also normally have served as a feeding area for dense flocks of lesser flamingos—except that, like other Rift Valley lakes, Elmenteita had lately dried away almost to nothing.
Cholmondeley's defenders said that he maintained good relations with the local community. The family built schools and medical clinics on the ranch and donated land for a secondary school in a nearby village. Unlike some other white farmers, Cholmondeley also hired black Kenyans as managers of Soysambu and other family businesses, and he spoke to them in fluent Swahili.
But questions of temper and judgment repeatedly surfaced, too, sometimes in connection with firearms. A neighbor recalled the time that Cholmondeley fired a handgun at the dartboard at a local drinking club, possibly an act of homage to his great-grandfather, who once rode a horse into Nairobi's Norfolk Hotel and shot out the whiskey bottles behind the bar. An acquaintance recalled an angry outburst over a mechanical difficulty on a trip in Cholmondeley's Cessna: "He's the only pilot I've ever seen shouting at his plane before takeoff. I talked to the other passengers after, and they said, "There's something wrong with that guy."
Cholmondeley's temper seemed to show itself particularly when it came to the wildlife on Soysambu. Under Kenyan law, all wildlife belongs to the state, not the landowner, and hunting of any kind has been illegal since 1977. But until recently, KWS allowed landowners to "crop" and sell, usually for meat or hide, a quota of excess animals each year. The first time I heard about cropping I thought it was a dull land management issue, miles apart from questions of murder. But it turned out to be the reason Tom Cholmondeley got into trouble with the law in the first place.
The legal trade in zebra and other species could at times be more profitable than cattle ranching, and landowners saw it as fair compensation for the cost of having wildlife on their land. That cost could be considerable. For example, one environmentalist was deeply vexed with zebras: "They're greedy--you never see a thin zebra--and they're excitable. They race around tearing up the ground and no fence can stop them." The landowners didn't want to get rid of the animals. They just wanted to harvest a percentage of them when the population got too big for their property, and they could argue passionately about what that percentage should be. A Cholmondeley neighbor, Christopher Campbell-Clause, said he once saw Cholmondeley get into a "standup confrontation" with a local game warden about increasing Soysambu's quota: "Tom got so incensed that he finally threw the contents of his briefcase on the floor, stomped on his pens and stormed out.
But the cropping program also elicited passionate feelings among critics. "It sends the wrong message," said Clause. "Probably a white man, and certainly a rich man, can take advantage of the< wildlife, whereas the poor man across the border is convicted of poaching if he takes a dik-dik to feed his family." Critics also alleged that some landowners were abusing the privilege. So KWS ended the cropping program in 2003. At that point, the only people< who could profit by taking wildlife were the poachers.
And that may have caused Cholmondeley himself to become a poacher, albeit on his own land. "Tom Cholmondeley was so arrogant," said Clause, "that he carried on cropping even after KWS banned it." KWS got wind of this allegation, according to the police, and on the afternoon of April 19, 2005, a team of undercover KWS agents went to the slaughterhouse at Soysambu to see if they could make a purchase. They found a buffalo carcass being butchered, and they arrested the slaughterhouse crew. Somehow, word got to Cholmondeley that robbers, not KWS agents, were holding his workers at gunpoint--only a week after actual robbers had killed a flower farm manager in Naivasha.
"And that's when Tom went wild," said Simon Kiragu, superintendent of police in Naivasha. "He came running like a wounded buffalo. He didn't just come, he came firing," with a pistol in hand. Outside the slaughterhouse, he saw a stranger, a Masai named Samson Ole Sesina, with a handgun, beside an unmarked car. Sesina apparently fired, too, then ran, leaping over a fence into a corral. Cholmondeley fired again. A bullet hit Sesina in the back of the neck and came out his mouth, killing him instantly. "I remember there was blood, blood, blood," said Kiragu.
It quickly turned out that Sesina had been a KWS employee, a driver for the undercover team. After his arrest, Cholmondeley apologized: "I am most bitterly remorseful at the enormity of my mistake." The government opted not to prosecute because of the confused circumstances of the killing. Later, following Kenyan tradition, Cholmondeley made a settlement with Sesina's family, reportedly paying the equivalent of 49 head of cattle--livestock being the traditional Masai measure of wealth.
"After the first incident, people were sympathetic," said Clause, who worked with Cholmondeley on wildlife issues. "After the second, people despaired of him. He's a trigger-happy young guy, acting completely beyond the law." I told Clause that no other landowner had been willing to come down so hard on Cholmondeley. "Too many people say we must stick together as white people in Africa," Clause replied. There was a simple solution to the poaching problem, he went on, and it didn't involve guns. At the Kigio Wildlife Conservancy, which he manages, employees put up a ten-foot-high solar-powered electric fence around the entire 3,500-acre property. It wasn't cheap, and it certainly did not jibe with old notions about the endless African wilderness. But poaching ended overnight.
One day last November, a caravan of vehicles set out from Nairobi toward Soysambu, where the entire court in the trial of Tom Cholmondeley would be visiting locus in quo, as the periwigged lawyers put it--at the scene of the killing of Robert Njoya. The testimony that week had been more farce than melodrama. It had also provided an inadvertent demonstration of why getting a conviction for murder in Kenya can sometimes prove difficult.
Joseph Ubao, the first policeman to arrive at the scene the night of the killing, had stepped into the witness box with a swagger. He drew in a deep breath as if to summon up strength for what was clearly his great moment, then testified in phrases so carefully polished he often felt compelled to repeat them, softer the second time around, to savor the effect: "It was during the endeavor to shoot yet another dog that the bullet he was firing got the injured man.
At one point, the prosecutor handed Ubao Cholmondeley's rifle, so he could identify what he had described as a magazine for automatically loading bullets into the chamber. Ubao inspected the weapon closely, turning it at various angles and even fiddling with the telescopic sight, inspiring so little confidence that the clerk of the court actually ducked. Finally, he said, "Correction, my lord, the gun does not have a magazine." It was as if the prosecution had set out to embarrass its own witness.
Then Cholmondeley's lawyer moved in. Fred Ojiambo, the top litigator at the most prominent law firm in Kenya, posed his questions gently, and waited for the answer with mouth open, as if in anticipatory disbelief. He asked Ubao to name the parts of a rifle, including "that little fiddly thing," which Ubao identified as the trigger. But Ubao had no idea what to call "that contraption on top," the telescopic sight, and eventually admitted that he had mistaken it for a magazine. Ojiambo went on to demonstrate that the policeman hadn't cordoned off the scene of the killing, hadn't taken proper notes and still couldn't correctly identify the caliber of the rifle. Afterward, even Cholmondeley's mother murmured, "The poor man."
At Soysambu a few days later, the procession into the bush included Cholmondeley, his jailers, family, friends, reporters, photographers, television cameramen, soldiers with automatic weapons and riot police with face masks and plastic shields. Soysambu staffers trailed along the edges, picking up poachers' snares as they went. I lost count at 30. As we walked, I chatted with a friend of Cholmondeley's, who described the spate of armed robberies and shootings at Soysambu in the months leading up to the Njoya killing. The friend's intent was clearly to show that there were circumstances to mitigate the enormity of Cholmondeley's second fatal mistake. And in truth, it would have been hard not to empathize.
A woman named Sally Dudmesh joined the conversation. She had lived at Soysambu with Cholmondeley since the breakup of his marriage. In the months after the Ole Sesina killing, she said, attackers had shot and wounded a ranch manager and then, in a separate incident, his successor. But what had unnerved everyone, Dudmesh said, was an attack on a Soysambu mechanic named Jusa. Cholmondeley called Jusa's mobile phone. But the robbers had stolen it. "Where's Jusa? Where's Jusa?" Cholmondeley yelled. According to Dudmesh, the robbers saw Cholmondeley's name come up on Jusa's mobile phone. "They said, 'We've just killed him and now we're coming to kill you.'" Cholmondeley went out to patrol around the house, leaving two women with four children, including his own two sons, inside. "I said, 'Why don't we just run?'" Dudmesh recalled. "The mother of two of the children said, 'You can't run with four children under the age of 7.' It was one of the scariest moments of my life." In the end, no one came, and Jusa was unhurt.
But did empathy translate into exoneration?
By now, led by Carl Tundo, the friend who had been with Cholmondeley on the fateful afternoon, the court had arrived at the scene of the killing. In the months after the shooting, Cholmondeley's defenders had offered two arguments on his behalf. They said he'd been shooting at the poachers' dogs, standard KWS practice for game wardens, and that Njoya had been hit by a ricochet. They also said the poachers had turned their dogs to attack Cholmondeley.
But Tundo's testimony suggested that the poachers had never had a chance to attack. He pointed to the spot where he saw Cholmondeley suddenly drop to one knee and bring the rifle to his shoulder. In the thick underbrush, perhaps 40 feet ahead, there was a glimpse of movement and the sound of voices. "Then I heard a shot," he said. He turned and ran away, and the next thing he remembered was hearing Cholmondeley shout to bring the car because he had "shot a man by mistake."
The most intriguing thing about Tundo's testimony was the question of visibility. Two ten-foot-high lelechwe bushes grew between Cholmondeley's position and that of the poachers. With knee-high grass and overhanging branches, it looked as if Cholmondeley would have had no more than a narrow window of visibility, roughly from knee to waist, on either side of the bushes. And yet the prosecution never asked what seemed to be the obvious questions: Would anyone who understood basic gun safety have fired a rifle here? And would Cholmondeley have fired if he'd thought the voices belonged to white people?
Afterward, in Nakuru, I looked up the pathologist who had performed the autopsy on Njoya. He said that the bullet had been intact when it hit Njoya, and that it had traveled a level course through his body. "So the ricochet theory?" I inquired.
"It's crap," he said.
One morning a little after sunrise, I walked out to a ridge overlooking Soysambu in the middle of the Great Rift Valley. Red hills and rocky bluffs rose up out of the parched landscape, and here and there a shoal of acacia trees swept through along a dry riverbed. Below me, a Masai herder wandered past with his goats, as Masai have always done in these parts. A monument on the ridge, built of rough volcanic stone, marked the grave of a British settler, Galbraith Cole, "buried here at his home in Kikopey in the making of which he laboured, loved and suffered much." Cole's house, now converted into a tourist lodge, stood behind me. On another ridge, a few miles away, I could see the modest home where Cholmondeley's parents, the current Lord and Lady Delamere, still live. Everything else seemed timeless.
It was hard to fathom that this valley, and particularly its lakes, could be under siege. It was a siege being waged not just with guns and pangas, but also with greenhouses and fishing nets, and broad-bladed mattocks and makeshift irrigation schemes. To the west, on the flanks of the Mau escarpment, clouds cast pockets of shadow that looked like forest but weren't. Much of the forest, a national reserve, had been opened up to small farmers and cut down in the 1990s. "It made people happy, and politicians get elected by making people happy," Bernard Kuloba, a conservation biologist for KWS, had told me. But what the politicians had failed to calculate was that the Mau forest was the critical water source for two of the most celebrated natural areas in Africa, the Masai Mara reserve on one side, and Lake Nakuru National Park on the other. People were getting a few shillings' worth of maize, said Kuloba, but at the expense of tourist dollars--Kenya's second largest source of income--and drinking water.
That trade-off was happening all over this stretch of the Great Rift Valley. On the old Cole ranch in Kikopey, 7,000 people were ekeing out a living on the same arid land that supported perhaps 200 people a generation ago. A few miles uphill, the government had granted permits for two farmers to draw irrigation water from a hot spring—and 200 pipes had gone in instead, straws all sipping the same meager drink. All through the foothills, said Kuloba, rivers and streams now run dry long before they reach the lakes--except when rains and the lack of upland vegetation turn them into flash floods. As a consequence, Lake Elmenteita itself had dried away to a shallow puddle in the middle of a broad, bleached-out lakebed. And it was much the same at Lake Nakuru, a little to the north.
"If there's no water, the flamingos could die," Kuloba told me. He
shrugged, to indicate the general public reaction. "And if there's
no water for Nakuru town either? Then people will die too."
I thought he was overstating the case, until I went out to Crater Lake. It was one of two small lakes at the southern end of Lake Naivasha, neither of them normal flamingo habitat, where the birds had suddenly turned up in huge numbers in 2006. Biologists speculated that the falling water levels had changed the chemical balance of all the lakes, altering the population of bacteria on which the flamingos feed. The changing conditions may also have favored certain bacteria that produce a potent neurotoxin fatal to the birds.
From a scenic viewpoint above Crater Lake, the flamingos looked almost absurdly beautiful, lining the shore like pink icing on a big birthday cake in the middle of a desert. Then I hiked down to the lakeshore, and as small groups of birds skittered away across the water, I realized that scores of those left behind were dead. They lay with their elegant pink necks s-curving across the surface of the water, or folded back between their wings, as if in sleep. Hundreds more victims of the "pink death" lay heaped where someone had tossed them in the bushes. And if the flamingos were dying, what did that say about the second half of Kuloba's prediction?
The last place I visited in Kenya was the village of Kiungururia, where Robert Njoya used to live, on the north side of Soysambu. The border separating the village from the ranch was a line of dense, thorny cholla cactus, but with wide paths cut through it. In the course of perhaps 15 minutes, I counted five young men riding out of the ranch on bicycles stacked high with firewood. I didn't see anyone with bush meat, but Jeff Mito, a private investigator hired to improve security at the ranch, had assured me that poachers were there every day. "And the same people who come as poachers by day come and attack us by night," he added.
So I went to Robert Njoya's house still thinking of him as just a poacher, meaning a kind of thug. The house he had built consisted of mud-and-sisal walls, under a tin roof. Two pepper trees, with weaver nests hanging down, grew in the yard, which was hedged in by bougainvillea. Beyond the yard, Njoya had farmed a couple of acres of barely arable land subdivided from his father's farm. One of the children told me that this year's harvest had yielded a single sack of maize. There were four sons under the age of 9. If custom held, they would subdivide their father's land, in their turn.
Gidraff, the eldest, remembered his father: "He used to take us to town for town visits. He bought us footballs. He wasn't hard, but not too soft, either. Everybody had duties in the house. I was washing the dishes, Michael swept outside, John collected rubbish around the house. The baby would sleep. We would all go to dig in the shamba." Then they showed me Njoya's grave, a hump of earth beside the maize he had planted, with a wooden marker on which his name and dates and the letters "R.I.P" had been crudely painted.
Later, their mother, Serah, came home and invited me into the whitewashed living room. There was a small television. Wooden chairs draped with embroidered cloths lined all four walls. Robert, she said, had been "a hard-working man" who earned his living mostly as a mason, building houses. For a time, he also made dried flower arrangements for the export trade, sometimes using cactus from Soysambu. The meat he got from poaching, she said, was the only meat they ate.
She was a slender 28-year-old, her hair wrapped in a blue kerchief, with smooth dark skin and perfect white teeth, and she seemed incapable of anger. Of Cholmondeley, she said, "If he came and asked me to forgive him, I would forgive him."
Then the 3-year-old, Jokim, ran into the room bawling at some> injustice committed by his siblings, and she picked him up on the seat beside her, comforted him, wiped his nose, and launched him back out into the fray.
The children were still asking about their father, she said, "especially that one," referring to Jokim. But even Jokim understood their father would not be coming back. It had gotten into his mind that Tom Cholmondeley was a pilot. Now, "when he sees an airplane overhead, he says, 'That is Tom Chol-mun-lee passing, who killed my father.' "
Richard Conniff wrote The Ape in the Corner Office: Understanding the Workplace Beast in All of Us (Crown). Photographer Per-Anders Pettersson is based in Cape Town