Arctic Dispatch: The Toolik Way of Life
Gourmet fare, live music and 24-hour Arctic summer sun make life in Toolik hard to beat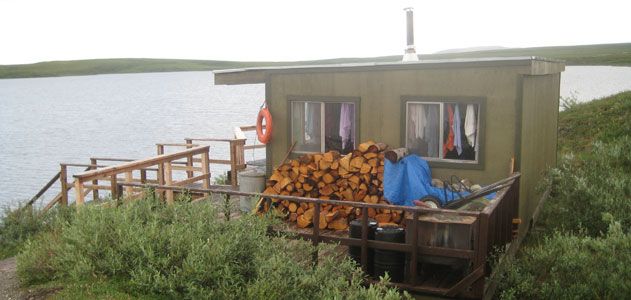 Being 150 miles south of the Arctic Ocean, in the middle of the Alaskan tundra, you would expect to rough it. Not so at Toolik, where my day starts with banana pancakes, and ends with a dinner of blackened tuna, some quality live bluegrass and a turn in the sauna.
I eat better (and more) here than at home, with three hot meals a day and a perpetual supply of snacks, from fresh fruit to homemade desserts. This is no basic camping fare: Toolik's cooks whip up gourmet meals—including Peruvian chicken stew and Asian spicy noodles—every evening. Last week, I enjoyed a fresh-baked lavender cookie for the first time in my life.
On many nights after dinner, the musically inclined at Toolik—drummers, fiddlers, banjoists, even electric guitarists—perform bluegrass to a packed tent of happy, tundra-weary researchers.
Toolik has come a long way from its early days as a desolate outpost in the late 1970s, says Steve Whalen, one of the first Toolik pioneers who arrived in 1979. Whalen, who has a Toolik trailer named after him, has seen the camp from almost every angle: graduate student, post doctorate, truck driver, camp manager, and now principal investigator. He marvels at how we can send an email sitting on the porch overlooking the lake, when 30 years ago a single-side band radio was the only connection to the outside world—and even then only during sunny weather.
The Toolik camp, inherited from an Alyeska Pipeline construction crew, once consisted of a small group of tents that bears would occasionally tear apart. Researchers had to haul up their own water from the lake and take out all their trash, Whalen says. But there has been one constant through the years: the sauna. Today's wood-fired sauna sits on the edge of Toolik Lake, where five days out of the week you can shed your hiking boots and muddy clothes and steam the bug repellent out of your pores in 100-plus temperatures. Many Toolik campers use the sauna as a substitute for showering, since water is extremely pricey and showers (aside from the once-a-week, two-minute variety) are highly discouraged. The bravest (and cold-tolerant) can also run from the sauna down to the dock and take a dip in the lake.
It's hard to beat the Toolik way of life and the 24-hour Arctic summer sun. The culture seems to exist on its own plane of reality. And as my time here grows shorter, I begin to understand what the others lament as "Toolik withdrawal."