Arctic Dispatch: Reaching Toolik
Journalist Christine Dell'Amore travels to Alaska's Toolik Field to observe the environmental changes occurring in the Arctic Circle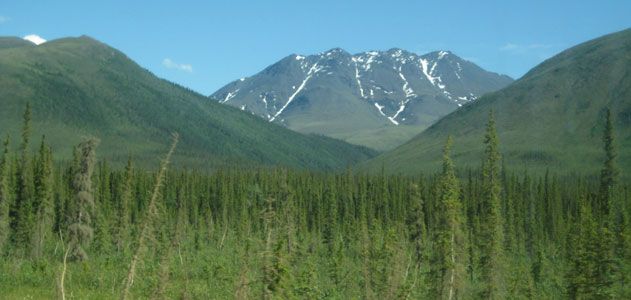 It's nearly midnight here north of the Arctic Circle, but outside it looks like the day is only beginning. I just arrived at Toolik Field Station, a research center nestled in the foothills of the 700-mile Brooks Range, where -- during Alaska's fleeting, two-month summer -- the sun never sets.
Along with nine other science journalists, I'm taking part in the Marine Biological Laboratory's Polar Hands-On Laboratory (MBL), which allows journalists to observe firsthand scientists investigating polar environmental change in the Arctic. This year, the MBL has sent journalists to Toolik in honor of the International Polar Year program, a two-year research campaign to study the polar regions.
As a journalist with a background in environmental reporting, the intrigue shrouding polar research inspired me to apply for this fellowship: There's still so much we don't know about the most remote reaches of our planet and how climate change affects these harsh environments.
To reach Toolik, we endured a bouncy 11-hour journey on the primitive Dalton Highway, which extends 414 miles from Fairbanks north to the oil fields at Prudhoe Bay. The 800-mile trans-Alaska oil pipeline, the largest privately financed construction project in American history, provided a constant companion along the road, snaking in its way along the highway on its way north to the Arctic Ocean.
We drove through landscapes blackened by the 2004 Alaskan wildland fires, which burned 6.6 million acres. As we got farther north, vast strands of stunted black spruce -- the unforgiving soil offers plants little succor -- eventually gave way to the impressive snow-patched peaks of the Brooks Range, the highest range north of the Arctic Circle, and then finally to the flat, verdant stretches of tundra, where Toolik sits.
The station itself, run by the University of Alaska, Fairbanks, and the site of the National Science Foundation's Arctic Long-Term Ecological Research Site (LTER) is a hardy assortment of buildings perched on the edge of Toolik Lake which takes its name from the indigenous word for "loon," a native bird.
Now, during this brief window of warm weather, nature unleashes a furious burst of productivity. Though there are definite downsides -- swarms of giant mosquitoes , for one -- the fecundity allows 110 scientists to descend on Toolik and conduct experiments each summer.
Most scientists here are investigating how the changing climate influences the Arctic ice, soil, streams, and wildlife. For example, some researchers are studying how much permafrost -- ground that stays frozen for more than two years -- is disappearing, and what those consequences may be for the Arctic ecology.
For the next two weeks, I'll be working with scientists, as well as gathering, analyzing, and presenting my own data on polar environmental change. I'll record some of the highlights here and hope you'll follow along. Unlike me, you won't need any bug spray.