A Greener Smithsonian
In an Institution-wide pursuit of a greener future, researchers and engineers are furthering the cause of energy sustainability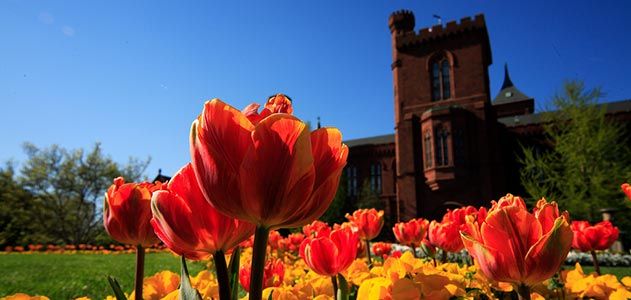 At his installation this past January, Wayne Clough, the Smithsonian Institution's new secretary, made it clear that sustainability is one of his top priorities. The former president of Georgia Tech commended Smithsonian researchers monitoring greenhouse gases from space, studying their effects on Chesapeake Bay and Florida wetlands, and working to understand the threats that changing weather and shrinking sea ice pose for people in the Arctic. But he was also quick to push for more. First off, he wants the Smithsonian to communicate its climate change research to the public in a way that the public can understand and apply to their everyday lives. And secondly, said Clough, the institution needs to "bring our world-wide commitment to sustainability to our doorstep."
"Green teams" at several museums, made up of concerned employees, have been working towards this aim at a grassroots level in the past few years, divvying up days to collect recyclables during the Folklife Festival on the National Mall, for example, and building exhibitions out of sustainable materials. But now with Clough's backing, they are really starting to organize. The Smithsonian's Office of Facilities Management and Reliability (OFMR) recently compiled a report on sustainable initiatives taken across the institution since 2003 in hopes that making the information more accessible might spur a Smithsonian-wide gathering of the minds. I recently caught up with Nancy Bechtol, director of OFMR, to talk about the steps the Smithsonian is taking to ensure a greener future.
What responsibility does the Institution have to the public when it comes to sustainability?
I think it's very important since we are an education-based institution as well as a research-based institution that we go out of our way to educate the public in everything that we are doing, not just the science that we are doing but even the day-to-day operational aspects of what we're doing. It's a good story, and it is one that we should be proud to tell. We feel that there is an obligation to tell it because we can help teach others, and not just our visitors but also the surrounding governmental agencies and workers.
What green initiatives are already in place at the institution?
The Smithsonian has always dabbled in recycling. Some museums collected paper. Some museums collected paper and containers and bottles. Other museums just did cardboard. But we were all over the map. So in 2006, we decided we were going to go SI wide and do a recycling program. It took us three whole years of purchasing [dumpsters and containers] to be able to launch this holistic recycling program. But in 2008, we were able to increase ten-fold the amount of recycling we did.
Has the institution employed any energy saving strategies?
Hundreds and hundreds. That was another thing that started in 2006. We had a huge [$2 million] budget shortfall in 2006. So we immediately started looking for ways we could save this $2 million in energy, and we had six months to do so. We did all kinds of things. We looked at light levels. We looked at lights altogether. We went through and turned out every other light. We went through and readjusted all of our steam traps and chilled water usage, fuel usage, everything that goes into energy. Over 300 different things were fixed and those 300 things generated a savings of $2.7 million in that fiscal year. Then in 2007, we continued doing these things I call the "low hanging fruit," things we could change without needing tons of capital dollars. It's a lot of tweaking. But we were able to save $2.4 million additional dollars in utilities. In fiscal year 2008, we saved $800,000 additional. Now we're in 2009, and it's getting harder and harder. We have just about tweaked every single thing we could tweak. Now, it's a matter of taking out an entire system and replacing it with something more energy efficient.
How is the Institution using renewable energy?
In 2008, 3.7 percent of our electricity came from renewable energy sources. Some of these renewable sources were generated from Texas wind farms. Just that 3.7 percent, which doesn't sound like a lot, is reducing our carbon footprint. That reduction saved 4.2 metric tons of greenhouse gases that year alone. All government agencies try to use more than 3 percent in these renewable energy categories, but not a lot are able to succeed.
To what extent has the Smithsonian experimented with alternative fuels in its transport vehicles and shuttles?
The Smithsonian manages a fleet of over 700 vehicles, and we've been able to change a lot of those vehicles. We trade them in and replace them with a hybrid car or a vehicle that runs off of two types of fuel, like biofuel and regular fuel. This year, we just replaced one of our shuttle buses, from a diesel-fueled engine to an electric hybrid bus. In the federal government, this is the first ever hybrid bus that's on the market. We have a Mall shuttle that loops around the Mall all day long, so it's a perfect place for something like that. As we finished 2008, over 76 percent of that fleet is now either hybrid electric or capable of working off of alternative fuels.
What has been done in terms of green building?
The new Elephant House at the National Zoo will have a lot of sustainable aspects to it. They are going to go for a Smithsonian Environmental Research Center in Edgewater, Maryland. That new lab facility is also going to go for new construction gold certification. I would say anything that we are building new is. In addition to that, I'm working with LEED Existing Building (EB), a LEED certification for how you run your existing buildings. We're going for LEED EB at the National Museum of the American Indian this year here on the Mall. There's a lot of work that has to go into achieving that certification. Our goal is to go Smithsonian wide with that. If we can do it with one building, we can do it will all the buildings. We have several people on staff who are LEED accredited professionals, and we actually have 20 employees in a class right now that are seeking that certification. They are design managers, architects and some engineers and are there to assist Smithsonian in seeking these LEED certifications.
In what areas can the Smithsonian improve?
There is plenty more we can do, and probably in the area of water conservation. I would like to get so that we are collecting rainwater. We have no mechanism right now downtown to do that, so all of the rain of course just goes right down the drain, and we could be using that in our irrigation systems instead of irrigating with treated potable water. It will definitely take funding because you have to come up with a mechanism to collect this water. It's a re-guttering or at least getting the gutters to go into places that will contain the water. On the Mall, you're looking into things like cisterns. Placing those things on the Mall won't be easy. They have to go through design reviews and things, but it's not impossible.