Six of the Wildest Skyscrapers Imaginable
The winners of the annual skyscraper design competition think way beyond the "tall rectangle with windows" model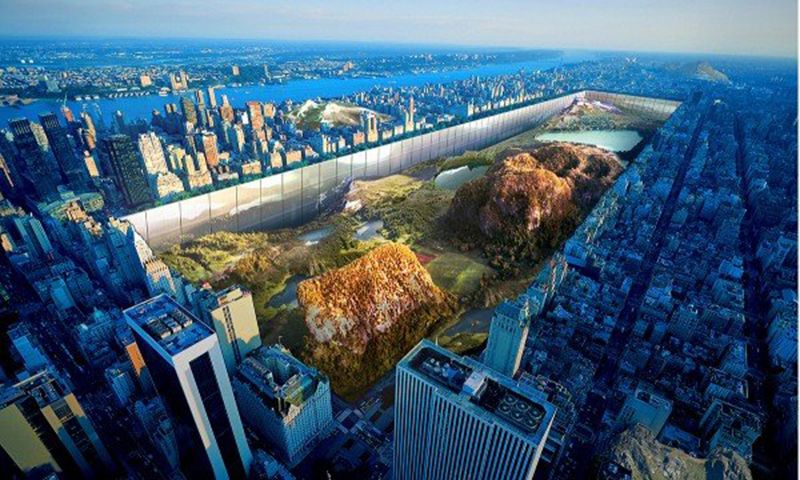 What has your skyscraper done for you lately? Most are tall metal or concrete rectangles with some square windows. Boring.
But what if your office building was also a droneport? What if a skyscraper filtered polluted city air? What if it brought rain to drought-stricken areas? These are just some of the ideas from the eVolo Skyscraper Competition, a global design contest to recognize "visionary ideas for building high—projects that through the novel use of technology, materials, programs, aesthetics, and spatial organizations, challenge the way we understand vertical architecture and its relationship with the natural and built environments."
Out of nearly 500 entries, eVolo, an architecture and design journal, selected three winners and 21 honorary mentions. The first-prize winner, New York Horizon, from U.S. designers Yitan Sun and Jianshi Wu, is a gonzo plan to create a seven-mile horizontal skyscraper wrapped around Central Park. The park itself would be sunken a la a 1970s conversation pit, the excavated dirt revealing a mountainous landscape where picnickers once sat on rolling lawns. Food for thought, though we won't hold our breaths until someone tries to build such a thing.
The second- and third-place winners, as well as many of the runners-up, have plans that are no less fascinating (and almost equally far-fetched). Here are some of our favorites: