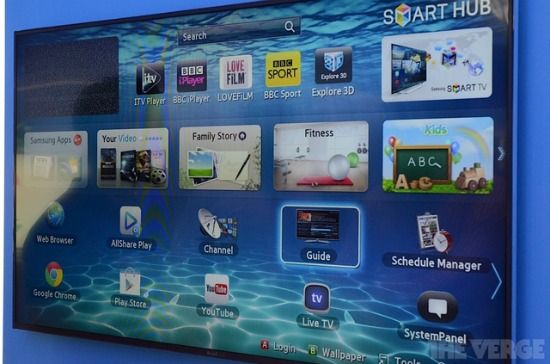 Since the beginning of mankind, we've wanted our kids to get smarter. Since the beginning of the 21st century, we've wanted our phones to get smarter.
So when are we going start wanting our TVs to get smarter? Or will we always be content with them being dumb, as long as they're big and dumb? Okay, maybe not dumb, but most of us don't yet feel a compelling need to have our TVs think like computers, as long as the picture looks pretty up there on the wall.
Which always makes things interesting at the Great Gadgetpalooza also known as the Consumer Electronics Show (CES). For the past several years, the big electronics companies that focus on hardware, such as Samsung and Panasonic, and the big tech companies that focus on software, such as Google, have been rolling out nifty products at the annual Las Vegas spectacle with the promise that this is the year that Smart TV goes mainstream.
Boob tube no more
And so it's been at this year's version of CES, which ends today. Samsung has done its part to convince us that the time has come for us to love TVs for their brains by unveiling what it calls its S-Recommendation engine.
It's software that, as Samsung puts it, not only understands what you like, but recommends things it thinks you'll like. (Sure, Amazon's been doing this for years, but this is your big, dumb TV we're talking about.) And it doesn't just suggest TV shows, but could throw in streaming programs options from the Web, or even video you've shot on your smartphone.
The goal ultimately is to get you to do all those things you're now doing on your smartphone or your tablet–say, watch Hulu or Skype with a family member or check out your Facebook page–on your TV instead. To encourage that behavior, Samsung has revamped its Smart Hub so you can flip through all of your entertainment options in five different index screens–one that tells you what's on regular old TV now or soon, another that lists movies and on-demand TV, a third that pulls in photos or music or video stored on any other devices around the house, a fourth where you can Skype or pull up Facebook and a fifth that provides access to any apps you've downloaded.
And neither of the above requires pushing a lot of buttons on a remote. The S-Recommendation engine responds to voice commands and the Smart Hub is designed to be controlled with hand gestures.
For its part, Panasonic has rolled out a feature it calls My Home Screen, which allows each member of your family to create his or her own homepage on the TV, where easy access is provided to their favorite digital content, streaming video and apps. Some of the company's Viera models actually come with their own cameras that tell the TV who turned it on. And as a smart TV should, it dutifully brings up that person's home screen.
Plus, Panasonic unveiled "Swipe and Share 2.0″, which lets users move photos from a tablet or phone to a big TV screen, where they can then be edited with a touch pen.
But can you love a TV?
So that seals it, right? This must be the year when TVs take back center stage, especially now that they're finally learning to care about our needs, right?
Maybe not. We've built some pretty strong personal connections to our cell phones and tablets. And a lot of people think it's going to take a while for us to develop that kind of bond with a TV, no matter how smart it is.
As Greg Stuart, CEO of the Mobile Marketing Association told Ad Age earlier this week: ""People don't have that kind of interactive relationship with their TV. The TV on the wall is a family device. It's a multi-user device. If I want to share something, its going to be with a personal device, and that's going to be my tablet or my mobile."
TV or Not TV?
Here are other recent TV innovations:
Video bonus: You didn't make it to the big electronics show this year? Not to worry. Here's the Samsung demo of its S-Recommendation engine. Remember, people tend to gush a lot at CES.
More from Smithsonian.com