Change Is Good
The new Smithsonian magazine blog about innovations gets a new title: Innovations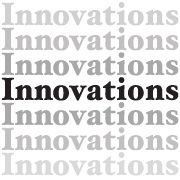 Notice something different?
That's right, this blog is no longer called the Department of Innovation. Not that it ever was a department. We just liked the original title because it was a bit ironic and sounded sort of funny, at least to us. But to eliminate any confusion that this might actually be a federal agency, we decided to kick irony to the curb and call this blog, simply enough, "Innovations."
Also gone is the gear-wheel graphic illustration that served as a logo of sorts. The change, we hope, will allow us to move past the discussion about the possible significance of gears in the logo's first version.
So we did something very 21st century—we hit the reset button. We want to focus on ideas and dynamic changes underway or on the horizon, and we want to learn what you think is truly innovative or what needs to be invented.