The Top Ten Important Moments in Snowboarding History
Since its mid-1960s inception, snowboarding has seen such a boom in popularity that it is now an event at the Winter Olympics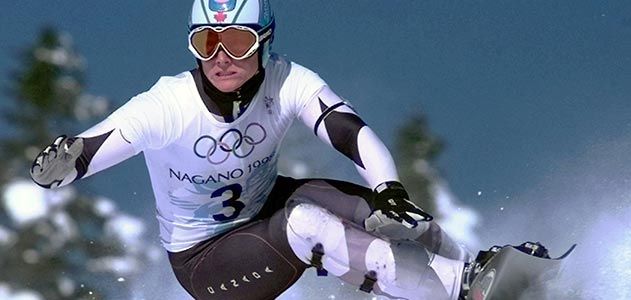 Though snowboarding's roots go back several centuries, its modern development began in the 1960s. In chronological order, here are the top ten moments of snowboarding's short, radical history … subject to debate of course.
1) Sherman Poppen Invents the Snurfer (1965)
On Christmas morning 1965, Sherman Poppen went into his garage, cross-braced two Kmart skis together, stood atop his backyard hill and started surfing the snow. The Snurfer – think snow and surfer – was born and became an instant hit. "When I saw how much fun the kids had Christmas Day," Poppen told Skiing Heritage, "I spent the next week in Goodwill and everywhere else buying up every water ski I could find."
A couple of weeks later, Poppen added a rope to the front of the board to make turning easier and prevent it from sailing away when riders fell. He then patented the 42-inch-by-7-inch toy and licensed it to Brunswick (and later Jem). The predecessor to today's snowboard became a cult phenomenon, selling more than 750,000 units over the next 15 years. More so than any other invention of the 1960s, the Snurfer inspired a generation of kids to surf the snow, among them future snowboard innovators Jake Burton, Chris Sanders and Jeff Grell.
2) Dimitrije Milovich Drops Out of Cornell to Snowboard (1972)
Dimitrije Milovich's role in snowboarding history is simple: He started Winterstick, the first modern snowboard company.
Milovich was introduced to snowboarding in 1970 by Wayne Stoveken. Two years later, he dropped out of Cornell University, moved to Utah and started testing his prototype boards on the region's champagne powder. Stoveken followed and by 1974 the duo had two "Snow Surfboard" patents and were selling their boards out of a shop in Salt Lake City.
Wintersticks received national publicity in magazines like SKI and Newsweek and orders started to roll in. Though Stoveken moved back east, Milovich pressed on, forming the Winterstick Company with Don Moss and Renee Sessions during the 1975-76 season. Within three years, Wintersticks were being sold in 11 countries.
Getting the new sport off the ground, however, proved to be an insurmountable challenge as retailers weren't interested in the new invention. Winterstick was losing money and Milovich closed its doors in 1982. He reopened them in 1985 and shut them down for good in 1987, just a few years before snowboarding's first boom. The Winterstick brand name has since been resurrected by another firm. Milovich, who now runs a successful engineering business, has no involvement with the company.
3) The Burton-Sims War Begins (1978)
Jake Burton Carpenter (also known as Jake Burton) and Tom Sims didn't like each other, but they helped push snowboarding into the mainstream consciousness. Burton moved from Long Island to Londonderry, Vermont, during the 1977-78 season to start peddling a Snurfer knockoff he called a Burton Board. He sold six units his first season. On the West Coast, skateboard icon Tom Sims started selling the first Sims snowboards during the 1978-79 season and faced equal resistance.
Both men persevered, however, and emerged as snowboarding's leading forces on the East and West Coasts. For more than a decade, Burton and Sims engaged in a bitter war for industry supremacy that involved constant innovation, inventive marketing, petty bickering and talent raids.
While Sims was a major player in the sport through the early 1990s, he was a surfer who was more passionate about catching the next big wave than running a company. Burton, on the other hand, was a businessman passionate about snowboarding. While there were years of intense competition, the war was really settled before it started as Burton possessed more business savvy and was simply more dedicated to becoming number one. By the mid-'90s, Burton was the undisputed king of the mountain, a title he still holds today. Sims, while respected as one of the sport's pioneers, is no longer a major force in the industry. Today he licenses his brand name to Collective Licensing, which sells Sims Snowboards through Sports Authority.
4) The First National Snow Surfing Championships (1982)
It wasn't snowboarding's first competition and it definitely wasn't elaborate – the starting gate was an inverted kitchen table and hay bales served as crash pads –but the National Snow Surfing Championships helped put snowboarding on the map. Organized by champion Snurfer Paul Graves, the contest drew 125 contestants to Vermont's Suicide Six resort and riders were seen sailing down the hill at speeds in excess of 50 miles per hour on both The Today Show and Good Morning America.
The next year, Jake Burton took over the event and in 1985 moved it to Vermont's Stratton Mountain, where it was renamed the U.S. Open Snowboarding Championship. Today, crowds of more than 30,000 converge on Stratton Mountain every year to watch one of snowboarding's most prestigious events.
5) International Snowboard Magazine Debuts (1985)
After witnessing a squabble at the 1985 World Championships in Soda Springs, California, Tom Hsieh had an idea: someone should put these stories in a magazine. Thus Absolutely Radical, the first regularly published snowboarding magazine, was born. Debuting in March 1985, and renamed International Snowboard Magazine after its first issue, Hsieh's publication wasn't glossy or fancy, but it reported industry gossip, conducted the first snowboard tests and provided the sport with a sense of legitimacy.
"It told real stories from the early days without embellishment," says photographer Bud Fawcett, whose pictures have graced the pages of dozens of winter sports magazines including ISM. "It was the original source of information from the contest scene which was driving the sport for so long in the 1980s."
The industry's undercapitalized publication of record folded in 1991, unable to compete with slicker and better distributed magazines like Transworld Snowboarding. Its impact on the nascent sport, however, is hard to overstate.
6) Ski Resorts Open Their Doors to Snowboarders (1984-1990)
Snowboarding faced a major obstacle in the 1980s: Most ski resorts didn't allow snowboarders on their hills. Some claimed insurance liability issues, while others didn't want the young rebel snowboarders irritating their well-heeled skiing clientele. Indeed, from cutting lift lines to cursing to dressing in crazy outfits, teenage snowboarders acted like, well, teenagers. That didn't sit well with most skiers.
A diplomacy campaign was set in motion in an attempt to persuade resorts to accept snowboards and the teenagers who rode them. Though there was some resistance – some hills even required snowboarders to pass a certification test in order to ride – the campaign was successful. Approximately 40 U.S. resorts allowed snowboarding during the 1984-1985 season. By 1990, the number had grown to 476. Today, only three North American resorts continue to ban snowboarders.
7) Doug Waugh Invents the Pipe Dragon (1990-1992)
Man-made halfpipes started to appear at a few select ski resorts in the mid-80s, but they were small and poorly groomed. Making and maintaining them was also incredibly labor intensive. So, most resorts just didn't bother.
In 1990, a farmer named Doug Waugh was commissioned to design a machine that would make building halfpipes easier. The result: the Pipe Dragon, a giant piece of farm machinery that cuts big pipes out of large piles of snow and can also be used to keep pipes smooth. The first Pipe Dragon was built in 1992 and the device became a necessity for resorts that wanted quality halfpipes in their terrain parks. With halfpipes easier to build and maintain, more pipes and terrain parks started popping up across the country, giving snowboarding's freestyle revolution even more momentum.
8) Johan Olofsson Rips Through Alaska in TB5 (1996)
Snowboard films, a niche market if there ever was one, started to play a major role in the sport during the 1990s. The films made snowboarders into bigger stars and documented the sport's evolution as professional riders sought to raise the bar by doing more sophisticated tricks, getting bigger air and tackling increasingly dangerous terrain.
Enter Johan Olofsson's appearance in Standard Films TB5. During his four-minute segment, the young Swede threw down cool spins, and caught some major air, but the scene that set the snowboard world on its tail was a death-defying run on the Cauliflower Chutes in Valdez, Alaska. Oloffsson rocketed down a 50 degree, 3,000 vertical foot slope in just 35 seconds, earning himself legendary status and a spot in the Guinness Book of World Records.
"Never before [and arguably never since] had a video part captured the raw energy, aggression and sheer power of top-level snowboarding so perfectly," says Colin Whyte, former editor of Future Snowboarding. "If snowboarding has a finest hour, those four minutes have my vote."
9) Snowboarding Makes an Auspicious Debut at the Winter Olympics (1998)
While snowboarding is now one of the biggest draws at the Winter Games, its Olympic debut in Nagano, Japan was mired in controversy. Norway's Terje Haakonsen, at the time the best snowboarder in the world, boycotted the Games. Snowboarding's first gold medalist, Canada's Ross Rebagliati, tested positive for trace amounts of marijuana and was stripped of his medal only to have it returned since the substance wasn't technically banned. Meanwhile, two U.S. female snowboarders created a stir simply by refusing to wear their team outfits at breakfast in the Olympic village and it was later revealed that U.S. Olympic Snowboard coaches didn't really ride. "Japan just did not go that well," Jake Burton said euphemistically a few years later. "It was kind of a disaster."
10) Shaun White Completes A Perfect Season (2005-2006)
Shaun White's Gold Medal halfpipe performance at the 2006 Winter Olympic Games earned him mainstream recognition and the cover of Rolling Stone, but it was just one victory in a perfect season that made him a legend. 
Between December 2005 and March 2006, White entered 12 contests and knocked out 12 victories, among them all five Grand Prix Olympic Qualifiers, two Winter X Games events, and, of course, the gold medal in Torino. Yet, White's most satisfying triumph may have occurred in mid-March, when he overcame what had been his own form of Kryptonite: the U.S Open. Though he'd been a major force on the scene for years, White had never won at the Open before. With his perfect season on the line, he finally found success at Stratton, scoring victories in both the halfpipe and slopestyle events.
Snowboard legends Craig Kelly, Shaun Palmer and Terje Haakonsen all dominated the sport and pushed it to new levels, but none of them laid down a season of perfection. Much like the 1972 Miami Dolphins, White accomplished a tremendous feat that will grow in stature over time as more and more competitors try (and most likely fail) to duplicate it.