The Family Plot to Kill Lincoln
Mary and John Surratt helped John Wilkes Booth assassinate Abraham Lincoln and then paid the ultimate penalty for their actions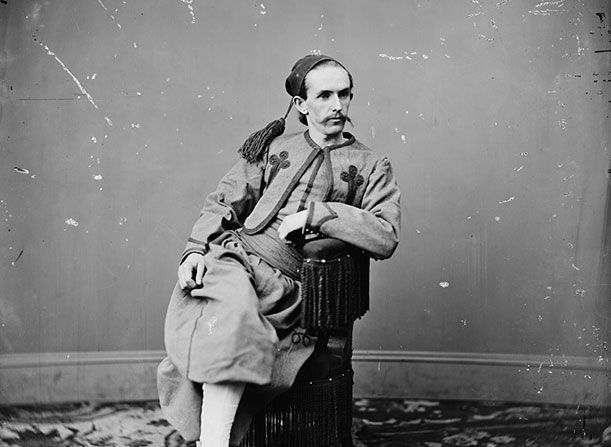 Early in the afternoon of July 7, 1865, Mary Surratt entered the courtyard of the Old Arsenal Prison in Washington, D.C.  Behind her filed three other who had plotted to kill President Abraham Lincoln. A sweltering sun beat down on four freshly dug graves and four pine coffins. Only the day before, Surratt had learned that she would be the first woman to be executed by the United States government.
Veiled and dressed in black, she swooned after a few steps. Two soldiers and two priests helped her to the gallows. The hangman bound her arms and legs. She complained that the ropes chafed. They would not hurt long, he replied.
As the 42-year-old widow listened to her jailer read her death sentence, her younger son, the Confederate spy John Surratt, was hiding at a Catholic priest's residence in a village northeast of Montreal. The federal government had offered $25,000 for his capture.
Mary and John Surratt were America's most famous mother-son criminal partnership until Ma Barker's boys shot up the Midwest some 60 years later. Many denounced her as the temptress who, in President Andrew Johnson's words, "kept the nest that hatched the egg" of assassination. Others insisted she was the innocent victim of the national hysteria that followed Lincoln's death. And some despised John as a coward who left his mother to die for his crimes.
Both were guilty of plotting against the president.
—
She was born Mary Jenkins in the early 1823 and spent most of her life in Prince George's County, Maryland, a tobacco-growing region east and south of Washington that had a long tradition of slavery. During several years in a Catholic boarding school, she converted to that faith. As a teenager, she married a Prince George's man named John Surratt, who was ten years her senior.
After failing at farming, the Surratts built a crossroads tavern, then added carriage and blacksmith shops and accumulated a half-dozen slaves. John became the postmaster—an employee of the federal government—and gave his name to Surrattsville. Mary increasingly managed the business as he drank more and more. When he died, in 1862, she became the proprietor in name as well.
As the Civil War raged, she and her family remained proudly loyal to the South. Her older son, Isaac, joined the Confederate Army in Texas. Her younger son, John Jr., only 18, joined the Confederate secret service and succeeded his father as postmaster. Her daughter, Anna, helped with the tavern, which became a key communications link for Confederate spies after John—like other postmasters in Southern Maryland—began inserting northbound messages from Richmond spymasters into the U.S. mail.
Special messages and cash required hand delivery, and John was adept at clandestine work. "I devised various ways to carry the messages," he recalled after the war, "sometimes in the heel of my boots, sometimes between the planks of the buggy." He dismissed the federals he evaded as a "stupid set of detectives" with "no idea whatever how to search a man."
John loved the game. "It was a fascinating life to me," he said. "It seemed as if I could not do too much nor run too great a risk." Federal forces detained him in November 1863, for undocumented reasons, but only for a few days. John's adventures were no secret to his mother, whose tavern served Confederate agents and couriers every day.
In the fall of 1864, John Wilkes Booth, handsome scion of America's leading theater family, began connecting with Confederate agents in Southern Maryland. Soon he met with John Surratt and confided a daring plan to kidnap Lincoln and exchange the president for Confederate prisoners of war. Perhaps, he implied, Lincoln might even be bartered for an honorable peace between North and South.
At the same time, Mary leased her tavern to a neighbor and opened a boarding house in Washington. She may have had economic reasons for the move, but her new home was well located to aid secret activities. Like her tavern, her boarding house became a way station for Confederate agents.
John Surratt and Booth enlisted six men to help them. Most notable was David Herold, who could help with escape routes; George Atzerodt, who could manage the inevitable crossing of the Potomac River, and Lewis Powell, who went by the name Lewis Paine, was a Confederate Army veteran with a taste for violence. He was taken on to subdue the towering and still-strong president.
Through the first three months of 1865, Mary came to know the conspirators as guests in her home. Her favorite was Booth, who came by most frequently, sometimes just to see her. They made an odd pair—the dashing young actor and the middle-aged landlady, often described as stout, who attended daily Mass—but they shared a fiery commitment to the Southern cause in the face of repeated battlefield defeats.
On March 17, Booth, John Surratt and their men armed themselves and set out to kidnap Lincoln as he traveled to a performance for wounded soldiers at a hospital on the outskirts of Washington. When Lincoln's schedule changed and put him elsewhere, they retreated to Mary's house, boiling with frustration.
They gathered for a second try in early April—except this time, Booth dropped any pretense of kidnapping. The goal was to murder the president and at least three other Northern leaders:  Vice President Andrew Johnson, Secretary of State William Seward and General Ulysses Grant.
Booth enacted his part in the plot on the night of April 14, when he shot Lincoln during a performance at Ford's Theater. He and Herold fled to Southern Maryland, with Booth aching with a broken leg he suffered when he leapt from the president's box to the Ford's stage. At Seward's house in Washington, Paine attacked the secretary of state, his two sons and an army nurse, leaving all four grievously injured before he made his escape. Atzerodt, assigned to kill Johnson, lost his nerve while drinking at the vice president's hotel and slunk into the night. Grant's unexpected departure from Washington that afternoon foiled any attempt on his life.
Some two weeks before the assassination, John Surratt had left Washington on a mission to Richmond. From there, he carried Confederate messages to Montreal, moving on to Elmira, New York, where he investigated the prospects for an uprising at a large prison camp.  He would always claim that on the evening of April 14, he was far away from Washington.
Within five hours of the attacks on Lincoln and Seward, federal investigators followed a tip to Mary Surratt's boarding house. Under questioning, she revealed nothing. When agents returned two days later, her vague responses confounded them again—until a bedraggled Lewis Paine stumbled to her door. Both he and she were arrested. They would never know freedom again. Atzerodt was captured on April 20 in northwest Maryland; Herold surrendered on April 26, when Union troops surrounded the barn in Virginia where he and Booth had sought refuge. Booth took a bullet in the neck and died of the wound.
By then the federal authorities had four others behind bars: Samuel Arnold and Michael O'Laughlen, accused of being part of the kidnapping scheme; a Ford's stagehand named Edman Spangler, accused of aiding Booth's flight, and Samuel Mudd, the doctor who treated Booth's broken leg as the assassin made his way through Southern Maryland to Virginia. Barely three weeks after the first arrests, all eight of the conspirators went on trial. Four of them—the more fortunate four—would go to prison.
With a Confederate army still under arms in Texas, the government insisted that a state of war justified trial before a commission of nine Union Army officers. Public attention focused on the four who were accused of taking part in the assassination—most intensely on Mary Surratt, the lone woman among them.
Prosecutors highlighted her close ties to Booth and her actions on April 14.  On that day, she met Booth at her boarding house and then rode to Surrattsville, where she told the tavern manager to expect visitors that night and to give them whiskey and rifles that had been hidden for the kidnapping attempt a few weeks before. When she returned home, she met with Booth again a scant hour before the assassination. That night, Booth and Herold rode to Surrattsville and collected the guns and whiskey. By aiding their getaway, the prosecution contended, Mary Surratt showed foreknowledge of the crime.
The nine commissioners found her guilty of abetting, concealing and assisting the conspirators, but differed over her sentence. They recommended to President Johnson that she be executed, but five of the nine urged him to grant clemency because of her sex and age.
With a black veil concealing her face throughout the trial, Mary became a blank screen on which the public could project its attitudes. Was she an innocent woman of piety suffering for her son's crimes, or was she a scheming, vengeful harpy? Johnson entertained no doubts.  He ignored last-minute appeals to spare her life, and sent her to the gallows with Herold, Paine and Atzerodt.
John Surratt stayed in Canada while his mother stood trial. That September he assumed the name of John McCarty, dyed his hair and put on some face makeup (tricks he might have learned from Booth) and boarded a mail ship for Britain. In Liverpool, he hid at another Catholic church, then moved through France to Italy. In early December, he enlisted as John Watson in the Papal Zouaves in Rome. The zouaves' mission was to resist Giuseppe Garibaldi's crusade to create an Italian republic.
But in Rome, John Surratt's luck ran dry. In April 1866, a fellow zouave from Baltimore, who may well have followed him in pursuit of the reward money, told American officials of Surratt's real identity. American and papal bureaucracies took seven months to work out the diplomacy niceties, but he was finally arrested in early November—when he managed a last escape, this time to Naples, whence he made his way to Egypt under the name Walters.
On November 23, 1866, John stepped off the steamship Tripoli in Alexandria and into the harbor's quarantine hall.  Four days later, American officials arrested him. A U.S. warship carried him to Washington in chains. He arrived on February 18, 1867, still wearing his zouave uniform.
His trial, in the summer of 1867, was as sensational as his mother's and involved much of the same evidence. But one crucial factor had changed:  With the war over, he faced a civil jury, not a military commission. Some jurors hailed from the South or were Southern sympathizers.
The defense could not deny John's deep involvement with Booth but insisted that he was not in Washington on the day of the assassination. Several tailors from Elmira testified that they saw the defendant in Elmira on April 14, wearing a distinctive jacket. Thirteen prosecution witnesses countered that they saw him in Washington that day, and prosecutors brandished railroad timetables showing John could have traveled from Elmira to Washington to join the plot, then fled to Canada.
Two months of trial produced a hung jury:  eight votes for acquittal and four for conviction. When prosecution blunders prevented a retrial, John walked free.
Surefooted in wartime, John struggled in the postwar world. He made a six-month journey to South America. He taught school. He tried public lecturing, boasting of wartime exploits but denying a role in the Lincoln assassination, but gave that up, too. In the 1870s, he joined the Baltimore Steam Packet Company, a Chesapeake Bay shipping line. More than forty years later, he retired as its general freight agent and auditor.
When John Surratt died, at age 72, in April 1916, a new war engulfed the world because an assassin had murdered Austrian Archduke Ferdinand two years before. Fifty-one years after Lincoln's murder, few noted the passing of the last surviving member of America's family of conspirators.
Editor's Note, August 29, 2013: Thank you to commenter Jenn for clarifying that John Surratt was found not guilty of plotting to assassinate Lincoln. We've changed the headline to reflect that.
David O. Stewart has written many historical books and articles. His first novel, The Lincoln Deception, about unraveling the John Wilkes Booth conspiracy, was released today and is now available for purchase.
Sources
Andrew C.A. Jampoler, The Last Lincoln Conspirator: John Surratt's Flight from the Gallows, Naval Institute Press, Annapolis, Md., 2008; Michael W. Kaufman, American Brutus: John Wilkes Booth and the Lincoln Conspiracies, Random House, New York, 2005;  Kate Clifford Larson, The Assassin's Accomplice: Mary Surratt and the Plot to Kill Lincoln Basic Books, New York, 2008; Edward Steers, Jr., Blood on the Moon: The Assassination of Abraham Lincoln;University Press of Kentucky, Lexington, 2001; William A. Tidwell, James O. Hall and David Winfred Gaddy, Come Retribution: The Confederate Secret Service and the Assassination of Lincoln, University Press of Mississippi, Jackson, 1988.