The Best Offense
A buried Civil War battery in a Kentucky suburb tells of valiant men standing at the ready… and waiting… and waiting….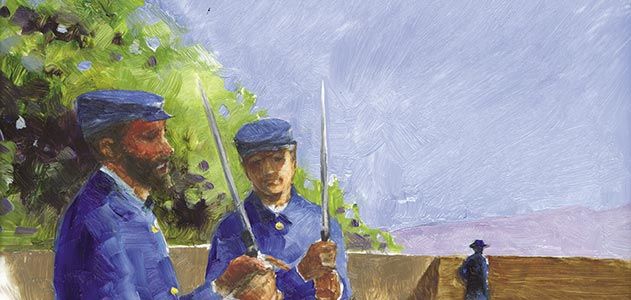 On a Saturday morning last September, the Storer House in Fort Wright, Kentucky, was cordoned off with yellow tape. Dozens of volunteers—college students in work boots, white-haired seniors slathered in sunscreen, parents and children—were on their knees, helping search the yard for clues. The brick house, built in the 1940s by a man named Sheldon Storer, sits on a hill above the Ohio River, two miles south of Cincinnati. Next door is a Presbyterian church, whose marquee read: "Moses was once a basket case too." The leafy suburban neighborhood seems thoroughly ordinary, but under one neat lawn lies evidence of a startling historical paradox: on this spot in September 1862, absolutely nothing happened.
According to James Ramage, a history professor at Northern Kentucky University (NKU), this particular nonevent helped the republic win the Civil War. "The Confederate Army invaded Kentucky, hoping to attack Cincinnati," he said. "But when they discovered the Union defenses in these hills, they marched away in the night."
Ramage, a Civil War scholar who has extensively researched the defense of Cincinnati, is in charge of documenting the restoration of Battery Hooper, which both historical research and remote sensing have located under the Storer House yard. A six-foot-high redan, or U-shaped earthwork flanked with rifle trenches, Battery Hooper was part of an eight-mile arc of defensive positions protecting the city's southern flank on the Kentucky side of the Ohio River. As the Rebels approached, these positions were manned by some 22,000 Union soldiers reinforced by 50,000 "Squirrel Hunters," farm boys with reputations as crack shots.
After the war, the site would be all but forgotten. During construction of the house in 1941, fill dirt was brought in to level the yard, burying any vestige of Battery Hooper. Its recovery began with last summer's excavation project, funded by a grant from the Scripps Howard Foundation, NKU and the City of Fort Wright. The site will eventually be restored to its original appearance. In June, a museum devoted to the defense of Cincinnati opened in the Storer House, which Storer's widow, Fern, donated to NKU in 2001. Supervising the excavation is archaeologist Jeannine Kreinbrink. "Up to a few years ago," she said, "there were 10 or 11 [batteries] still here. Now only 6 are left. The rest have been destroyed by developers and bulldozers."
In September 2004, Kreinbrink's students dug 15 shallow pits where remote sensing had indicated concentrations of metal debris and what looked like foundation stones. The following weekend, NKU and Fort Wright officials invited volunteers in to work in the pits. Their finds included glass, nails, fragments of tobacco pipes, a button with an eagle on it, and a piece of lead shot. "I've given up on the gold and silver," quipped David Tillis, president of the Central Ohio Valley Archaeology Society. Tillis, wearing a khaki bush hat, was sifting a bucketful of dirt through a box screen. "If we can preserve the battery, or what's left of it, we can add a few sentences to the Civil War history of Cincinnati," he said.
With a population of more than 161,000, Cincinnati in 1862 was called the Queen City of the West. Teeming with railways, steamboats and slaughterhouses, it was also known as "Porkopolis," in honor of its chief product. If the city fell, the invaders would be able to deny vital supplies to the Union, secure a major transportation hub, and Gen. Kirby Smith's Confederate Army of Kentucky would be poised to advance on the industrial cities of the North. "At the time, Cincinnati was one of the five or six largest cities in the United States," said Kreinbrink. "Whoever controlled Cincinnati controlled the Ohio River Valley, all the way up to Pittsburgh."
Union general Lew Wallace, assigned to defend the city, directed the construction of the hilltop defenses. Businessman William Hooper (for whom the battery was named) financed much of the project, while others pitched in. "Grocers contributed canned goods and fresh fruit," Ramage said. "Women cooked meals and volunteered as nurses. The Black Brigade of Cincinnati participated in the construction of the batteries. They got an eight-mile line of temporary defenses built in six days. People began to ask Wallace,—'Here you've created all this fuss. What if the Confederate Army doesn't come?' To which he replied, 'They will have decided better of it because of all this fuss.'"
General Smith's army had crossed the border from Tennessee into Kentucky in August 1862 and battled its way north. In September of that year, Smith dispatched 8,000 hardened veterans under the command of Gen. Henry Heth for a march on Cincinnati. On September 10, they engaged the defenses at Fort Mitchel, only a few miles from Hooper, and in the ensuing encounter 4 Union soldiers were killed, 2 Rebels were wounded and 16 were captured. Facing superior numbers and fortified positions, Heth decided the hilltops were too strong and withdrew the following night. Porkopolis' bacon was saved.
One hundred forty-two years later, volunteers were fussing over Battery Hooper again. "We're hoping to find something," said Geniene Ward of nearby Villa Hills. She and her husband, Jack, came for the sake of their son Ian, an aspiring archaeologist. "Archaeology is one of his dreams," she added. Just then, Ian threw down his trowel. "This is boring," he said.
Things picked up a little when NKU archaeology student Baird Ullrey discovered a rusty cast-iron griddle. Ullrey—bearded, burly, with an Airborne Infantry tattoo on his biceps—delicately scraped the soil away from his find. After half an hour, he had exposed one edge. A small crowd gathered to watch. "We may be looking at a waste pit," whispered Bob Clements, a printer from Edgewood, Kentucky. Inspired by an ancestor's sword, Clements has been a lifelong Civil War buff and is a member of a regional group of reenactors. Bespectacled and dressed in the uniform of a corporal in the 18th Indiana Light Artillery, he wandered among the diggers, passing around vintage lead bullets from his collection and explaining the finer points of 1860s military camp life. "There was no garbage pickup in the Civil War," he said. "If something broke, you just threw it away, and it stayed where you threw it."
Although volunteers eventually found more than 1,400 artifacts from several different eras, the most significant was probably a limestone foundation wall and an adjacent circular ring of bricks unearthed in the middle of the lawn. "We found the foundation of the powder magazine," Kreinbrink said, "and the round thing is definitely a dry well."
The well-engineered stonework distinguishes Hooper from most of the other batteries, which were made of wood and earth. "Given its robust construction and location on a prominent hilltop with a commanding view of the other positions, we now believe that Battery Hooper was a communication hub," said Kreinbrink. "And that makes this an important discovery."
To today's volunteers, the significance of this suburban hilltop lies most particularly in the fact that the defenses were built by ordinary citizens to protect their city in a crisis. "It's an example of homeland security, of defending your community against terrorism," said Fort Wright city administrator Larry Klein. "They may not have thought of it in those terms 150 years ago, but it's really the same thing."