Roberto Clemente: The King of Béisbol
The sports superstar and humanitarian transcended baseball's borders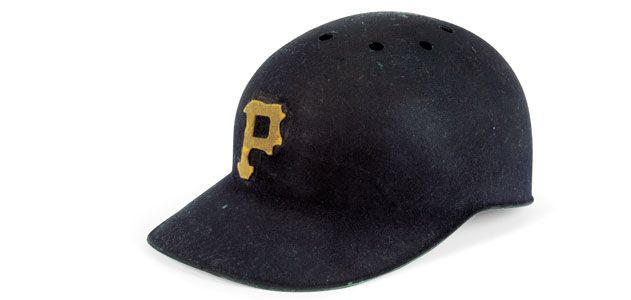 Editor's Note, October 12, 2018: In honor of today's Google Doodle recognizing the remarkable achievements of Roberto Clemente, we're resurfacing this 2011 story about the Puerto Rican baseball star.
After Roberto Clemente disappeared in a plane crash off the coast of San Juan, Puerto Rico, on New Year's Eve 1972, his body was never found. U.S. Coast Guard rescue and recovery teams probed the Atlantic waters for several weeks, but the ocean offered them a lone remnant of the brilliant baseball player—a single sock. Inanimate objects take on meaning only in the context of the story they evoke. That sock, banal yet gruesome, symbolized a sense of profound loss and mystery at Clemente's tragic end. But here we are looking at another object in his story, an artifact from an earlier time that, considered on its own, seems utterly ordinary, yet also carries a deeper meaning in its attachment to the career of a remarkable athlete—his batting helmet.
Exactly when and for how long Clemente wore this helmet is not established. Experts with the Pittsburgh Pirates, the team for whom he played right field for all of his 18 seasons in the Major Leagues, and at the National Museum of American History, where the helmet now resides, have narrowed it down to the early 1960s, which is good enough. Clemente was in his prime then. He helped lead the Pirates to a World Series championship in 1960 and won the first of four batting titles in 1961, with a prodigious .351, part of a string of 13 seasons in which his average soared above .300 all but once. The batting helmet was a tool of his trade, along with the more vital bat and glove, as he followed the path of a migrant worker from his beloved island of Puerto Rico to work in fields on the mainland every spring and summer.
What a surprisingly light object this helmet is! The sensation is of holding balsa wood, so insubstantial it seems almost ready to float away. Six and a half ounces, fiberglass and polyester resin, made from the formula used in bulletproofing materials for the armed forces. Coated in black, with a yellow P embossed on the front—the colors of the Pirates. Eight air holes on top, no ear flaps (they would not be mandatory in the Majors until 1974), scuff marks here and there, many of them with flecks of green. How could this object protect a head from the impact of baseballs thrown at velocities of 90 to 100 miles an hour from a distance of 60 feet 6 inches by the likes of Bob Gibson, Sandy Koufax and Juan Marichal? The question raises many thoughts, but first consider the remarkable head inside that helmet.
Clemente represents more than baseball. That explains why his helmet is at the museum, where it will appear among more than 100 objects—along with the Ruby Slippers from The Wizard of Oz, the original Kermit the Frog and a 150-pound piece of Plymouth Rock—in the exhibition "American Stories," which opens April 5. Clemente became a patron saint in the Spanish-speaking baseball-playing world, as well as in his adopted hometown of Pittsburgh, a black Latino embraced by the nation's quintessential white working-class town. His devoted following extends around the world; 40 schools and more than 200 parks are named in his honor, from Puerto Rico to Africa to Germany. The way he died is part of it. The plane that carried him to his death at age 38 was bound for Managua, Nicaragua, from San Juan, carrying humanitarian aid to a nation that had been devastated by an earthquake. That trip was in keeping with the way Clemente lived. He was that rare athlete who was growing as a human being as he aged; so many diminish as their talents diminish. In the final years of his life, his mantra was: If you have a chance to make life better for others and fail to do so, you are wasting your time on this earth. Clemente was aboard the plane because earlier aid sent to Nicaragua had been diverted by military thugs working for the nation's strongman ruler, Anastasio Somoza Debayle. If I go, it will reach the people, he said.
Months after he died, he was inducted into the National Baseball Hall of Fame, the first Latino so honored, and joined Lou Gehrig, who also died young, as the only members not required to wait five years after their playing days were done. Clemente was not the best ever, but there was no one like him on the field or off. Here is No. 21 in full—the soulful way he looked in his cutoff Pirates uniform with the black long-sleeved undershirt; the way he moved slowly to the plate, as though about to face an executioner, rolling out the persistent kinks in his neck all the way from the on-deck circle; the trademark clothesline throw from the deepest corner of right field to third base; the incessant physical complaints of a perfectionist and hypochondriac; the busting pride for his homeland and the determination with which he confronted American sportswriters who ridiculed his accent (none of them spoke Spanish) and described him in the racial stereotypes of that era; the beautiful fury with which he swung his big-barreled bat at any pitch within reach and ran the bases as if fleeing a horror, his helmet often flying off as he rounded first after another of his precisely 3,000 hits.
There it is—the helmet. Truth be told, Clemente never had much use for helmets, or any form of protection other than his own agility. He was hit by a pitch only 35 times in his long career, fewer than two per season, placing him 766th in major-league history (compared with the modern-day record of 285 for Craig Biggio of the Houston Astros), and few of those pitches were aimed near his helmet. As likely as not, he might swing at a pitch on that trajectory anyway. He was the poster boy for free swinging. To the notion that he was a bad ball hitter, he would reply, "It's not a bad ball if I can hit it."
During Clemente's rookie season, in 1955, helmets had more reason to fear him than for him to fear the pitched ball. He got off to a hot start, then cooled considerably, line drives finding their way to a fielder's glove. The longer his slump persisted, the more his helmets suffered. "Clemente would pop up or strike out," a teammate, Tom Saffell, later explained in an interview with Jim Sargent for the Society for American Baseball Research. "He would come back to the dugout and take that helmet off and sit it on the board floor and he would jump up and down on it! He must have ruined 15 or 20 helmets. Fred Haney [the manager] finally told him, 'Every time you ruin a helmet, you have to pay for it.' That stopped him."
The delicious irony was that Clemente's boss, Branch Rickey, then the general manager of the Pirates, was having it both ways with those destroyed helmets, suffering and profiting at the same time. The Pirates were the first team to require that every player wear a helmet, starting a few years before Clemente arrived, and it so happened that their helmets were manufactured by American Baseball Cap Incorporated, a company that Rickey and his family owned. It is fitting that Clemente's helmet was created by Rickey, who was a change agent not only in helmets but in other parts of baseball with far more sociological importance. It was Rickey, as general manager of the Brooklyn Dodgers, who brought Jackie Robinson up to the Major Leagues in 1947, finally breaking the color line, and it was Rickey who brought Clemente to Pittsburgh eight years later, accelerating the rise of Latinos in baseball, a central part of an extraordinary story that carried an ordinary old helmet to its honored place behind glass for the pleasure of museumgoers in Washington.