With Ancient Arches, the Old is New Again
An MIT professor shows how ancient architecture can be the basis for a more sustainable future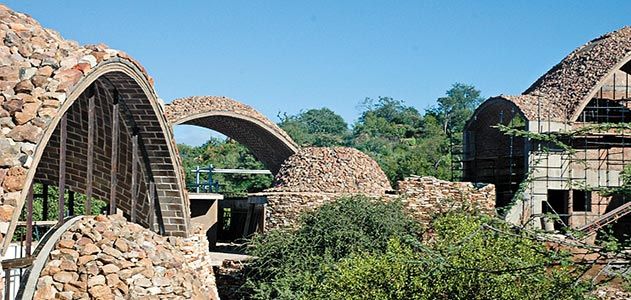 In a basement workshop, John Ochsendorf stands beneath a thin layer of bricks mortared into a sinuous overhead arch that seems to defy gravity. With the heel of his hand, he beats against the bricks. "Hear that ringing?" he asks. "It's tight like a drum."
Ochsendorf, 36, a Massachusetts Institute of Technology professor of civil engineering and architecture, is demonstrating why this style of arched ceiling, or vault—common in churches and other buildings throughout the Mediterranean—is named after the timbrel, an ancient musical instrument with a tightly stretched tambourine-like surface. The vault relies on the architectural principles that guided the construction of ancient Roman buildings, such as a 33-acre public bathhouse in central Rome that still stands today. The more elegant timbrel vault technology emerged in the 14th century, replacing the heavy stones favored by the Romans with terra-cotta tiles. Ochsendorf opted for 1 1/2-inch-thick bricks.
The structure is a full-scale prototype of a timbrel vault now on view at the Cooper-Hew­itt, National Design Museum in New York City. Vault201 (named for the gallery where it resides) is part of the museum's National Design Triennial—on view through January 9, 2011—held every three years to showcase innovative design. This year's theme, "Why Design Now?" celebrates projects that tackle human and environmental problems around the world.
Ochsendorf hopes to prove that sturdy, eye-pleasing structures can be built inexpensively out of local materials. And by using, say, clay and mud, instead of steel and concrete, the energy consumption and pollution associated with construction projects can be significantly reduced. (Cement production alone accounts for an estimated 5 percent of all carbon dioxide emissions worldwide.) The bricks in Vault201 were made from 100 percent recycled material—including industrial waste and raw sewage.
"John does really high-tech engineering with low-tech resources," says Cooper-Hewitt Deputy Curatorial Director Matilda McQuaid. "He has reinvigorated this 600-year-old Mediterranean building technique in a way that is stunningly beautiful today."
Historically, such vaults contained two or more layers fused together for stability, but Ochsendorf built a single layer to demonstrate the form's inherent strength. "People don't expect something that's this thin to stand," he says. In his basement workshop, he underscores the point by climbing eight feet up a ladder and stepping onto the top of the vault. Watching nervously from below are the half-dozen architecture students who helped Ochsendorf design and build the vault, along with several members of the New York-based engineering firm Robert Silman Associates, on hand to certify its structural soundness for display in the museum.
The Cooper-Hewitt exhibit also includes photographs and time-lapse video documenting the 2007 to 2010 construction of the MIT professor's most famous work, the Mapungubwe National Park Interpretive Center in South Africa. The center's soaring domes were constructed from 300,000 soil tiles made on-site by two dozen local laborers—overseen by Ochsendorf, a team of students, and an architect and an engineer, both from South Africa. Among the many benefits of this approach: a 90 percent reduction in carbon emissions over standard construction techniques. Last fall, the World Architecture Festival in Barcelona honored the center as the World Building of the Year.
Ochsendorf goes beyond "form follows function." For him, form must also follow a deeper understanding of its impact on the surrounding environment. "With the Industrial Revolution, basically 5,000 years of progress was thrown out the window," he says of the masonry vault. "People assume that in the 21st century buildings should be made of titanium, because we have a narrow definition of progress. Maybe a 21st-century building is made out of dirt used in an intelligent and beautiful way."