When Did the Girl Scouts Start Selling Cookies?
What are your favorite varieties, and what do they say about you? And did you sell the cookies as a kid?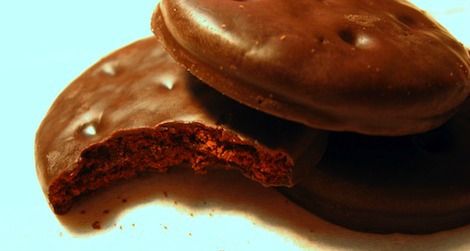 In a 1992 essay for The New Yorker, Susan Orlean took an inventory of the inventory left at the recently vacated Girl Scouts of America the USA headquarters building on Third Avenue. Aside from the people who make this youth service organization hum, it's readily apparent that something more is missing.
Twelfth floor. Orange Hermann Miller Eames chairs, straight-backed wooden desk chairs, plastic stackable shell chairs in various colors. Troop Camper activity badges embroidered with little tents and trees, which Mom always promised to sew on when she had a free minute but never did: none. Cookies: ditto."
With every floor there is another round of disappointment with the absence of the Girl Scouts's signature edibles.
"Fifth floor. Acoustical office dividers covered in Scout-green fabric. Several boxes of green No. 2 pencils, embossed with the Girl Scout logo. No sunshine ponchos made by cutting up one of your mother's cocktail dresses. Cookies: still none, although an employee of Affordable Furniture walking by confirmed having sighted and then eaten several boxes of Thin Mints, Peanut Butter Sandwiches and Peanut Butter Patties."
The unfulfilled promise of Girl Scout cookies is absolutely cruel.
These brightly colored boxes of baked goods, hawked to us every year by little girls in scouting uniforms, they have lent themselves to loving parody, recipe ideas and even cocktails. This year, the classic lineup of Thin Mints, Samoas and shortbread trefoils was joined by Savannah Smiles, a lemony cookie dusted with powdered sugar, introduced to honor the 100th anniversary of Juliette Gordon Lowe's founding of the Girl Scouts. But when did the annual cookie drive tradition get its start?
Cookie sales began as—and still are—a means for troops to fund activities and programs. The earliest known cookie drive was organized in December 1917 by Muskogee, Oklahoma's Mistletoe Troop. Instead of being sold door-to-door, the baked goods were sold in a local high school cafeteria. In the 1920s and and 1930s, troops across the nation independently organized cookie drives, baking simple sugar cookies in their own kitchens and selling parcels of wax-paper-wrapped treats for anywhere between 25 and 35 cents per dozen. By the mid-1930s, commercial bakers were being approached to produce the cookies, and by 1951, the line included three varieties: a sandwich cookie, shortbread and a chocolate mint, now known as Thin Mint cookies, which currently account for 25 percent of all Girl Scout cookie sales. Currently there are two bakeries licensed to produce eight varieties, and your access to certain cookies depends on your location. (There's a cookie locator app you can use to track down which goods are available near you.)
The cookies have, however, run into a few problems over the years. The flour and butter shortages that came with World War II halted cookie drives, and scouts instead sold calendars to raise funds. The cookies later came under fire for their trans fat content. In 2005 cookies with zero trans fats were introduced, the organization using the occasion to impress upon scouts the importance of label reading when making eating choices. (Subsequent reporting suggests that the cookies abide by the FDA's definition of what constitutes zero trans fats—any amount less than .5 grams—and that there are indeed some artery clogging dietary fats therein.) But the Girl Scouts are perfectly sensible in the advice they dispense regarding consuming their own product: "As with all treats, they should be enjoyed in moderation."
Some cookies have gone extinct, varieties that didn't sell well and were consequently retired—including an ill-fated venture into the cracker market with Golden Yangles.
What are your favorite Girl Scout cookies—and what do they say about you? And if you have memories of selling cookies, share them in the comments section below. And for those of you who are wanting to get a Girl Scout cookie fix in the off season, you may have to satisfy (torment?) yourself with a line of lip balms that come in Samoa, Thin Mint and Tagalong flavors. Just try to refrain from eating the stick.