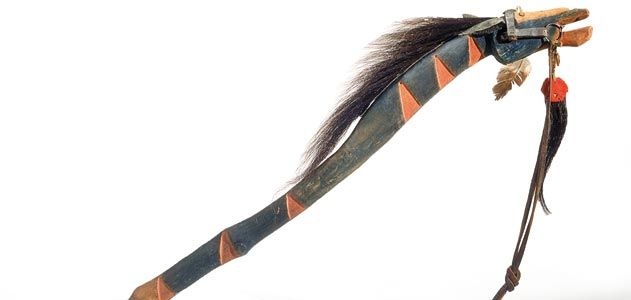 The Soul of Wit
The American Art Museum presents the first major retrospective in three decades of works by California artist William T. Wiley. His playful pieces employ rhymes ("Sweet Sixteen") and puns. On display through January 24, 2010.
About the Face
Finalists in the Portrait Gallery's Outwin Boochever Competition are on exhibit until August 22, 2010. The winner receives $25,000 and a commission to portray, in any medium, a famous living American.
Road Trips
Americans have always been on the move—seeking wealth, adventure or a place to settle down. The traveling exhibit "Journey Stories" tells this history through posters, photographs and audio clips.
Cosmic Canvas
Astronaut Alan Bean, the only artist to have walked on another world, adds moon dust to his paintings. His works are at the National Air and Space Museum through January 13.
Faithful Steeds
An exhibit on the significance of horses in Native American culture opens November 14 at the George Gustav Heye Center in New York. The warrior No Two Horns created this dance stick (c. 1890) to honor his horse killed at Little Big Horn.