Seventy-Five Years Ago, the Television Musical Made Its Debut
"RENT: Live" meet "The Boys from Boise"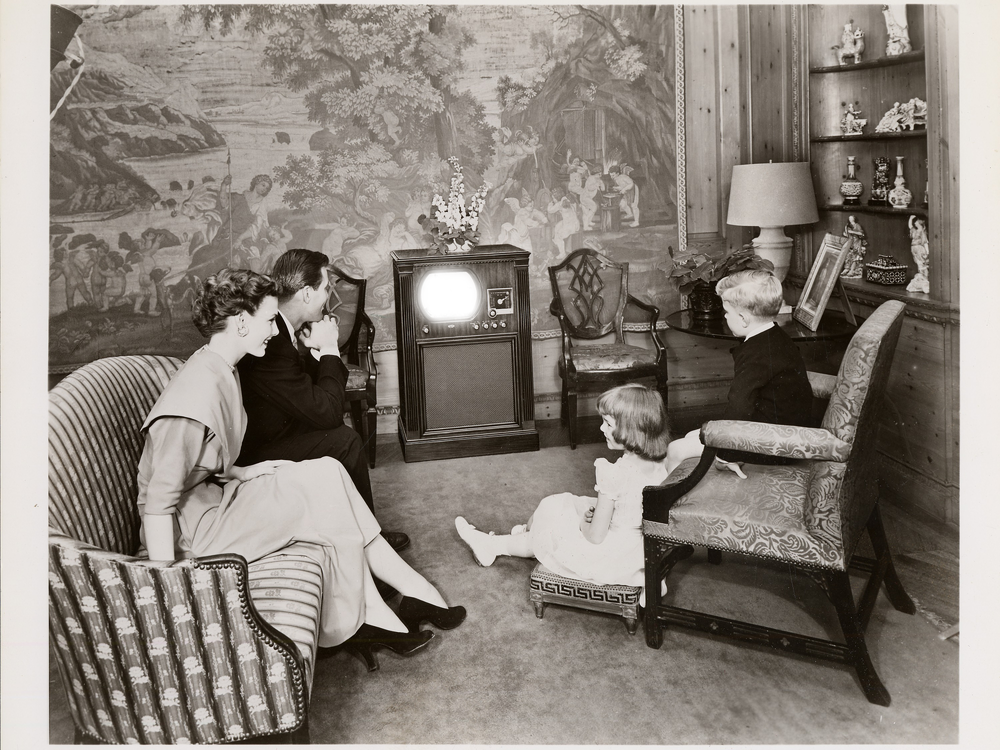 The 21st-century iteration of the television musical is a relatively well-oiled machine—at least as far as live TV allows for such a thing.
NBC gets credit for pioneering this genre of appointment viewing with its production of "The Sound of Music Live!" back in 2013. A costly gamble—the network spent a cool $9 million on the production and Alpine countryside set—the novelty programming proved to be a ratings bonanza, encouraging a steady stream of increasingly sophisticated live "events" that have advanced since.
Each promises stunt casting, spectacle and, if you're lucky, the magic in the bottle that comes from watching an unforgettable performance unfurl before your eyes. At the very least, it gives you something to tweet about (still looking at you, Christopher Walken in "Peter Pan Live!"). This weekend, FOX brings audiences the latest version of the live television musical phenomenon with an adaptation of Jonathan Larson's wildly popular Rent, starring Vanessa Hudgens and Broadway's Brandon Victor Dixon.
Before all of this, however, came "The Boys from Boise." Broadcast on September 28, 1944, it is recognized as the earliest iteration of the television musical we're familiar with today. The story of stranded showgirls on an Idaho ranch looking to raise money to go home was the first full-length musical comedy written for television at a time when less than 1 percent of American households even owned a TV set. To give that some perspective, "The Boys from Boise" preceded "The Ed Sullivan Show," "I Love Lucy," and NBC's "Today" show. Years before television took the shape it largely follows today, it was a fount of innovation and creativity.
"'The Boys from Boise' is not to be judged by top-notch Broadway standards," wrote Lou Frankel the radio editor for Billboard. "Rather it should be judged as a noteworthy experiment in an experimental medium and as that it is something."
The program aired on WABD, a New York-based station owned by electronics engineer Allen B. Du Mont. If his name sounds familiar, it's because he helped establish the art and science of television as we know it. He founded his eponymous company, Du Mont Laboratories, in the New Jersey suburbs in the midst of the Great Depression. By 1938, he decided to get into the TV game—not because he was interested in programming, says David Weinstein, an expert on the DuMont Television Network (stylized without a space), but rather because he believed it would help sell his cathode-ray tubes and other TV equipment. People, after all, needed something to watch on their newly purchased Du Mont devices.
While Du Mont himself was focused on the engineering side of things, he let people from his laboratory in New Jersey go to New York to start putting things on the air. It was a small, casual operation made up of young employees, many of whom were in their 20s. There wasn't money in TV yet or any rules to follow, really, which meant they could do pretty much as they pleased. "It was almost like kids in a candy store with nobody watching," says Weinstein. "It reminds me of the very early day of the internet or the very early days of radio." If you had an idea for something interesting, you could just go for it.
Of the four original networks—NBC, CBS, DuMont and, later, ABC—DuMont was always the marginal player, the only early network not owned by a radio empire and the various legacy talent and corporate structures that came with it. But that also meant DuMont didn't have to play by the same rules.
"Du Mont was a true pioneer in American television," scholar Jim Von Schilling writes in The Magic Window: American Television, 1939-1953. "Du Mont had the first commercial network, the first top-rated show, the first soap opera, the first day-time programming, and the first Saturday night variety show." But most importantly, Schilling argues, Du Mont was "the first third network" and "challenged the monopoly over America's airwaves of NBC and CBS."
This spirit of experimentation, which Weinstein believes was "on all networks, but especially on Dumont" gave rise to programs like "Boise." Of the many ways DuMont differentiated itself, he explains in his book The Forgotten Network: DuMont and the Birth of American Television, the network made "variety shows the centerpiece of its corporate strategy for popularizing the medium."
Popularizing the medium was the first goal. During World War II, when "Boise" aired, early television pioneers were all looking to build a business model for the postwar years. "Everybody is trying to figure out how do we make television work so that after the war, we can start to make money from it? What kinds of programs should we air? How do we shoot the programs? What's going to be popular? How do we fill our time?" says Weinstein.
At the time, no formula for how to make a TV musical existed. As such, the cramped space the production was shot in was noticeable— "even a simple dance routine was handicapped by a lack of sufficient fanny-space on the turns," Frankel noted—but he called the direction of the musical "smooth all the way," thanks, likely, to the week of studio rehearsals and two full dress rehearsals.
Television and radio critic Jack Gould expressed similar sentiments in his review for the New York Times, in which he compared seeing a live show to its small screen counterpart. "It was not unpleasant, either, to sip a highball and enjoy a cigarette in a favourite chair as a line of Conover models capered before your eyes," he wrote While Gould's review called "Boise" no "great shakes as a musical comedy," he didn't appear too bothered by that—"under existing conditions there was no reason to expect it to be," he wrote.
Like many of DuMont's successes, the warm reception to "Boise" caught the eye of the other network execs. This was a time when everybody was copying from everybody, says Weinstein, and the statement made by "Boise" wouldn't have gone unnoticed, especially to people such as Sylvester L. Weaver, Jr. NBC's chief programmer, who led the next wave of musical TV productions in the 1950s.
Weaver became known for his "spectaculars," as he called the 90-minute blocks of cultural programming intended to transport "show business in the living room." The spectaculars featured names like Frank Sinatra, Henry Fonda, Jack Lemmon and Ann Sothern, among others, with the tantalizing message that "each of these stars will appear 'live.'"
Weaver sought to make television an event, American mass communication theorist James L. Baughman explained in "Show Business in the Living Room: Management Expectations for American Television, 1947-56." Like the TV musical of today, Weaver wanted every spectacular to "have the quality and character of a big Broadway premiere."
For a time, Weaver's vision became the "established religion," punctuated by the March 1955 musical telecast of the Broadway musical Peter Pan, which, Baugman noted in Same Time, Same Station: Creating American Television, 1948–1961, attracted the largest audience ever for a network program.
"Peter Pan" could have been just the beginning of live TV programming; by 1960, a senior assistant to Weaver was suggesting "NBC would have a program schedule which is not predictable on a week-to-week basis."
That didn't turn out to be the case. The pricey productions weren't pushing people to go out to buy color TVs to experience, as NBC parent company RCA had hoped. CBS' predictable schedule of programming, instead, lit the way.
Part of problem, Baugman believed, was that early television executives "confused themselves with their consumers," who were living in a changing America where motion pictures were all the rage, not the New York stage. "Legitimate theater had been declining across America for more than a generation, mainly because of the spread of motion pictures," he wrote in "Show Business in the Living Room." The same small-town opera houses that road shows once dominated were now movie houses.
The year after "Peter Pan" aired, Weaver parted ways with NBC. Meanwhile, the DuMont Network, which had produced over 100 television programs, was pushed off the air by 1955, in part because its affiliates couldn't get into major markets and in part due to meddling by Paramount Pictures, which had bought a stake in DuMont.
The TV musical didn't disappear in the aftermath, but it never became the driving force pushing the medium forward.
Today, its resurgence comes just as the age of streaming services and dwindling ratings forces the networks to once again rethink their programming. A televised musical—once teased as the future of television all those decades ago—suddenly offers up a reason to watch the broadcast in real time to participate in the spectacle of it all.
Gould couldn't have foreseen the age of streaming, but in his 1944 review of "Boise," he did predict that the medium hadn't caught up to the genre yet, arguing that the television industry "is merely marking time against the day when it is possible and technologically propitious for the big money, represented by the networks and advertising agencies to decide it is time to go into the art on a major scale."
Sadly, there is no copy of "Boise" to look back on to see how far the television musical has come. Like much of early TV's records, most of DuMont's archives are gone, and just a few recordings remain.
However, there's always the chance a piece of "Boise" may come forward in the future. As silent film scholar Fritzi Kramer wrote for Smithsonian.com earlier this year, the search for these early works is far from over.
"It wouldn't shock me if one day we saw glimpses of 'The Boys from Boise'," Weinstein says. While it's highly unlikely the musical would have been preserved on Kinescope (a film made of a live broadcast), there's always that chance. "People are so interested in early television," he says. "You just never know what's out there, and why somebody may have filmed something and decided to keep it."