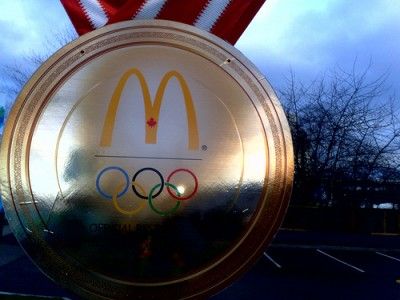 Sure, triple lutzes and double McTwist 1260s are challenging. But feeding more than 2,000 athletes—who eat up to 5,000 calories per day—from 85 nations is no easy task either.
Who even has the ability and resources to dish out 10 million calories daily? McDonald's, of course, with a little help from Sodexo. Together, the global, mega-food-service providers are serving up McNuggets, pad Thai and other international fare at the Olympic villages in Vancouver and Whistler. The cafeterias also include a First Nations station, where diners can try Canadian dishes such as bannock (fry bread), venison chili and Pacific salmon.
Of course, you can't please everyone. According to a Russian news organization, the captain of the Russian ice hockey team, Alexei Morozov, complained that the food at the Olympic Village was "tasteless, non-caloric. I tried spaghetti – it was impossibly to eat it. Me and other guys had to go to McDonalds and eat hamburgers."
Others criticize the presence of McDonald's, with its reputation for a menu high in fat and sodium and low on nutrients and whole grains, as a poor choice for feeding elite athletes. But, as nutrition consultant Nanci Guest told the Vancouver weekly the Georgia Straight, host cities have no choice over the fast food giant's inclusion, since the company is a major sponsor of the games and has had a presence at the Olympics since the 1960s. In any case, when you're eating thousands of calories a day, she said, "If you have an Egg McMuffin, it's not going to break you."
If creating monuments out of food was a sanctioned Olympic sport, the gold would surely go to the cranberry growers of Richmond, British Columbia, a Vancouver suburb, who turned 13 million cranberries into a 46,000-square-foot sculpture in the shape of the Olympic ring logo and a maple leaf. At least cranberries are healthy.
In other strange food-related Olympic news, U.S. skier Lindsey Vonn turned to "the power of fromage" to heal a leg injury that threatened to sideline her. Her trainer spread a soft Austrian cheese called topfen on her leg and, for whatever reason, it seems to be working. Is it the cold? The calcium? The placebo effect? Could camembert or cotija provide similar healing benefits? We need to know. Sadly, a major cheese-therapy study has yet to be undertaken by the science community.