Julia Child's Kitchen Closes This Weekend
January 8 will be your last chance to see Julia Child's kitchen for a while, so hurry by the American History Museum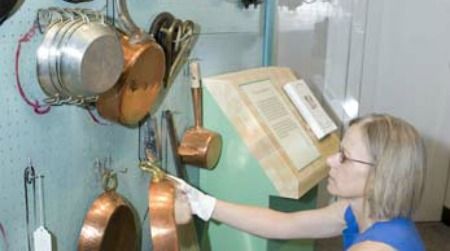 We will not say goodbye but merely au revoir to the kitchen that once belonged to the grand dame of French cuisine, Julia Child. After Child donated her kitchen—complete with gadgets, cabinets and even the sink—to the American History Museum, the master chef's culinary workspace was transplanted from her Cambridge, Massachusetts home to the museum, where it has been on view since 2002. It's one of those exhibits you can go through with kid-in-a-candy-store awe, checking out the tools she used to ply her craft, from blow torches to an arsenal of cookbooks. Personally, I love seeing how she organized her space like a workshop, using the robin's egg blue pegboard to hang her pots and pans so they're always at the ready. And she kept a copy of the 1975 edition of the Joy of Cooking on her shelf.
But more than a simple assemblage of utensils and kitchen furnishings, the exhibit impresses on visitors the extent to which this one chef managed to have such a huge impact on American culture. In an age when prefab convenience foods were gaining in popularity, she not only showed people how to cook, but demonstrated that it's OK to make mistakes along the way—and carry on with humor and resolve. (If you don't believe me, watch her flipping a mass of mashed potatoes in a frying pan.) Unpretentious and equipped with an insatiable sense of curiosity, she was someone you could relate to through your television screen.
January 8, 2012 will be your last chance to see Bon Appetit! Julia Child's Kitchen at the Smithsonian for a while, so hurry by the American History Museum if you can. It is scheduled to be re-exhibited in a show on American food and wine slated to open in the summer. Can't stand to live sans Julia for a few months? There's always the online version of the exhibition, and the bloggers over at the American History Museum have a few ideas to help you get your Julia Child fix. My favorite ideas of theirs involve diving into some of Child's books and learning to make a few culinary creations from someone who was at the top of her craft.