How Do You Make a Painting Out of Sounds?
Jennie C. Jones has the answer. Her first solo museum show opens at the Hirshhorn in May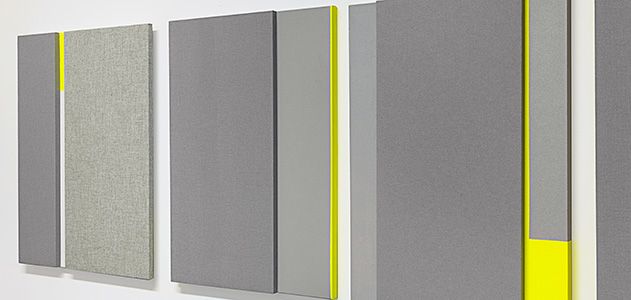 Entering Jennie C. Jones' studio in Brooklyn, a visitor is drawn to a series of artworks on a whitewashed wall. At first, they look like simple abstract canvases with warm tones of gray and black subdivided by precisely painted yellow lines and rectangles. But there's more to them than that. For one thing, they're made from acoustic panels.
"Come closer," Jones said. "Listen to them." She passed her ear across two panels, pausing between them. "If you listen closely, you'll hear what I mean."
It was true. The ambient noise in the studio, mostly muffled traffic rumblings from the nearby Brooklyn-Queens Expressway, resonated gently off the surface of her works. Between panels, the reverberation grew harsher, only to soften again at the next panel. It was an exquisite, improvised lesson in sensory perception. "Resonance can be low-voltage, too, a quiet hum," she said.
Jones' Acoustic Paintings and other experiments in visual and sonic minimalism will go on display at the Smithsonian's Hirshhorn Museum and Sculpture Garden in "Higher Resonance," her first solo museum show, from May 16 to October 27. The exhibit will combine Jones' sound collages with painted silk-screened and sculpted objects employing what she calls the "physical residue of music," such as bass traps and instrument strings. Jones says she feels a kinship with Marcel Duchamp, whose early 20th-century "readymades"—familiar manufactured objects set in unfamiliar contexts—wittily challenged viewers to rethink the definition of art. She also gravitates to a variety of Modernists, from the Russian Constructivists and Bauhaus architects to the abstract painters Agnes Martin and Barnett Newman. "I'm an art-school victim," Jones admitted cheerily. (She has a bachelor's degree from the Art Institute of Chicago and an MFA from Rutgers.)
What sets Jones apart, according to Hirshhorn associate curator Evelyn Hankins, is the synergy between her visual works and her sound productions, which will be looped through speakers in the exhibition space. A curved partition wall, echoing the museum's distinctive round shape, will divide the space and create listening areas for experiencing the interactions of sight, sound and thought. "One of the things I really like about Jennie's work is that all of her objects function," Hankins said. "When they're in a gallery with no sound they are these beautiful autonomous objects. But then you put sound in the gallery and they become activated."
Jones often uses a digital editing technique called micro-sampling, which allows her to extract single notes or phrases from music recordings and manipulate them. Early on, her works were ear-opening mashups of jazz recordings by Charlie Parker, Max Roach and other artists Jones had listened to growing up in the Cincinnati suburb of Wyoming, Ohio. Later she turned to avant-gardists such as Alvin Singleton, Alice Coltrane and the Art Ensemble of Chicago.
"At times, the recombinations have the effect of converting earlier eras of jazz into a kind of free jazz," George E. Lewis, the trombonist, composer and Columbia University scholar, commented in an e-mail. "The possibly intended message here is one of continuity between the '60s and earlier eras, rather than the currently accepted trope of irreparable rupture."
Jones' From Below combines minimalist sound panels and a Charles Mingus sample looping through an amplifier. When the pianist and composer Jason Moran first encountered it in 2011, "I was like, 'Oh, yeah!'" he recalled. "This is a good way to look at this history—visually." Moran added, "She does things that totally resonate with my own practice." Jones and Moran, now artistic adviser to the Kennedy Center, are scheduled to engage in a public conversation at the Hirshh orn on May 23.
For all their conceptual sophistication, Jones' works also resonate with simpler qualities: balance, grace and craft. "They're extremely elegant," Hankins says. "I don't think art has to be beautiful. But it helps."