Darwin for Dads
A daughter tries to help one member of an endangered species survive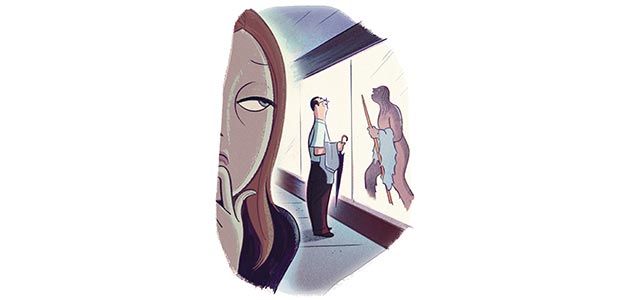 When my daughter was small, I used to take her to the American Museum of Natural History in New York City. There, I would explain why the dinosaurs disappeared and how mankind evolved from our primitive forebears. She seemed rapt. But a few weeks ago, after hearing me on the radio discuss a new book about Charles Darwin, my daughter, now 25, suggested that we reverse roles—she'd take me to the museum. She said my understanding of Darwinism needed some fine-tuning.
I am not one of those lunkheads who interpret evolution as meaning only the fittest survive and their survival proves that they deserved to outlast other species. But I am one of those people who believe things usually happen for a reason, even if it is a bad one. My daughter, who studied biochemistry at Harvard, paid my entry to the museum, and then gently explained that my theory was completely wrong.
"In one sense Darwinism does connote survival of the fittest," she said. "But it's not judgmental. In any situation, you have a variety of pressures on an organism: What is the atmosphere, is there food available, what is the competition for resources?" She said this as we ambled past a looming skeleton of an apatosaurus—which was called a brontosaurus when she first saw it from a backpack at the tender age of 6 months. "This dinosaur didn't disappear because it did something wrong. The pressures on it changed, and other species were better able to cope."
"Then how come you're smarter than me?" I asked. "Isn't this like baby giraffes growing longer necks to reach the tastiest fruit? Isn't nature saying, 'This clown doesn't know anything about evolution, so his daughter will evolve into an organism that does'?"
"No," she responded. "Evolution is random."
I still had my doubts. Freelance writing is a terrible way to make a living. Freelance satire is even worse. Wasn't the fact that my daughter was planning to be a neuroscientist—thereby acquiring a marketable skill that would land her a good job with benefits and a pension—a sign that she was further along the evolutionary chain than me.
"No," she said (again). "That's what's wrong with social Darwinism, the notion that if we align all the elements properly, the species will improve."
"But what if your mother and I created an environment where you would grow up to have a more plausible career than your dad?" I asked.
"That's the old question of nature versus nurture," she replied, as we surveyed a rare breed of tamarin. "Look at it this way: nature is not pushing us in a particular direction; it's just pushing. Nature is hand-squeezing a tube of toothpaste. Eventually the tube will burst. The organisms that stay in the tube of toothpaste are the fittest. The others get flushed down the drain. That doesn't mean they're defective or that they deserved to get flushed away. It's not that they weren't tough enough. Maybe all the things that their species were selecting for stopped being suitable to a new environment."
"Like old-media writers seeing their markets dry up as newspapers get replaced by blogs?" I responded.
"If the atmosphere filled up with nitrogen, mankind would not survive," she continued, as we inspected an extinct species of bird. "That does not mean that mankind deserved to die. It means that circumstances changed."
"So freelance humorists are exactly like the vanished species of oxen we just passed?" I asked. "And this story is a warning to other wiseacres to mutate in another direction?"
She pondered that one for a minute, no doubt mystified as to how a father as misinformed as hers could have possibly spawned a scientist.
"I think we might need to make another trip to the museum," she said, diplomatically. "This could take a while."
Joe Queenan, the author of nine books, writes regularly for the New York Times, the Los Angeles Times and the Guardian.