Christo Does Central Park
After a quarter century's effort, the wrap artist and his wife, Jeanne-Claude, blaze a saffron trail in New York City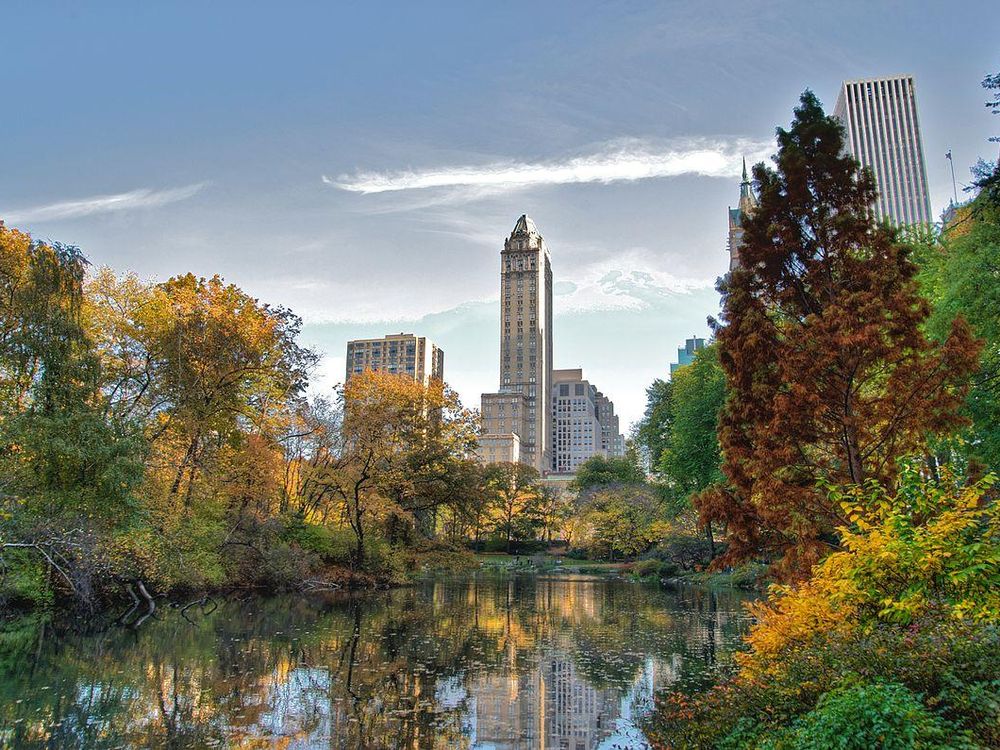 January 2003: The steel industry was in a slump. At the Charles C. Lewis steel processing plant in Springfield, Massachusetts, president Robert Cournoyer was facing the prospect of layoffs. Then the phone rang with what would turn out to be the largest order in the company's 118-year history. This has got to be a joke, Cournoyer remembers thinking.
The call came on behalf of New York City artists Christo and Jeanne-Claude, no last names. Cournoyer had never heard of them. On the phone, Vince Davenport, a contractor representing the artists, explained the couple's need to have ten million pounds of steel cut into 15,000 rectangular blocks, or bases. On these bases, the artists planned to erect 7,500 frames, or "gates," in Central Park. For 16 days starting on February 12, 2005, saffron-colored panels of nylon cloth would wave from these free-standing structures along 23 miles of park walkways. Then, everything—steel bases included—would be dismantled, melted or shredded and recycled. "The whole story was bizarre," says Cournoyer. "I don't care how you say it, that's what it was. It was hard to believe at first."
"Bizarre" is a word many people have used to describe the artists' gargantuan, short-lived projects, whether the 18-foothigh by 241¼2-mile-long "running fence" of shimmering white nylon they installed across Northern California ranchland in 1976, the 440,000 square feet of champagne-colored woven synthetic fabric they draped over the Pont Neuf bridge in Paris in 1985, or the 1,076,000 square feet of silvery polypropylene fabric in which they swaddled Germany's parliament building, the Reichstag, in 1995. Eighteen times in the past 40 years, Christo and his wife and partner, Jeanne-Claude, have created such large-scale, temporary artworks to mostly enthusiastic responses from spectators, and admiration—if sometimes grudging—from art critics.
"I came here expecting not much from the ballyhooed project and found myself swept up in it," New York Times critic Michael Kimmelman wrote of his visit to Wrapped Reichstag, Berlin, 1971-95. " ' It' means the whole giddy affair—the revelers who turned the bleak fields around the Reichstag into Woodstock East, the art students who gathered to sketch the building, the street vendors, the posturing politicos." The effect was typical, he went on, in that "time and again," the couple's projects "have turned doubters into converts."
To the Christos, the whole process of seeking permissions and persuading skeptics—and, hopefully, astonishing them with the results—is as much a part of the project as the event itself. "The Christos insist on convincing people to allow them to carry their ideas out in places where daily life goes on," says Elizabeth Broun, director of the SmithsonianAmericanArt Museum. "In that sense their work is entirely pathbreaking."
Christo calls the projects "irrational and absolutely unnecessary." This irrationality is linked, he says, "to freedom, which is a very important part of our work."To ensure that freedom, the artists themselves foot the bill for each endeavor—$15.2 million for Wrapped Reichstag, an estimated $21 million for the Central Park project—through the sale of Christo's drawings, collages and sculptures. The Christos do not accept grants or corporate underwriting; they live simply and frugally in a building they own in Lower Manhattan. "We don't buy diamonds, we don't have an elevator," Jeanne-Claude likes to say.
It usually takes years for the couple to persuade the community groups, landowners and government agencies to grant the requisite permits for a project. It is this laborious process, Christo says, that "gives all the soul, all the energy to the work. At the start we have some little idea, and then the permitting process gives the feedback. And this is so exciting because it is not invented by us."
Christo first drew a version of The Gates: Project for Central Park, New York City in 1979. Within a year, the artists were presenting the idea to politicians, arts groups and neighborhood community boards. Harlem, East Harlem and the Upper West Side boards voted yes; Fifth Avenue and Central Park South gave a thumbs down. The New York Times editorialized that "Central Park needs loving hands of restoration, not exploitation." Finally, in 1981, Gordon Davis, then commissioner of the New York City Department of Parks & Recreation, turned down the project; his 107-page document cited potential harm to a park still reeling from a decade-long bout with crime and neglect.
The artists went on to other projects but kept The Gates idea alive. "They would present their case nicely and politely," says current parks commissioner Adrian Benepe, then a Manhattan borough parks official and one of several whom the Christos consulted, "and I would explain to them why it wouldn't work."
For most of the four decades that the Christos have been New Yorkers, they have lived in a five-story, former factory in the SoHo district of Manhattan. Christo is a highstrung, wiry man with Albert Einstein hair and an air of dreamy disarray. Jeanne-Claude is a force of nature, with big hair dyed Raggedy Ann red, a taste for bons mots and a passion for precision. They call each other "Chérie" and "Mon Amour," particularly when they are quarreling.
When they first met in Paris in 1958, he was a struggling artist named Christo Javacheff. Arefugee from Communist Bulgaria, he had smuggled himself out of the Communist bloc in 1957 at age 21 in a freight train, leaving behind his brothers, Anani and Stefan, mother, Tzveta, and father, Vladimir, a chemist in the textile industry.
Jeanne-Claude was the pampered stepdaughter of French general Jacques de Guillebon, a World War II hero. The couple shared not only an intense passion for life and each other, but they also bore similar emotional scars, his from privations endured under Communism, hers from having been shuttled between families while her mother, Précilda, served on the staff of the Free French Army. They had something else in common. "We were both born on the same day in 1935," says Jeanne-Claude. "Next June 13 we will be 140 years old."
They met after Jeanne-Claude's mother had asked Christo, who was then earning a meager living painting portraits, to paint her family. Soon the Guillebons were treating him like a son. Such acceptance, however, did not extend to his suitability as a husband for their daughter. When Jeanne-Claude moved in with Christo after the birth of their son (Cyril Christo, now a 44-year-old poet), Précilda severed contact with the couple for two years. They were married on November 28, 1962. "When we met, I was not an artist," says Jeanne-Claude. "I became an artist only for love of Christo. If he had been a dentist, I would have become a dentist."
In a maid's room in Paris that he used as a studio, Christo had been wrapping cans, bottles, telephones, even tables and chairs, in canvas, bedsheets or plastic—transforming the everyday into mysterious packages. For his first one-man show, in 1961 in Cologne, he wrapped a typewriter, a stove, a Renault car and two pianos. The works continued to grow in size and scope. In response to the recently built Berlin Wall, he and Jeanne-Claude blocked a Parisian street for hours in 1962 with an "iron curtain" of old oil barrels. In 1964, Manhattan gallery owner Leo Castelli invited Christo to show his work in a group exhibition. Enticed by the art scene in New York City, Christo and his familymoved there that same year. The couple's projects got progressively bigger and more ambitious—they wrapped the Kunsthalle museum in Bern, Switzerland, in 1968, the Museum of Contemporary Art in Chicago in 1969 and a mile-long stretch of coast outside Sydney, Australia, the same year. But it was two later projects—Valley Curtain, Grand Hogback, Rifle, Colorado, 1970-72 and Running Fence, Sonoma and Marin Counties, California, 1972-76—and the documentary films about them, that put the Christos on the artistic map.
Jeanne-Claude remembers the struggles persuading ranchers to go along with stringing the nylon panels across their land for Running Fence. The couple had to explain the difference between art that depicts reality and art like theirs that uses the real world to create its own reality.
"I'll never forget, one of our ranchers had this typical ranch house with a bad painting of a sunset," says Christo.
"I said, 'I can see that you enjoy the sunset, ' " interrupts Jeanne-Claude, who often doesn't let her husband finish a thought. " ' But you do not tell your daughters to go look at the painting every night. You go out and you watch the real sunset.' And he said, 'I got it, I got it.' "
After the success of Wrapped Reichstag in 1995—five million people came to see the work and it received world-wide press coverage—the Christos redoubled their efforts to get approval for The Gates project. A friend persuaded philanthropist/financier Michael Bloomberg to visit their studio. Bloomberg was then on the board of the Central Park Conservancy, a group of New Yorkers who have given some $300 million for the park's restoration over the past quarter century and are responsible for its maintenance. After the visit, Bloomberg tried to persuade fellow members of the conservancy to endorse the project, but he got nowhere. Then two things happened. Terrorists attacked the WorldTradeCenter on September 11, 2001, and two months later, Michael Bloomberg was elected mayor of New York City.
In the months following the attacks, tourists all but stopped coming to the city. For a new mayor facing a budget crisis, this was a problem that had to be dealt with at once. Among other initiatives, he directed Deputy Mayor Patricia Harris to arrange a meeting with the Christos. "New York was still very raw," she recalls. "We were trying to bring dynamic events and positive energy to the city."
The Christos turned to Vince Davenport, a retired general contractor, and his wife, Jonita, who had both worked on other Christo projects, to figure out the practical details of The Gates' construction. Vince determined that digging holes, as the Christos originally planned, would be too disruptive. "If you drill the rock, what do you do with all the soil," says Vince, "and then you have to put in new soil and plant it, and what do you do with electrical and sewer lines?" He telephoned Christo. "I know that aesthetically you won't like the idea," he remembers saying, "but what if we use weighted bases to support the poles? What if you tell them that there will be absolutely no holes in Central Park?"
Christo agreed, and planning for the project went forward. In June 2002, Central Park administrator Douglas Blonsky walked the park with the Christos, pointing out trees whose branches were too low for the proposed 16-foot-high gates and places where birds and wildlife would be disturbed. For the rest of that month, the artists—and their team of photographers, filmmakers, friends from other projects and the Davenports—traversed the park, measuring walkways and marking maps with placements for the gates. "We walked 100 miles and I went through three pairs of shoes," says Jeanne-Claude. "There are 25 different widths of walkways, so there are 25 different widths of gates."
By the time the Christos were ready for Vince Davenport and his staff to create the final working maps for the project, they had reduced the number of gates from 15,000 to 7,500. And addressing a lingering concern that the autumn months, when the park was crowded, would be the wrong season for the project, they shifted the proposed dates for the installation to February. They also felt the saffron color would show off to best advantage then, against the trees' bare silver gray branches.
In January 2003, after a final round of negotiations, the City of New York and the Christos signed a 43-page contract for The Gates that included a $3 million fee to the city for the use of the park. Then what Christo calls the "hardware" stage of the project began. Vince Davenport decided that vinyl tubing (cheaper and sturdier than aluminum) would be best for the five-inch-square poles that would form the framework of the "gates." The poles would be set in, and anchored by, the steel bases. He then tested the frames and fabric by leaving them outside in all kinds of weather for eight months. As with each of their projects, the Christos also commissioned wind-tunnel tests.
Christo went to work producing drawings and collages of the project. At prices ranging from $30,000 up to $600,000 for the largest works, this art would underwrite the project, along with the sale of some of his earlier works. Meanwhile, Davenport placed an order for 15,000 steel bases, 315,491 linear feet of saffron-colored vinyl tubing, and 165,000 matching bolts and self-locking nuts. Wolfgang Volz, the Christos' photographer for more than three decades, ordered 1,092,200 square feet of saffron-colored ripstop nylon to be woven and sewn in his native Germany. And the Christos rented two industrial buildings in Queens, at $30,000 a month, to assemble and store The Gates' components.
By this time, some attitudes had shifted. Writing in the Wall Street Journal, Gordon Davis, the parks commissioner who rejected the proposal in 1981, said he anticipated that the project's "colorful, whimsical embrace of the restored landscape will make us stare, laugh, gasp, prance, gawk and say to no one in particular, 'Isn't the park wonderful?'" Of course it wouldn't be New York City without some carping. Henry Stern, who as parks commissioner under Mayor Rudolph Giuliani opposed the Christo project, fulminated in a newsletter last April that "no man's ego should be rewarded with 7,500 polyps on the city's finest natural landscape."
Out at the Queens facility last summer and fall, project director Jonita Davenport assembled a database of workers—from forklift operators to art students—who would be paid to work on The Gates. They'll be fed one hot meal a day during the installation, "on porcelain, not plastic," says Christo. "Real service, real everything; no fast-food mentality."
On January 3, movers and forklift operators were scheduled to start placing the bases at 12-foot intervals on green dots spray-painted onto the park's asphalt. The some 600 workers who will actually erect the gates will begin their training February 4. Most will be working with the Christos for the first time. Others, like Janet Rostovsky, a 62-year-old docent with the Museum of Contemporary Art in La Jolla, California, are veterans of other Christo projects. "You're like children together," says Rostovsky. "There's this unbelievable excitement and enthusiasm and awe at being part of it."
In early February, 60 flatbed trucks will begin carrying their saffron cargo through the streets of Manhattan. "The logistic is a nightmare, I don't even want to think about it," Christo says. "There will be trucks and cars and forklifts and people and dogs. We will try to be very agreeable to everybody using the park. We don't try to be annoying. But there could be big screaming. I cannot sleep. There are 7,500 gates and there are 7,500 chances to make mistakes."
On Monday, February 7, Rostovsky and the other workers will begin bolting gates to their bases and raising them into position. The saffron fabric panels will stay rolled up in orange cocoons until all the gates are in place. At first light on Saturday morning, February 12—weather permitting—workers throughout the park will open the cocoons. By noon, says Vince Davenport, "the park will blossom."
The 81/2-foot-long fabric panels will hang from the thousands of 16-foot-high frames straddling the park's walkways. To a visitor looking down from the sculpture terrace atop the Metropolitan Museum of Art, a saffron stream will appear to flow between the bare trees. "This is really an intimate project, truly built on a human scale," says Christo. "It is not big, not bombastic. It is something very private, and I love that."