Blue Ridge Bluegrass
The town of Floyd, Virginia draws jam-ready musicians and some toe-tapping fans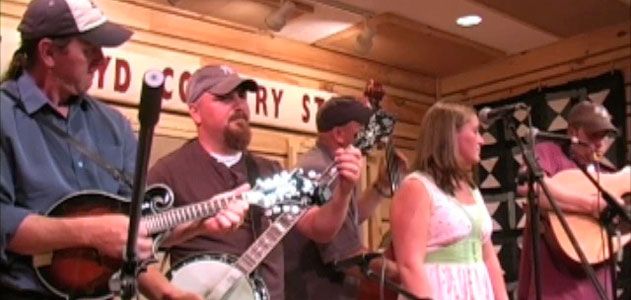 If you drive through Floyd on a Friday evening, you'll have slow down when you pass the country store of this tiny town in the Blue Ridge Mountains of Virginia. Crowds of people mill about the street, many carrying mandolins, banjos, basses and other instruments. In alleys and parking lots they form impromptu groups playing bluegrass and traditional country music. The jam sessions are fluid; a young guitarist backs up a group of old timers and then joins a fiddle player from the Midwest. Inside the spacious Floyd Country Store, bands from across the region play on a small stage and dancers fill the floor. Their tapping feet provide percussion to the music.
"The country store has a unique energy," says Fred First, a writer and part-time physical therapist who moved to Floyd a decade ago. "It's maintained its authenticity." In recent years Floyd, a town of just a few hundred people, has formalized spontaneous musical gatherings into a weekly event that brings new interest to the local culture. The town is now a major stop on Virginia's 250-mile Crooked Road, which winds through places where traditional music flourishes. The route is a recent effort by the Appalachian Regional Commission, USDA and local communities to spur tourism and economic development in an often forgotten part of southwest Virginia.
I drive the 280 miles from Washington, D.C. to Floyd on a sunny Friday afternoon. When I enter the country store, locals greet me with a smile and hello. I meet First at a bright booth near the window and he introduces me to Doug Thompson, a Floyd native who left in 1965 and spent years as a D.C.-based photojournalist before returning recently. They lead me to a scenic overlook with an expansive view of gentle green mountains stretching into North Carolina. Since the 1970s, my hosts explain, artists have been drawn to Floyd's beautiful countryside and cheap land. A diverse mixture of residents contributes to Floyd's riving arts community.
I head back down to the Floyd Country Store in time to catch the 6:30 start of its Friday night jamboree. Every week the store books three bands onstage and charges $3 admission. The first band always sings gospel numbers, and listeners sit reverently in the folding chairs set out near the stage. At 7:30, bluegrass and old-time bands arrive and fill the dance floor with flat-foot dancers. The fancy footwork, like the music, is descended from traditions brought centuries ago by immigrants from the British Isles.
While the organized bands play inside the store, musicians of all stripes gather outside to learn from each other, jam and show off a little. The scene echoes musical gatherings that have been going on in the southern Appalachians for centuries. The sessions in Floyd started informally decades ago around the store's potbelly stove. In the 1980s, it evolved into regular Friday night gatherings. The store itself has seen big changes since Woody and Jackie Crenshaw bought it in 2005. They've restored and enlarged the building, upgraded the stage and dance floor and expanded the store's offerings and operating hours. Open Tuesday through Sunday, it sells everything from ice cream and barbecue sandwiches to overalls and CDs. Outside, new streetlights, sidewalks and benches create inviting nooks for musicians to play.
"Our goal really was to keep something alive in Floyd," Crenshaw tells me. "This music that's been played here for a couple of hundred years is something that we didn't want to see die." The store sets aside space and time for music teachers who offer classes for toddlers on up. Crenshaw has a vision for the development of Floyd into a "pedestrian village." Thompson, the photographer, says the town has made big improvements since he moved back four years ago. "The town never had a park before," he says. "Never had a public gathering place, the sidewalks and alcoves where musicians can play and people can listen."
Scott Perry, a music store owner who moved to Floyd from South Carolina in 1999, isn't completely satisfied with the changes. "One of the great things about the country store is it provides a venue for hobbyists and amateurs to get together and learn how to play," he says. "Now well-intentioned groups are trying to come together and manage what I thought was a fairly naturally-occurring, magical thing."
But almost everyone I meet is pleased with the improvements and influx of visitors. As the bands wind down inside, I head outside to meet J.C. Poff. The amiable gray-haired guitarist has deep roots in Floyd; his grandfather played fiddle there in the 1920s and his grandmother was a music teacher in one-room schools along the Crooked Road. Poff says the new development makes Floyd welcoming for visitors who arrive from near and far to listen to the eclectic mix of musicians. "You'll hear guitar pickers play the weirdest stuff you've ever heard," he says. "Then you'll hear old time people who stay right in the old-time tradition." I ask him to play a song he wrote, and Poff picks a slow country tune about the Blue Ridge. When I ask him why music is ubiquitous in Floyd, his answer is simple; "It's a product of the mountains," he says.