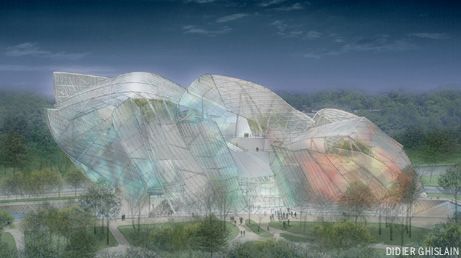 Last summer, French billionaire François Pinault began scattering some highlights of his massive contemporary art collection in and around Venice's Palazzo Grassi, which he now owns. There, on a platform in the Grand Canal, stood Jeff Koons's giant magenta balloon dog, while the courtyard was temporarily paved in the 1,296 metal plates of Carl Andre's "37th Piece of Work." One wonders how Peggy Guggenheim, who despised Pop art, would have reacted to the pair of puckish figures by Japanese artist Takashi Murakami that presided like cartoon conquerors over the City of Water.
The Palazzo Grassi exhibition was something of snub to Paris, the city Pinault had long promised to grace with a Tadao Ando-designed art museum on the Ile Seguin until bureaucratic delays became too much for him.
But the City of Light has little to worry about. Louis Vuitton's Bernard Arnault, the Hatfield to Pinault's McCoy in the rancorous world of luxury goods magnates, recently announced that construction will soon begin on his own art museum, which will resemble a cloud made of glass hovering over the Bois de Boulogne, on the west side of Paris.
A cloud? Made of glass, you say? With an estimated cost of $127 million? Yes, it's a Frank Gehry project. The models and renderings for the museum, known as the Louis Vuitton Foundation for Creation, are reminiscent of Gehry's titanium-skinned Guggenheim Bilbao and Disney Hall in Los Angeles but more evocative of his earlier fish buildings, lamps, and sculptures (now available in necklace form, from Tiffany & Co.), which were inspired by the doomed carp that young Gehry watched swim around his grandmother's bathtub before she made them into gefilte fish.
LVMH has an impressive history of supporting the arts, whether through handbags emblazoned with Stephen Sprouse's graffiti, in-store installations of Olafur Eliasson sculptures, or twice-yearly sponsorship of John Galliano's madcap couture shows for Christian Dior, and Arnault is well known for his dazzling art collection. Will the new museum, scheduled to open by 2010, be the glass house that puts an end to years of stone-throwing between Arnault and Pinault? The outlook is cloudy.