A Thousand Words Are Worth a Picture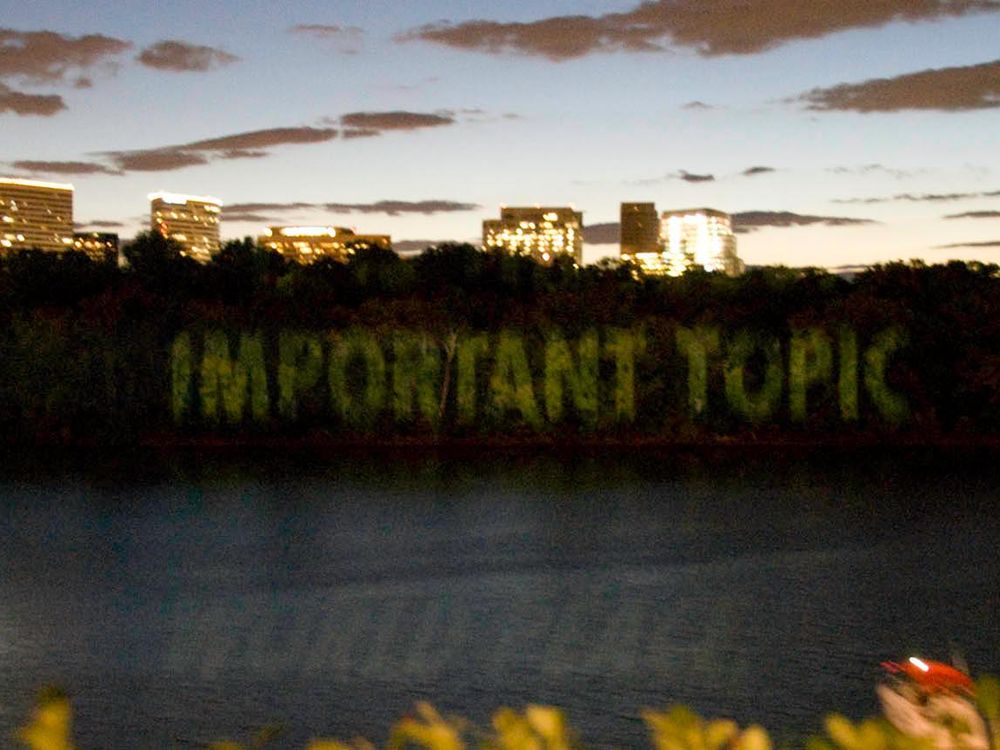 This weekend in Washington, D.C. the John F. Kennedy Center hosted a few evenings of "light" art by Jenny Holzer. Continuing her current series of words projected in the form of light onto landscapes and architecture, "For the Capitol" featured quotes projected across the Potomac onto the greenery of Roosevelt Island.
Saturday evening, the Kennedy Center terrace was filled with art lovers of all walks, from sneaker-wearing college students to couture-clad opera aficionados on intermission from La Boheme. The atmosphere was one of easy community and quiet attention, as the words, letters as tall as the trees, scrolled from the water to the sky. There were occasional cries of exclamation as a particular phrase rang true. In one of the more heartwarming displays of art education in action, a father helped his young daughter sound out the words as she sat on his shoulders.
The projections started at dusk and continued to midnight, painting the trees and curious watercraft with quotes gleaned from the writings and speeches of Presidents John F. Kennedy and Theodore Roosevelt. The phrases, which looped for nearly three hours, were chosen by Holzer and her research assistant, David Breslin, for their contemporary relevance. They included ideas about peace, world conflict, patriotism, diplomacy, government actions, presidential responsibilities, the environment, the common man and the role of artists in society. The physical movement of the scrolling words augmented their emotionally moving power.
Holzer's publicity material quotes President John F. Kennedy, on artists: "I see little of more importance to the future of our country and of civilization than full recognition of the place of the artist. If art is to nourish the roots of our culture, society must set the artist free to follow his vision wherever it takes him."
I concur.