The Classic Wagon
Why families still travel in Wacos.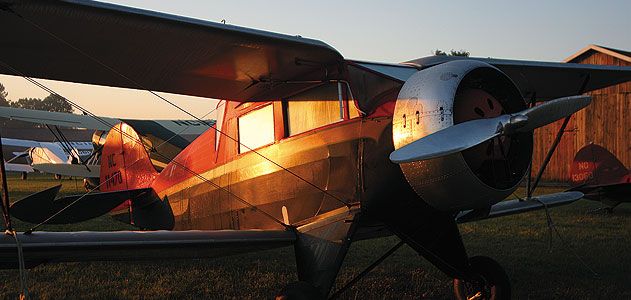 I left my heart one summer day in the back seat of a 1934 Waco UKC. It was a "cabin" Waco, the classic biplane with an enclosed cockpit. It had red wheel pants too, and a Continental W670 220-horsepower engine. David Parsons was flying it last year at a fly-in at Wynkoop Airport, a private grass strip near the central Ohio town of Mount Vernon. For David, his wife Sally, and their children Abbie and Zach, the biplane is the perfect family conveyance for Sunday morning pancake hops or antique airplane reunions—rear bench seat, sea-green wool upholstery, wood-trimmed windows. Pushed aboard through the single side door, I was suddenly back in my Uncle Tom Kelly's earthbound pride and joy, a 1947 Mercury, but with wings. The UKC bounded down the grass and up into a cloudless sky. We circled round the pattern, above orderly rows of Wacos parked in a checkerboard of banana yellow, buttermilk cream, and watermelon red. There were the graceful, open-cockpit biplanes, especially straight- and taper-wing models that made Waco the epitome of Golden Age helmeted aviation. And there were the slightly boxy cabins of Standard and Custom models, the final word in 1930s private flying, with their roomy, heated interiors. In 1931, Waco converted to a system of three-letter codes denoting models by engine, wing style, and fuselage, an endless delight for the cognoscenti but near-total confusion for mere airplane lovers. Called the King of Biplanes, the youngest Wacos at this June 2009 fly-in would be eligible for Medicare, with many others near 80 years old.
I landed with two questions: What ever happened to Waco? And why are so many Wacos still flying, all these years later? We may need pronunciation lessons in the 21st century—it's not "Wake-o" or "Whack-o," but "WAH-co," to rhyme with "taco"—but in its heyday, from 1926 to the early years of World War II, Waco was a major brand, America's leading manufacturer of small commercial airplanes.
For more than 25 years, Andy Heins, co-president of the National Waco Club, has been creating a database of every Waco built by the original manufacturer. The company moved twice before settling in Troy, Ohio, some 50 miles from Mount Vernon, and changed its name several times, once without any clear notation in the corporate minutes. It also wrote its name as both Waco and WACO. Today, the National Waco Club spells it lowercase, while the American WACO Club uses all caps. The American club, based at Creve Coeur Airport near St. Louis, Missouri, broke away from the National club in the early 1990s, largely over personality clashes that no one wants to dredge up. Many owners belong to both, and the president of the American club, Phil Coulson, is always welcome to fly his 1932 UBA to the National club's events. There is also a Western Waco Club in the San Francisco Bay area.
The Parsons family is something between a dynasty and a squadron. David's brother Doug is the National Waco Club's other co-president. Their dad, Lee, joined us that day in Mount Vernon after flying from the family farm in eastern Ohio in the 1931 open-cockpit QCF he's owned for 48 years. After the 1973 oil crisis, Lee decided that the QCF had to earn its keep. Together, they hopped passengers at county fairs and towed banners over stadiums, until insurance premiums forced the QCF into retirement from commercial work. Maybe one reason so many Wacos are still around is that they function so well, like elderly family members who are still healthy and very much a part of the team. (Don Parsons, the photographer for this article, is not related.)
In the early days, one of Lee's first passengers in the open-front cockpit was his wife Donna, holding five-week-old Doug. Lee recalled, "The doctor said that we were going to expose him to all sorts of other things anyway, and that if we wrapped him up good, we could take him."
Doug seems to have suffered no harm. He had arrived in his 1934 YKC cabin with wife Trenna and kids Brandon and Brooke. And I met sister Dianna and her husband Randy Scott, a pilot, who'd been Doug's college roommate. Dianna never learned to fly. She and Randy are restoring a Stinson 108-2 Voyager. Stinson? The rest of the clan seemed remarkably tolerant.
Waco production was brisk and steady up through World War II, says Andy Heins. This excludes the 14,000 troop-carrying CG-4A gliders, designed by Waco and cranked out during World War II by a variety of manufacturers. After 1942, the company never produced another powered aircraft, save for a prototype dud that first flew in 1947. Military gliders aside, Heins calculates that between 1920 and 1946, Waco made about 4,150 airplanes, give or take five percent (he says that good records were not kept prior to 1928). Going through Federal Aviation Administration registration certificates, he's found 756 Wacos still listed and estimates that fewer than 300 are flyable. Some exist only on paper, with no parts. Some are "lost" in barns and basements, in parts but without papers. Leaving out foreign-registered Wacos (Heins knows of at least 35) and those hanging on wires in museums, this means that about 18 percent of all the airplanes ever made are still around, with maybe seven percent of the original 4,150 still flying. Compare that to your average 70-year-old automobile—you won't find seven percent of many car production runs from 1940 on the road. It's a different story when you compare other biplanes from the era: Of the 8,584 Stearman Kaydets built between 1934 and 1944, and the equivalent of 2,000 more in spares, about 1,500 are still flying. And a few hundred Beech Model 17 Staggerwings are still in the skies, even though just 781 were built between the end of 1932 (the first flight) and 1949.
It all started in 1919 with two Michigan high school chums, Clayton Brukner and Elwood J. "Sam" Junkin, who worked briefly as mechanics for Aeromarine Plane and Motor Company in New Jersey and the Curtiss Aeroplane and Motor Corporation in New York. That year, with Harold Deuther, they started a company in Lorain, Ohio, called DBJ Aeroplane Company. Of three airplanes they made, just one, the DBJ Scout, got into the air. The two failed efforts were flying boats. Later that year, the three men joined with George "Buck" Weaver, and called themselves the Weaver Aircraft Company. By September 1, 1920, the company was incorporated, with the four men as its officers. They built a midget, high-wing monoplane they called the Cootie, which soon crashed, nearly killing Weaver. While he recovered, the others rebuilt the Cootie as a biplane. It never sold, and at the end of 1922, Weaver left the company. Moving to Troy, Ohio, a few months later, the company changed its name to the Advance Aircraft Company. There the men had their first success with the Waco 7, and sold 12. The Waco 9, with its airframe of welded steel tube, was their breakthrough design: They built 283 between 1925 and 1927. Starting in 1927, the Waco 10 became the company's bestseller—1,232 through 1930. The 10 was sturdy, moderately priced, and forgiving of new pilots. In 1929, the company changed its name to simply the Waco Aircraft Company.
By then Deuther had left, and Junkin was dead. The company became the creature of Clayton Brukner, an industrial visionary who remained a closed book to all but his closest associates. He had business managers, marketing directors, and first rate aircraft designers, but it was he who ran the company in its pre-war glory, all the way to the end.
During the Depression, other companies such as Cessna had to shut their doors, but Waco flourished. By the mid-1930s, the company was selling a premium product at a premium price, and its slogan radiated confidence: "Ask Any Pilot." In 1937, a top-of-the-line EGC-7 with a 320-horsepower Wright radial, cabin heater and ventilator, wheel cuffs, ashtrays, dome light, and broadcloth upholstery listed for $10,625 (a 1937 Chevrolet cost $620). The price climbed with wheel pants, custom paint, or a fancier propeller. An internal sales manual read, "While nobody can lay down precise and exact rules for selling an airplane, the study of human nature is even more important in aircraft selling than in other forms of merchandising."
People in the aviation business were overly friendly, the manual warned, and this was not the way to sell Wacos. "Too often this attitude of unrestraint and informality extends into your organization and the unusual friendliness that seems to be part of our industry reacts unfavorably in the eyes of your prospect, who is probably a man of some consequence...."
The men of some consequence who bought Wacos included Howard Hughes (aviation), Powel Crosley Jr. (radio), and Henry du Pont (chemical company heir). Because businessmen could fly a closed-cockpit Waco in business suits, cabins were the ancestors to corporate jets. Women of some consequence, too, bought and flew Wacos, including Jackie Cochran, who owned a 1933 UIC long before she commanded the wartime Women Airforce Service Pilots.
But one of Waco's best clients was Henry King, a Hollywood actor, director, and producer. King made more than 100 movies, from his first silent film in 1915 to his last Cinemascope production in 1962, including the ultimate World War II bomber film, Twelve O'Clock High. In 1933, he bought the first of what would be six Wacos—a UIC cabin, according to his son, John.
John King was apologetic about his lack of recall of the UIC, as well as the next Waco his father bought in 1936 and kept for a year. Reached at his home near Charlottesville, Virginia, the retired mechanical engineer confesses that he was six years old in 1933. "I'm a little vague on some of this," he says. "I'm not sure what I've made up or what I was told when I was a kid." But he vividly recalls the experience of flying with his dad, and he especially remembers the C-40 model, with its huge R-985 engine.
His father's Wacos were magic carpets, whisking young John off to Palm Springs for lunch and back to Los Angeles for an afternoon swim at a Santa Monica beach club. "My older brother and I were kind of my dad's autopilot, as soon as we were big enough to see over the instrument panel and reach the pedals," he says. On a 1935 trip to Troy to pick up a propeller, John rode along while a Waco corporate test pilot made some speed runs. "They would just buzz right down the center of the Waco air strip at about 50 feet off the ground with the throttle wide open. I don't know if they were timing it or what, but he did it about two or three times. I was in the back seat and thought it was great fun."
When the United States entered World War II, luxury took a back seat too, even at Waco. For several years, the company churned out gliders of steel tube, plywood, and canvas, as well as P-47 engine mounts and bomb dollies. After the war, Waco made a weak effort to get back to luxury when it attempted to enter the high-wing monoplane market with the Aristocraft, which had an ungainly tail-mounted pusher prop. It never came close to production. Then suddenly, in 1947, Brukner announced that Waco was abandoning the airplane business to become a manufacturer of bread truck bodies, the Orbitan Sun Lamp, and the Lickety Log Splitter. The company was sold to Allied Industries around 1961, and closed in 1965. All Waco drawings, test flight records, and engineering notes were donated to the Smithsonian Institution. Brukner, who had never married, developed a new passion: nature. In 1967, he turned over the 136 acres of wetlands he had purchased along the Stillwater River near Troy to the non-profit Brukner Nature Center.
By then, Waco lovers were pondering the legacy of the airplane. The National Waco Club had been founded in 1958 by five enthusiasts at Ottumwa, Iowa, and the first fly-in was held in 1959 at the South Dayton Airport in Ohio (now called Moraine Air Park). Ten Wacos made it.
The ringleader was Ray Brandly, an ex-B-17 pilot who in the mid-1950s took part ownership of a 1941 Waco UPF-7, an open-cockpit trainer, 600 of which had been sold to the Civilian Pilot Training program. Throughout the 1950s, Brandly grew fascinated by Wacos while they spun out their days as charters, skywriters, and crop dusters. He discovered the old factory's stockpile of parts in Troy and approached Brukner, who, puzzled by interest in his obsolete airplane, agreed to sell Brandly what was left.
In later years, Brukner's puzzlement only grew. He became a regular guest of honor at National Waco Club fly-ins before his death in 1977. Though he earned his pilot's license in 1928, by all accounts he had given up flying by the mid-1930s. Forty years later, the old man was flattered by all the fuss of the Waco revival.
That revival was fueled by Brandly, who died in 1996, according to Dick and Patsy Jackson of Rochester, New Hampshire. They own a rare-as-hen's-teeth 1934 S3HD, the only known survivor of Waco's efforts to market a military fighter. Jackson recalled his first visit to Brandly and his stash of Waco parts: "Ray had a barn full of wings and all sorts of stuff. That was 50 years ago and all that stuff is long gone." Pointing to the rows of restored Wacos at the Mount Vernon fly-in that day, Jackson added, "You're looking at a lot of it right now."
Wacos have a way of running in families. A good example: Alan Buchner's 1932 QDC cabin. In 1972, Buchner discovered the QDC, wings removed, standing on its nose to save space in a Merced, California barn that housed farm equipment. It took three years and two owners before he got his hands on it, and another 15 to restore it. Two years into the project, he got the FAA paperwork, only to discover that his father, Les, had been the QDC's fifth owner, having bought it in 1938.
A Waco rebuild can run anywhere between $150,000 and $200,000, says Scott Shue, who restores them with his father John in Emigsville, Pennsylvania. John Shue bought his first Waco in 1964, when Scott was five. Scott helped rebuild the UPF-7, and soloed it on his 16th birthday. Between commercial restorations, they're in the midst of a complete rebuild of the family Waco. "Only two more years to go," says Scott.
Those without patience or a rebuildable Waco can order a new open-cockpit YMF-5 from the Waco Classic Aircraft Corporation of Battle Creek, Michigan. Built to the original Bureau of Air Commerce Type Certificate first issued in 1935, each new YMF-5 comes with "300 reliability and safety improvements," says the company, all of it starting at $395,500. These new Wacos are among the handful of Golden Age airplanes, such as the Great Lakes 2T-1A, that have gone back into production.
You don't have to own a Waco to love them. Doug Parsons estimates that a third of National Waco Club members don't have airplanes. Tom Woodburn, from Glen Allen, Virginia, is a club member still on foot, but he's been restoring his 1935 YOC cabin since 1999. He recently found replacements for Waco's no-longer-manufactured compression struts, which hold the wings up on the ground and down in flight. "I've still got a long way to go, but this is a major advance," says Woodburn, looking not the least bit discouraged. His wife Jane sat by his side in the refreshment tent, chatting with friends they've made in the two decades that they've been coming to fly-ins without a Waco. "Part of the joy is the search for parts," says Woodburn. "That's why an organization like this is so valuable. You tell people, 'Hey, here's what I'm looking for,' and someone will say, 'Oh, I know a fellow who has two of those.' I bet that conversation goes on about a hundred times a day here."
The Heins clan was there too. Father Ed Heins, who died in 1991, flew C-47s in North Africa and Europe during World War II and bought his first Waco, a 1941 UPF-7, in 1957. Ed passed his obsession to his sons, Mike, Pete, and Andy. Pete arrived in the hottest Waco of its day, the CRG National Air Tour racer, only two of which were built in 1930. Each evening, Pete skywrote "Waco" overhead.
Andy managed to increase the size of his flying family by marrying Susan Theodorelos, whom he met on the Internet but wooed with a Waco. "We never talked about the flying because normally that's the kiss of death for women," he says. But Theodorelos told him that her dad had been a Navy pilot. "I said, 'If you want to meet me, come down to the field.' I'm standing there on a ladder with oil all down my pants, surrounded by about seven 'supervisors' all drinking beer, when Susan turned up. She walked over to the plane and started asking me all sorts of questions. I look up and all my buddies are giving me the thumbs-up signal."
It was a relationship sealed with another Waco, an RNF open seater that Susan bought before she'd earned her pilot's license. The couple now owns four Wacos and a house filled with Waco drawings, paintings, photographs, ads, company Christmas cards, data plates, instrument dials, and a large wooden propeller leaning in a corner.
John Fleischman is a frequent Air & Space contributor. Don Parsons has been photographing antique and classic airplanes for 37 years.