The Sikorsky HO5S-1 Made its Name Flying Medevac Missions in Korea.
More than 10,000 troops were evacuated.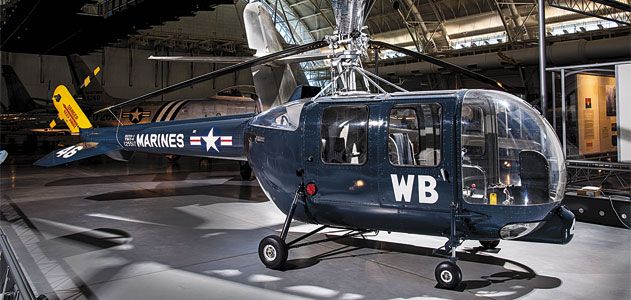 It began life as a two-place runabout marketed to the suburban commuter, even making a splashy public debut at—of all places—the 1947 Radio City Music Hall Easter Show. But the Sikorsky S-52 helicopter, which evolved into the HO5S-1, would make its name as a Marine Corps' medevac transport during the Korean War. It could carry two patients inside, a major improvement over its predecessor, the Bell HTL-4, which had to transport the wounded on litters outside the aircraft.
The Sikorsky was meant to go up against the Bell-47B. "It was a much better aircraft in some ways," says Roger Connor, a curator with the National Air and Space Museum, "much more stable and responsive. It also cost half again as much as the -47, and Sikorsky didn't sell a single one. Sikorsky started stretching it to four places and putting [in] a front-opening bubble in 1949 to sell it to the military. The Army, Air Force, and Coast Guard tried it and didn't bite, but after [the Battle of] Chosin, the Marines weren't about to acquire anything else that required their wounded to ride strapped to the outside."
The Marines would eventually purchase 78 of the aircraft, which saw extensive service with Marine Observation Squadron VMO-6, part of the 1st Marine Division. According to Department of Defense estimates, by the end of the Korean War, the HO5S-1, along with other helicopters, had evacuated more than 10,000 troops.
In this centennial year of Marine aviation, two Marines look back on their experience with the HO5S. "Three pilots would be assigned to go out to a blackened tent on the airstrip at about five in the afternoon," recalls pilot George Barnett, who served as assistant operations officer for VMO-6 in South Korea in 1952 and '53. "We would put on a pair of very dark red glasses so that we could see a little bit, but wouldn't affect our night vision. Then we'd make a chalkboard establishing who would be the first helicopter to go, and second, and third. Some nights there wouldn't be any evacs, and other nights there would be a half-dozen or more."
The HO5S was the Marines' principal night evacuation helicopter. Medevacs would be made at approximately 20 sites, and the pilots weren't allowed to carry maps, which could have fallen into enemy hands. "We had to memorize all of the locations," says Barnett. For night evacuations, he preferred to fly the HO5S rather than the Bell because the instrumentation and interior lighting were better. "But neither one of them were recommended for night flight," he says.
Colonel Reinhardt "Chief" Leu, who had flown fighters during World War II, flew the helicopter in Korea with VMO-6. "I flew the HO5S-1 sort of like a Corsair," he says. "You could handle that thing—you could zoom it around like a regular airplane. I enjoyed every hour I flew in it, and I flew many hours."
In 1952, Leu went to the Sikorsky factory in Connecticut and picked up six HO5Ss, including one that would one day be in the National Air and Space Museum. "I was responsible for getting those birds to Korea," he says. "We flew them to Quantico [Virginia], and then we loaded them on some transport planes. We got them to Seoul and then flew them up to Tangari, where VMO-6 was located, and started operating right away."
The HO5S was strong and dependable, but had a Franklin engine with only 245 horsepower. "The Bell had more power," says Leu. "The HO5S was short on power, so you had to depend on your ability to do whatever it required to get [it] into the air."
The North Koreans were just over the hill from VMO-6's location. "They couldn't see us in the helicopter," says Barnett, "but they could hear us, and they would fire mortars." Sometimes, however, the most hazardous part of the mission wasn't mortar fire. "The most dangerous part of flying at night was all the telephone wires that had been strung up," says Barnett. "Every unit that left never took their phone wires down. If you weren't real careful, you'd pick up a phone wire with your tail rotor and then you were in big trouble."
The Museum's HO5S had an interesting post-military career: It was bought as surplus and went through several owners in Florida, eventually winding up in the possession of Fred Clark of Orlando Helicopter Airways. Clark used it for flying tourists, crop-dusting, taking reporters out to Cape Canaveral to cover the Apollo launches, and other tasks. In a letter to the Museum, Clark wrote: "One of our regular jobs after every launch was to rush the news film to the airline terminals at McCoy so that it could be flown to New York City in time for the ABC, NBC and CBS evening news." Clark restored and donated the aircraft to the Museum in 2007; it is now on display in the Steven F. Udvar-Hazy Center in northern Virginia.