Commemorative Coin Throws a Curve at Apollo History
The U.S. Mint marks the 50th anniversary of the first moon landing.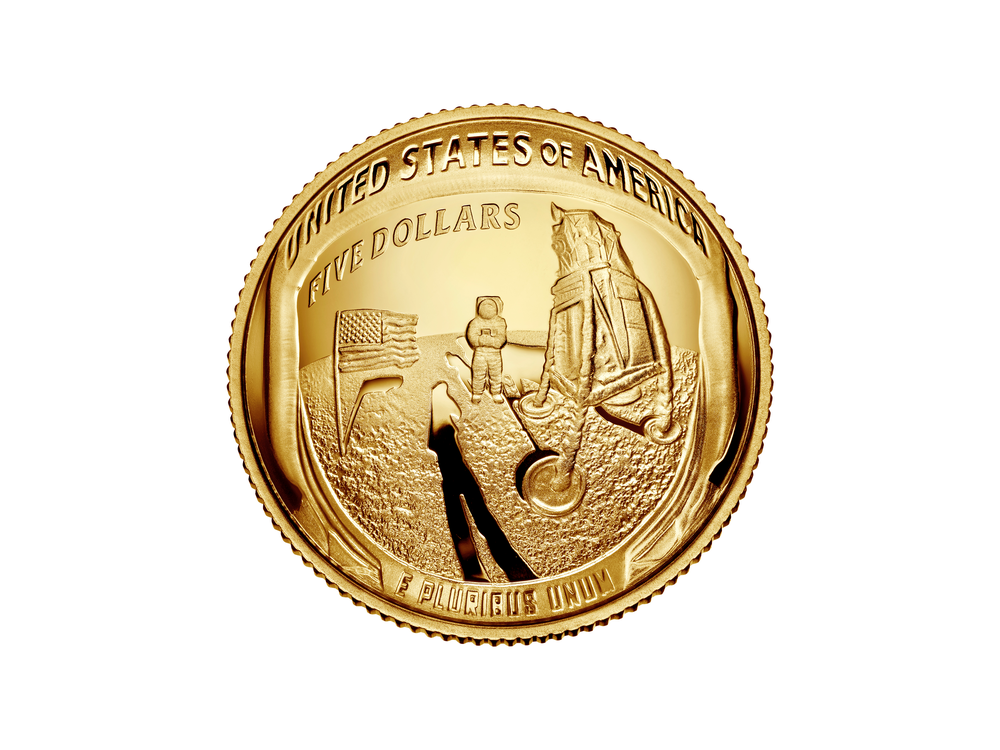 Buzz Aldrin should have been holding the camera. He and Neil Armstrong had been outside the spacecraft for almost an hour and a half, working through their checklists, and one of Aldrin's chores was to photograph the area where Armstrong had just finished scooping up soil and rocks to bring home. But perhaps because Armstrong was the one who had gathered the samples, Aldrin said to him, "Want to get some particular photographs of the bulk sample area, Neil?" and handed him the Hasselblad. A minute later, Armstrong shot one of the most famous photos in history: a portrait of Aldrin, his gold-plated sun visor reflecting the photographer and the Lunar Module, the flag, and the moon's horizon against an unimaginably black sky.
That famous reflection is now memorialized in the U.S. Mint's latest commemorative coin, celebrating the 50th anniversary of the lunar landing. And because the astronaut's visor was curved, the coin representing it will be curved too.
"This is only the second curved commemorative coin the Mint has produced," says U.S. Mint sculptor-engraver Phebe Hemphill, who designed the coin's convex side. Hemphill was nine years old when Apollo 11 landed on the moon and remembers watching the scratchy image of Neil Armstrong climbing down the ladder on a tiny black-and-white TV at her summer camp. In designing the coin to celebrate that event, she says, "I over-emphasized the curvature [in the scene] to create the illusion of the curved visor."
Hemphill didn't choose the scene to depict; that choice was an act of Congress. Public Law 114-282 specified the imagery: "The design on the common reverse [tails side] of the coins minted under this Act shall be a representation of a close-up of the famous 'Buzz Aldrin on the Moon' photograph taken July 20, 1969," reads the legislation.
For the design of the heads side, which is concave, the act required the Mint to conduct a juried competition. More than 100 artists submitted portfolios; Gary Cooper of Belfast, Maine, won the honor. His design features Armstrong's footprint on the lunar surface. Cooper's initials are etched on the left of the coin's face, and the initials of Joseph Menna, the Mint sculptor-engraver who executed the design, are on the right. Menna believes the Apollo coin comes at an important moment in history. "We live in a time when the understanding of science has never been more critical," he says.
Sales of the Apollo commemoratives will raise money for the National Air and Space Museum's "Destination Moon" exhibit and for the Astronauts Memorial Foundation and the Astronaut Scholarship Foundation. Four different coins are offered; for more about the program or to purchase a coin, visit catalog.usmint.gov or call 1-800-872-6468.