Magic Airport
Watch the Burning Man revelers pull an airport out of the desert…then make it disappear.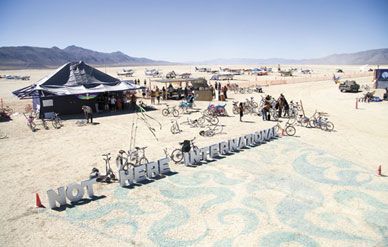 Before 9 a.m. in Nevada's Black Rock Desert the temperature is already 92 degrees, and Tom Fabrizio, a 747 pilot shouldering a tank of Turf Trax Blue, is at work. He slowly sprays the water-soluble colorant to outline a rectangle about 1,800 feet long by 600 feet wide on the ancient lakebed's cracked surface.
"I'm making the tie-down area," he says. "With any luck this'll all be gone in three weeks."
Fabrizio is part of a small crew that brings into being Black Rock City Airport, born every August on this chunk of fractured desert floor 90 miles north of Reno. The airport is active for two weeks—the Federal Aviation Administration periodically observes its annual, temporary use—and then, as a condition of its existence, is erased.
BRC, its informal designator, is aviation's wormhole into the Burning Man arts festival, which started in 1986, when two friends burned a sculpture in a bonfire on a San Francisco beach and attracted a crowd. The bonfire has grown into an annual weeklong celebration, and the crowd has grown to 40,000.
Burning Man is performance art on an unimaginable scale, ritualistic and cinematic, especially if first viewed from a distance through desert heat waves. Slowly, Black Rock City materializes: massive sculptures, towering flames, mutated vehicles, and costumed revelers wandering across five miles of tents and art installations, arrayed in a two-thirds circle. The soundtrack is 24/7 techno rave. The premise is radical self-expression. And the trick is to make it all vanish when the party ends on Labor Day, achieved mainly by burning everything flammable the night before. Participants bring all they need for the week, from food to tents to bikes, because nothing is available in the desert except portable toilets.
Burning Man migrated to Black Rock in 1990, and pilots immediately began flying in, drawn to the stretch of hard clay surface, known as playa, scrubbed smooth each spring by wind and rain. "We have a 400-square-mile airport here," observes Roger Ryan, owner of a wildly painted 1956 Piper Apache and known at the airport as "DragonFly!"
The lakebed's 27-mile length is the only break that aviators get. It sits nearly 4,000 feet above sea level; when triple-digit temperatures heat the thin air, lift diminishes as density altitude—the effective operating altitude, taking temperature and air pressure into account—increases. The featureless desert floor reduces pilots' depth perception during landings. Winds constantly batter the aircraft, injecting fine alkali dust into every unprotected vent and inlet.
Capricious playa weather further complicates flying. Past Burning Man events have experienced hail, 70-mph winds, drenching rain, 120-degree heat, and zero-visibility dust-devil curtains blowing across the runway. "Storms are sudden and violent," warns one aviation Web site, "and hospitals are far away."
Despite the difficulties—or because of them—123 aircraft flew into Burning Man last year. Two stood out: a customized Antonov An-2 ("Beats an Airstream," quipped owner Douglas Fulton), and the first private jet to ever land at the festival. The Cessna 525 CitationJet's arrival set off fierce speculation about damage to the engine cores as they ingested the pervasive dust. Owner Don Morris shrugged off concerns: "It's a machine. What are you going to do? You can park it forever if you don't want it to wear out." (Eight months later, he reported that the jet was doing fine.)
In aviation, a conservative enterprise, iconoclasts like Morris are the exception; at Burning Man, they are the rule. Ramona Cox, a 1,800-hour pilot, packs her Cessna T206 with a six-person tent to hold her costumes. "I bring a Turbo Stationair," she says. "It's perfect. I can have 80 gallons full fuel and still haul a thousand pounds. That's a lot of costumes." Asked if the pilots here are different, she responds, "They're more adventurous, fun-loving, and non-judgmental. They're not afraid of landing off an airstrip, or putting their airplanes into the elements." Roger Ryan is more concise: "Coming here is about upping the ante if you're a pilot. It's a harsh environment."
And a playful one. "Airports are usually very serious, with rules and searches and security," says volunteer Heidi Karl, dressed in a bright red tutu, "but here you can be silly and have fun." Incoming pilots and passengers are asked leeringly if they'd prefer to be patted down by a male or a female. Volunteer Bettina Kahlert laughs, "It's the only airport left where you can make jokes about bombs."
Or show up naked. Most of the 150 volunteers who staff the airport are dressed, and their self-expression often takes the form of fishnet body stockings, thongs, and imaginative interpretations of airline uniforms. The only taboo: feather boas and sequins, banned by the federal Bureau of Land Management for environmental reasons.
Like everything else in Brigadoon-like Black Rock City, the airport has evolved.
"The first time I flew to Burning Man was in 1996," recalls airport manager Lissa Shoun. "There was no airport, just 35 planes scattered across the desert, parked wherever they wanted to be. Cars were driving everywhere, running over tents and people in the dark, throwing dust everywhere.
"It was very interesting back in those days. I was told, 'Use this frequency, and maybe a pilot on the ground will talk to you.' A pilot answered; it took me about 10 minutes to find him on the ground. There was no city at that point. 'Land in between the geodesic dome and the guys on the go-carts.' "
With encouragement from Burning Man staff, Shoun returned the next year determined to gather pilots and airplanes into one dedicated camp and establish the semblance of a fixed-base operator. "We found a stretch that was flat and level for the runway," she remembers. "Then we stuck a windsock on an irrigation pole, pulled out some [hand-held radios], and put a parachute on a pole for shade. That was it. We had our FBO."
In 1999 Shoun registered with the FAA but did not ask to be included in the agency's database. This year she will. The airport will be described as a temporary, VFR facility with Class G airspace. Translation: There's no control tower to direct traffic. Pilots need the awareness required of all pilots operating under visual flight rules. As for the three-letter identifier, Shoun is hoping for "something cool," like BRI or BRA.
Over the next few years, pilots added amenities that mimic airport facilities in what Burners call the "default" world. A fixed-base operator—vaguely defined but boldly designated the Black Rock Travel Agency—was cobbled together using an abandoned trailer (the galley), movable letters discarded by Reno's municipal airport, and a sprawling tent (pilot's lounge). Arriving pilots could receive information about the direction to land in from volunteers with hand-held radios over the same UNICOM frequency pilots use to announce themselves at small, uncontrolled airports anywhere in the country. Shoun organized work parties that rebuilt another trailer into a mobile office, complete with air conditioning. The newest addition, a modular terminal, was designed by Bryan Lang, who paid for it with $15,000 of his own money.
Then, in 2003, two aircraft—both V-tail Bonanzas—crashed on successive days. One pilot died and four passengers were hospitalized.
"That changed everything," Ryan remembers. "Real fast, we had to either transform ourselves from a group of pilots in the desert into a real airport, or get shut down."
Over the next year, Shoun, Ryan, and a cadre of experienced pilots hammered out procedures to increase the safety of operations, culminating in a dense 12-page airport operating plan. The test came during the 2004 event, when FAA inspectors showed up to observe the air operations.
What they found was a triple-tier information system designed to ensure that pilots fully understand traffic patterns, UNICOM radio procedures, and the difficulties of flying in high deserts during summer heat.
The first of the three tiers is the advisory information on the airport's Web site (www.burningman.com/on_the_playa/airport/), designated "for Whiskey Breath." "If arriving pilots say they have 'Whiskey Breath' when they radio their first position report, it means they've done their homework and know the pattern," explains Ryan. "And I love making them say they have whiskey breath over the UNICOM."
For the volunteers, Ryan wrote a 21-page Radio Operators' Handbook. The second tier of safety, it provides a checklist of information to transmit to each pilot, including field elevation (3,905 feet) and wind conditions.
The runway is easy to spot from the air. The mile-long, 50-foot-wide strip was formed by a local contractor who was paid $1,500 to scrape a thin layer of playa with a grader, a process that smoothed out small transient sand dunes and revealed the darker substrate just below the surface. "It's a 5,000-foot runway with a 137,000-foot overrun," jokes Ryan.
Once on the ground, first-time arrivals are directed to the tie-down area and asked to report to the terminal. Volunteer "customs officials" register the airplane, collect the tickets ($350—cash only—at the gate; cheaper ones can be purchased in advance), and inform pilots that they will not be allowed to fly back out until receiving the mandatory safety briefing, the third tier of safety guidelines.
The briefings are held each morning at 8 a.m. in the large open tent that serves as a pilot's lounge. All are delivered by air safety officers, Burning Man veterans with names like Tiger Tiger and Hoot. Halfway between a monologue and a lecture, they focus on landings ("This is a soft field, not a short field. Carry power in to your landings, keep the yoke in your lap and the nose high—the stall horn should be shrieking"), position reports ("Keep it simple. 'Six o'clock to The Man, red and white Cessna, five thousand feet' is all we need") and reminders that the FAA may show up at any time ("Even if I knew in advance, I wouldn't tell you. They're friends to the airport"). Airplanes with low service ceilings are cautioned that heat can affect density altitude, severely degrading performance. Briefs conclude with a warning for departing pilots: Although they are flying into uncontrolled airspace from an uncontrolled airport, they remain subject to the same laws of man and physics as anywhere else. That concluded, each is issued a colored wristband that permits unrestricted access to the airfield.
The airport's self-policing worked: Since the multi-layered safety structure was introduced, Black Rock City has had a perfect safety record.
The FAA is satisfied; the agency did not bother to send observers in 2006.
In recent years the airport began integrating itself with the larger festival. Burning Man operates as a gift economy, not a consumer event. There are no T-shirts-and-souvenirs tents and no food vendors; the only things available to buy are coffee and ice. Sightseeing flights out are the pilot community's gift, and each day several dozen Burners make their way from the main encampment hoping for an aerial look at the city. A knowing few discreetly ask for a private mile-high flight in back of a four-seater; veteran Roger Plowe is happy to accommodate them and grins, "One is immediately impressed at how much kinetic energy can be transferred to a small aircraft during those flights."
"In 2005 I gave 77 rides to 75 people," says a compact, 50-ish pilot who goes by the single name Berk. "A lot of them said it was the highlight of their time here." Roger Ryan reflects, "Buddha says the true gift is the one that goes unheralded. We're all quiet about it. We don't need to tell them we just gave them a $150 gift."
Whether pilots do it for fun or as a gift, flying at Black Rock City offers them the same freedom they enjoy back home. Burners arriving by land must park their vehicles; to mitigate dust and encourage interaction, only specially permitted art cars may drive on the playa. Aircraft, by contrast, are free to come and go at will. Last year, one couple flew their Cessna Caravan into nearby Winnemucca to buy cold beer and check their Blackberries; pilots commonly fly to Reno to pick up friends at the airport. Ray Arceneaux, whose float-equipped Cessna 185 drew double takes taxiing in, favors Alvord Hot Springs across the Oregon border: "I like to take the scantily clad ladies more than anything else. They have a way of convincing me that they really need an airplane ride."
In 2006 Black Rock City Airport began shutting down the day after Labor Day. "I was relieved," said Lissa Shoun. "There were no crashes, no near-misses, no troubles at all." For the next five days volunteers dismantled the terminal and scoured the playa for trash. At night they discussed plans for the 2007 airport. "We need more public art," Shoun decided, "and we want to train the volunteers better."
Then, on Sunday, she woke up early and took one last look around the deserted lakebed. Satisfied there was no more trash to pick up and nothing left to do, she hitched the office trailer to a van and drove off slowly, leaving nothing but dust in her wake.