John Freeborn: 1919-2010
In a 2004 interview, an RAF hero recalled encounters with friends and enemies during the Battle of Britain.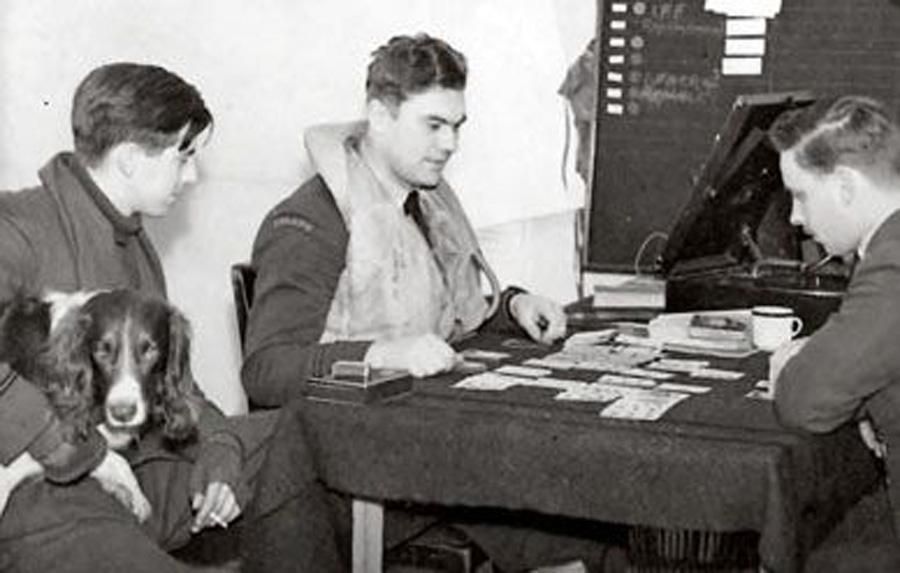 In the summer and fall of 1940, John Freeborn flew more operational hours during the Battle of Britain than any other Royal Air Force pilot. A year earlier, however, he was involved in a deadly incident that nearly ended his career.
On September 6, 1939, Freeborn and other Supermarine Spitfire pilots from 74 Squadron, led by an aggressive South African pilot named Adolf "Sailor" Malan, scrambled from their base in southeast England to intercept what were reported to be approaching aircraft. Not far away, a formation of Hawker Hurricanes from the 56 Squadron in North Weald was also ordered into the air to confront the "intruders." In fact, no German airplanes were over Britain that day (World War II had started just three days before). Freeborn's squadron mistook the Hurricanes for the enemy. In what became known as the "Battle of Barking Creek," Freeborn and fellow pilot Paddy Byrne shot down two Hurricanes, with Freeborn's "kill" resulting in Britain's first death of a pilot in that war (the other pilot survived). Freeborn and Byrne were eventually exonerated at their court-martial.
Freeborn remained with 74 Squadron until November 1941, shooting down 13 German airplanes with another 12 probable kills. Awarded the Distinguished Flying Cross, he was later posted to 57 Operational Training Unit, then spent a year in the United States as a test pilot before returning to Europe. He commanded 118 Squadron and finished the war as wing commander with 286 Wing in Italy. Freeborn, who passed away on August 28 at the age of 90, spoke to author Gavin Mortimer in 2004.
How much did the incident at Barking Creek affect your confidence?
Not much. I was very sorry about it, but it was Sailor Malan's fault. He gave us the order to attack and we attacked. I think I would have shot down more [Hurricanes] if it weren't for Hawkins [another 74 Squadron pilot]. He got in the way and I was shouting at him to get out of the bloody way, to either shoot or let me shoot. But then he said, "It's one of ours." When the adrenaline is running, you don't realize these things at the time.
When we landed, George Sampson [the squadron commander] was waiting and Byrne and I were placed under close arrest. As for Malan, no one could find him. He'd gone off somewhere and dropped us right in the shit. But we were acquitted because we had two of the greatest barristers ever and they took Malan to pieces, said he was a downright liar.
What was your impression of the Spitfire?
74 Squadron took delivery of the Spitfire in February 1939 and it was a wonderful machine. It was the first time I'd flown a monoplane, because prior to the Spitfire we'd flown Gloster Gauntlets [biplanes], so I was a little nervous when I sat in the Spitfire. I was also only 19 years old, don't forget! The first time I took off, it went so bloody fast I went straight between two hangars at 180 mph. That was an Mk 1, obviously, and its main defect was its guns. It had eight Browning .303 machine guns, so we needed to get as close as possible [to the enemy] because there were times when I was behind a [Messerschmitt] 109 knocking hell out of it with my guns, and all that happened were little bits [of the airplane] flew off. The Spitfire Mk 2A was a lovely machine—my favorite—and the Spitfire Mk V was the worst airplane I've ever flown. (Editor's Note: Freeborn considered the Mk V to be underpowered and heavier to handle than the more nimble 2A.)
How did you cope with the death of some of your fellow pilots?
You had to become callous and indifferent to death. Of course, you were very sorry, particularly if they were close to you. I lost one of my good friends, Peter Chesters, when he was killed attempting a victory roll as he approached the airfield [in April 1941]. A daft way to die.
What about your own mortality?
Bullets didn't worry me, but burning did. I got shot down by my number two [Tony Mold] during a fight and the top [fuel] tank went. Fortunately, it was full because if it had been half full, the vapor would have gone boom! So I switched all the electrics off and glided back into Manston [in northeast Kent]. It wasn't a pleasant experience, looking down at the English Channel.
Which German aircraft did you respect most?
I had great respect for the Junkers 88. It was a very good aircraft. It would brake and virtually stop in the air, and we would go straight past it. They were fast too, so by the time we'd turned round, it was gone. On the other hand, I didn't think much of the Heinkel 111. It was a worn-out aircraft, as bad as the [Vickers] Wellington [bomber].
And what did you think of the German pilots?
I didn't give a damn about them, though of course I respected their flying skills. They had some good pilots. But they were Germans and they had to go. I sometimes gave pilots who had bailed out a little scare by firing close to their parachutes. It made me so angry to see the Luftwaffe dropping bombs on London, so I did what I could to prevent it. But of course, bombing civilians is the right way to win a war, not killing soldiers.
Describe your first kill.
It was a Messerschmitt 109. As soon as he saw me, he pushed his stick forward, which we [Spitfire pilots] couldn't do because the engine would stop. So instead I rolled, went through some cloud, and came out behind him. I gave him a squirt or two and down he went straight into the cottage of an old farmer who was out plowing his fields. And I can see to this day the farmer standing there shaking his fist at me.
An image has grown over time of Battle of Britain pilots always in the pub chasing girls when not on duty. True?
We chased the girls all right, but we didn't get paid enough to be in the pub every night. That's the reason I never liked [Prime Minister Winston] Churchill; he refused to give us more money than the 14 shillings and tuppence a week. Nor was it true that all the pilots came from privileged backgrounds and went to private schools. We were a mix.
How did you relax off duty?
We played cards, and when we were stationed at Gravesend [in northwest Kent] we were billeted in Cobham Hall, this wonderful house that had once belonged to a wealthy family of aristocrats. They had a big library so we were allowed to borrow their books. But what we loved doing most of all was shooting the pheasants in the grounds of the hall.
What was the secret to successful night flying?
First, you had to have the feel of the airplane and the airplane had to have the feel of you. Landing was always the trickiest part of night flying. You'd come down watching your altimeter and your speed, then you'd see the glim lamps [marking the runway] because there wasn't much else to see at West Malling [airfield]. Then the wheels come down, reduce speed to about 90 mph, close the throttle, and drop to the ground. Luckily the Spitfire behaved itself very well.
What made a good Spitfire pilot?
Practicing all the time. Sounds daft, but it was hard to get some blokes to practice. I used to tell them, "Get in the air," but they didn't want to. But luck came into it, too, particularly in shooting down the enemy. That's why it didn't bother me, or anyone else in the squadron, if you weren't successful during a sortie. You could only do what you could do.
Any other memories that stand out?
It was May 1941 and one of the squadron, Roger Boulding, shot down a Heinkel during a heavy air raid, and it came down intact quite close to West Malling. So the next day we went round to see what we could pinch. Roger took the dingy and I went for the camera that the Heinkel had. I was busy with a hammer and chisel trying to pry it off when I felt a tap on the shoulder. I turned round and said to this fellow, "What do you want?" He explained that he was a flight sergeant from Farnborough sent to retrieve the aircraft for further examination. I told him he was too late, to which he replied: "Hasn't it occurred to you that the Germans might have put a small explosive charge in the sight to surprise souvenir hunters like you?" I let him have the thing!