Jerry Yagen and the Fighter Factory
At the annual Warbirds Over the Beach airshow, a wealthy collector remakes the world as it was in 1944.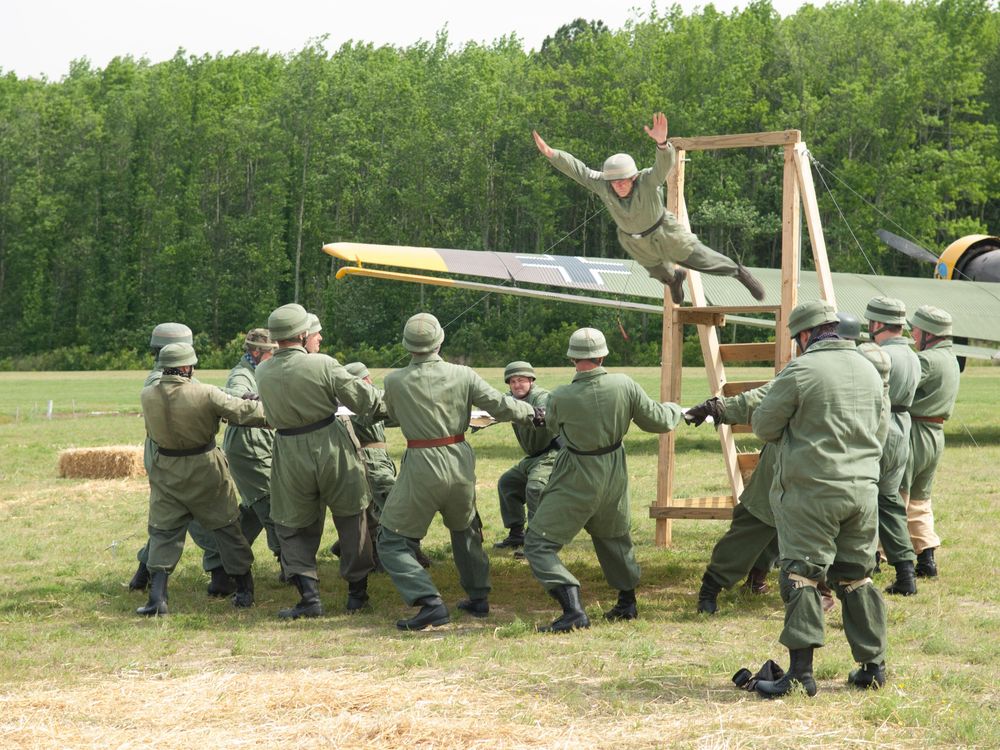 The crowd attending this airshow just south of Virginia Beach has, like the early summer heat, largely melted away. The day's last sunlight streaks across acres of grass and concrete as live Big Band music pours from a cavernous hangar. Behind me, World War II combat airplanes—a Curtiss P-40E Kittyhawk, P-51D Mustang, F4F Wildcat, PBY Catalina, Focke-Wulf Fw 190, B-25J Mitchell, and one of the world's three flying de Havilland Mosquitos—are lined up as if for inspection. All have flown today at the annual Warbirds Over the Beach airshow.
Bill and Sharon Krause, both in the dress white uniforms of Navy officers from the 1940s, are educating me about World War II re-enactors. "All four of our parents served in some way in World War II," says Bill. "When people ask about the uniforms, we tell them our family's experiences. We do it to respect our parents and the veterans who gave their lives."
A hundred re-enactors like them, camped in hangars or in the grass beside the runway, help strengthen the illusion that the airshow audience has somehow stepped back into World War II America. The re-enactors spend the two airshow days drilling, sleeping, or just enjoying a smoke like real off-duty soldiers from a bygone age. And the "aviators" among them are often found standing around near the airplanes.
While the Krauses talk, I catch sight of another re-enactor approaching, dressed in a Royal Air Force uniform. It is the illusionist behind this airplane-centered costume drama—Jerry Yagen, owner of all the airplanes in the lineup, as well as about 60 others housed in his Military Aviation Museum. He also owns the Fighter Factory, where some of the aircraft were restored and are constantly maintained; and the misnamed Virginia Beach Airport itself, in Pungo, Virginia. Yagen's is one of the world's largest private collections of airworthy, classic military aircraft. Though he became a collector as a young man—stamps, comic books—he entered the world of warbirds relatively late.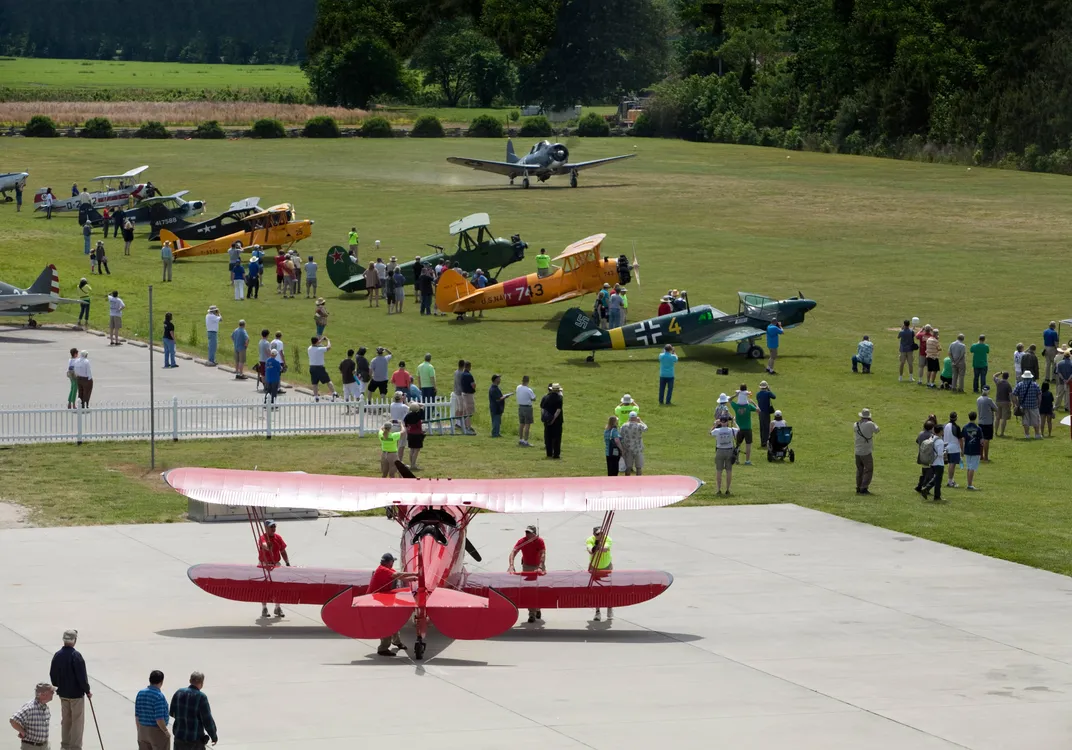 A pilot since 1969, Yagen didn't consider acquiring a vintage military aircraft until 1994, when he attended an evening event at the Canadian Warplane Heritage Museum in Ontario. Evenings in museums among beautifully restored, historic aircraft can be inspiring; Yagen decided he wanted a warbird of his own. He learned of a 1941 Curtiss P-40E for sale and made arrangements to visit the owner, Georgia-based warbird restorer Tom Wilson. "And I was never so disappointed in my life," recalls Yagen. "The P-40 was about the length of this [library] table. It was a cockpit area, a firewall, and that's all there was. And I said, 'You got to be out of your mind.' "
But Wilson told him that almost every warbird restoration starts out as a "project." He sent Yagen to see entrepreneur and restorer Ken Hake, who was working on P-40s in Kansas. Yagen says he returned from visiting Hake with a new attitude: "I can do this." He bought the project. "And today you see that airplane out there in the hangar," he says.
The P-40E Kittyhawk is one of the few aircraft in Yagen's collection that saw action during the war. From the Curtiss factory in Buffalo, New York, it was delivered to the Army Air Corps. Under the Lend-Lease Act, the fighter, along with hundreds of other P-40s, was transferred to the United Kingdom's Royal Air Force, which under the same act forwarded it to the Soviet Union. Serving with a Soviet squadron in the Murmansk region to counter a German invasion from Norway, the P-40 crashed near the Arctic Circle and lay on the tundra for more than 50 years.
In 2003, after a two-year restoration by warbird specialists Avspecs in New Zealand (the Fighter Factory had begun work, but was quickly overwhelmed) the aircraft flew again, with a new identity. Following the practice of many warbird owners, Yagen had his airplane painted to tell the story of a historic battle and famous ace. With the shark-toothed visage of the American Volunteer Group Warhawks, the airplane represents the P-40E flown by Flying Tiger ace David Lee "Tex" Hill during the raid on China's Salween River Gorge, a days-long attack that stopped the Japanese advance toward Kunming. When Hill (who died in 2007 at 92) autographed the restored Kittyhawk at an airshow shortly after it became airworthy, he told Yagen it was "too clean."
"One of the many things that has impressed me over the years about Jerry is that he isn't just interested in the artifact, in the aircraft itself," says Mark Whall, master of ceremonies for the Flying Proms, a yearly event at the Shuttleworth Collection in England. "He's interested in the history of the aircraft and the part that it played in the world. In the colors of the Flying Tigers, that is a nod from Jerry and a mark of respect for what the Flying Tigers stood for."
Whall, who also has a background in BBC radio, is the master of ceremonies for the Flying Proms, a yearly event at the Shuttleworth Collection in England. The show combines orchestral music and World War II aircraft in choreographed flybys and concludes with a display of fireworks. When he saw the Proms, the Anglophile Yagen was enthralled, and he asked Whall to help launch a similar program in Virginia. In 2011, Whall reprised his role for the first American Flying Proms—"Only two places in the world you can see it," says Yagen—and he's been back every June to emcee Yagen's now annual show, as well as Warbirds Over the Beach every May.
Yagen's second purchase, a 1943 Supermarine Spitfire Mk. IX, today sits alone in the middle of a grassy pedestrian way, just a few steps away from food vendors, with no rope or barrier to keep away the curious. Close inspections are fine; just don't touch. Like the P-40, the Spitfire is almost too pristine to be real. It sits on display apart from the other aircraft because of a recent spate of engine trouble, but this one Yagen bought in flying condition after a storied career of service.
It is one of more than 12,000 Spitfires built at the Supermarine "shadow" factory, the Castle Bromwich Aircraft Factory, near Birmingham. It was assigned to 417 Squadron in the Royal Canadian Air Force and flew 95 missions in Italy, escorting U.S. bombers.
Wanting to fly the Spitfire before he bought it, Yagen traveled to England, where owner David Parnell wanted to first observe Yagen at the controls of a T-6 to make sure he could handle a powerful piston-engine airplane. Following that flight, Yagen was given brief instruction on flying a Spitfire, and took off on a planned 15-minute flight in the "second fighter plane I had flown in my life." Flying low over the English countryside and losing track of time (he flew for more than 30 minutes), Yagen said he was "feeling like a guy in World War II."
After the war, the Spitfire was transferred to the Italian air force. It went through several more owners and adventures before Yagen's company Tidewater Tech bought it in 1998 (from Federal Express founder Fred Smith), and it arrived in Pungo in 2000.
On the Kittyhawk and Spitfire alone, Yagen spent $1.2 million. The Mosquito restoration cost another $4 million, and today Yagen's collection has grown so large that he says he isn't sure exactly how many aircraft he owns. On the Military Aviation Museum website, 58 are pictured, 17 of them replicas of World War I-era aircraft and one, an honest-to-goodness 1918 Curtiss JN-4 Jenny. The Jenny and replicas fly in an airshow of their own every October: Biplanes and Triplanes.
David Hunt became the museum's first director in 2008, when the collection consisted of 27 airplanes and one hangar. By the time Hunt retired in 2014, it had grown to more than 70 aircraft and five hangars. In his genteel British accent, Hunt tells the story of a local newspaper reporter who asked Yagen years ago for the number of airplanes in his collection. When Yagen said, "I don't really know," the reporter expressed skepticism. Recounts Hunt: "My response back to her was 'Well, how many pieces of jewelry do you have?' And she looked at me and said, 'I don't know.' I said, 'It's exactly the same. They're collections that he stores. He wears them one day and doesn't wear them another day. He never sits down and counts them all. It's not important to him.' "
Tom Kurtz, who leads the Fighter Factory, oversees maintenance for Yagen's collection. He describes himself as a "long-haired, bearded, tobacco-chewing redneck."
"Our first priority is to keep the fleet flying," says Kurtz. "If it wasn't for Mr. Yagen having a fleet of stuff that he actually wants to fly, me and my guys"—six mechanics, four apprentices, and a parts manager—"wouldn't have one of the greatest jobs in the world."
The Fighter Factory officially belongs to the Aviation Institute of Maintenance in nearby Chesapeake, one of Yagen's network of for-profit schools. Every year, a select group of AIM students are given the opportunity to work on some of aviation's most historically important aircraft. The schools are the economic engine that enabled Yagen to create the Military Aviation Museum, and a 2013 crisis with them almost dissolved it.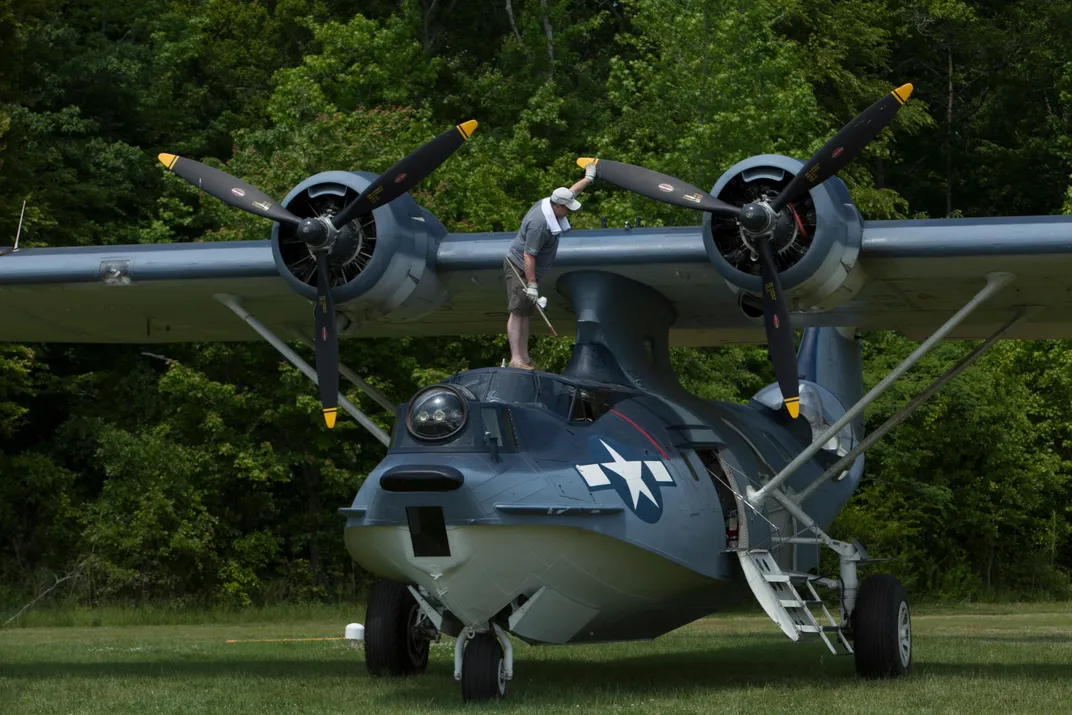 Yagen is vague in his description of the crisis. He says that changes in the U.S. Department of Education's Title IV Student Aid Programs, which provide the majority of tuition paid to his enterprises, began to reduce the amount of tuition he could collect. (The changes involved the computation of tuition qualifications based on clock hours instead of credit hours.) In May 2013, after he "had run out of reserves," Yagen contacted a prospective buyer for his businesses. The following month, he sent a mass email announcing that his collection was for sale. Seven of his airplanes, including a B-17G, a pair of Fw 190A8s, a de Havilland Dragon Rapide, and a Hawker Fury, sold immediately.
Then things changed. Somehow Yagen found a way to work with the federal regulations and decided not to sell the businesses. By August 2013, Yagen was trying to buy his airplanes back. "Nobody would sell them to me!" he says. "I still have the money in the bank account today." The venture capital firm Spartan Investor, LLC, which had been negotiating to buy the nationwide group of Aviation Institute of Maintenance schools, sued in September 2013 for breach of contract, among other claims, but dropped the lawsuit the following year.
"Things got better quite quickly, but the damage had been done," David Hunt adds calmly. "It was a crazy six months and it did a lot of damage."
Tom Kurtz has a different take: "We sold a couple of airplanes! Get over it! We had a hiccup. We're buying twice as many now!"
Indeed, Yagen's collection is again growing. He has already replaced the Hawker Fury, Dragon Rapide, and a few of the other aircraft that were sold. He's also bought entire museums in Europe to get a variety of aircraft and artifacts. Among his more unusual treasures is a complete V-1 flying bomb, acquired from a group who retrieved it the 1990s from an underground German factory. (The factory had been sealed, but the recovery team pulled the bombs out through an unblocked air vent.) He's probably the only man in America who has two Enigma coding machines, devices used extensively by the Germans for what they thought were securely encrypted messages (and the subject of the 2014 film The Imitation Game, about mathematician Alan Turing).
He has a complete 88mm artillery piece and a few "parts guns" that were once under the command of North Africa's Desert Fox, General Erwin Rommel. As part of Warbirds Over the Beach, German re-enactors fire the artillery piece as Allied paratroopers descend from a passing C-46 Commando. Yagen has even bought a Luftwaffe hangar, built in 1934 in Cottbus, a small town southeast of Berlin. In 2012 he had it dismantled, transported to Pungo, and reassembled as the home for his German airplanes. Today, the afternoon sun shines through bullet holes left in the hangar's wooden doors by Soviet soldiers, and its girders bear the scars of Allied bombing. The newest building on the grounds is the control tower from the RAF Goxhill airbase, which had been home to U.S. fighters in England during World War II.
On the second day of the Warbirds Over the Beach, a gaggle of re-enactor pilots wearing Mae Wests, parachutes, and leather flying caps are walking across the grass to where the B-25 Wild Cargo is parked against a line of trees. It's a moment that repeats itself throughout the day—almost everywhere I look, history and reality blur.
Yagen spent his early childhood in Germany with his German-born mother and his American Air Force father. He says he was always fascinated with airplanes and remembers watching with his dad as B-52s launched from Griffiss Air Force Base in New York. Another memory from a few years later: how upset he was when he wrecked a control-line Me 109 he had built. "I had worked so hard on it," he says, and laughs. "Today I have a real one."
Once he built his first hangar in Pungo, Yagen says, "people started knocking on my door." If very low-flying warbirds landing on the grass runway abutting Princess Anne Road don't attract enough attention from passing drivers, at 60,000 square feet, the massive hangars rising above flat farm fields work very well as giant billboards. Soon so many people were showing up at Pungo that Yagen had to hire staff just to deal with visitors. His wife Elaine had a solution: volunteers.
"And I really didn't believe her, that people would come and do this on their own," says Yagen with disbelief in his voice. "And I started thinking"—his voice drops to a whisper—"maybe they will." Today as many as 200 volunteers help out at the museum.
In 2006, Yagen staged an invitation-only airshow for his friends, fellow pilots, business contacts, and the neighbors near the airstrip. After a third year, he decided to open the event to the public and charge admission. In 2009, the Warbirds Over the Beach airshow was born. The crowds, now paying $30 for a single-day admission ticket and $50 for two days, have continued to grow.
Not all in the audience are fans of Yagen. During the June 2016 airshow, the public address system blared a plug for one of Yagen's aviation schools. A spectator beside me slowly shook his head. With a scowl he said: "There's Jerry Yagen paying Jerry Yagen to promote Jerry Yagen." Yagen is unashamedly a businessman; he drives a hard bargain, and not all of his deals end on a happy note.
During a July visit to the museum, Yagen offers a tour to Mark Whall and me. We go to a warehouse near Virginia Beach, just one of his warehouses scattered across the world, and he pulls a wad of keys from his pocket, unlocks the door, and leads the way inside. Following him into the gloom, I'm met by a pair of dust-covered French Fouga jet trainers, oil-soaked radial engines, propeller hubs with broken props from German Fw 190s, B-17 parts, and the bits and pieces from untold numbers of aircraft. Overhead, parts hang out from high shelves like branches on a tree. To navigate the aisles we weave, duck our heads, and take careful long steps over wings and what-not. As we walk, Yagen frequently pauses to ask: "Do you know what this is?" With a big grin, Yagen delights in answering his questions. It isn't long before I realize that only a fraction of Yagen's aircraft are anywhere near flying condition or on display.
He says he no longer has to go looking for airplanes. "They come to me," he says, because the warbird world knows he will buy. "When I find a World War II airplane I don't have, I buy it."
Yagen, 70, has begun to confront the fact that he is no longer a young man. "I'd like for the museum always to be here, but I also realize that the airplanes will probably instantly stop flying as soon as I die.
"My biggest problem," he adds, "is I don't have an escape plan. What am I gonna do? Can I just close the doors? No. No. I don't have a good solution. In the meantime, I love what I am doing. I love saving airplanes."
During the Warbirds Over the Beach airshow, the sounds of Merlin, Allison, and radial engines seem omnipresent. They are so close that when they go full throttle for takeoff, I feel my chest rumble. Sometimes dust kicked up by the churning propellers coats me and my cameras. When the airplanes return, they park wingtip to wingtip, and visitors are welcome to get close—close enough to smell the avgas and burnt oil and feel the heat still pouring from exhaust ports. Largely because of this intimate setting for visitors, Warbirds Over the Beach and the Military Aviation Museum ($15, daily admission) are attracting a steady stream of visitors, many from other countries. Attendance at the museum has risen from 6,500 in 2008 to 46,146 in 2016.
The airshow, with its overwhelming variety of flying warbirds, its hundreds of re-enactors, and the rare opportunity to walk right up to and even crawl beneath a historic treasure, makes Yagen unique among U.S. warbird collectors. Yes, he charges for the privilege, but he shows an enthusiastic audience what it was like when Avengers, Yaks, Polikarpovs, and Corsairs contended with Messerschmitts and Focke-Wulfs. The audience is not so much transported back to the 1940s, as the 1940s, through one man's great wealth and singular drive, are hauled for one weekend into the present.