In the Museum: Honor Roll
In the Museum: Honor Roll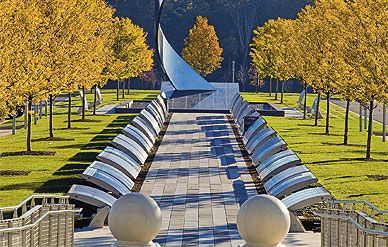 On a stroll along the peaceful tree-lined walkway leading to the National Air and Space Museum's Steven F. Udvar-Hazy Center in Virginia, you will see thousands of names. They're part of the Museum's Wall of Honor, a permanent memorial created of airfoil-shaped stainless-steel plaques honoring men and women who have had a passion for flight. Along with icons of aviation and space—the Wright brothers, Charles Lindbergh, Amelia Earhart, John Glenn—you'll find the names of people whose fame is not as great but whose love for flying has been as strong. We'd like to tell a few of their stories.
Major General William Gorton
"It never dawned on me that I wouldn't be a fighter pilot," says retired Air Force Major General William Gorton. His father, A.W. Gorton, was U.S. Navy aviator number 1,720, a test pilot, a member of the U.S. Navy racing team, and winner of the Curtiss Marine Flying Trophy.
"What surprised me," Gorton continues, "was that I ended up in the Air Force instead of the Navy. But that was on the advice of my father. In 1954 the Air Force was expanding and my father thought I would have a greater chance of flying fighters in the Air Force. So in February 1954, I went up to Jacksonville, Florida, and enlisted in the aviation cadet program. From the first actual fighter I flew, the F-86, until the last fighter I flew the day before I retired—the F-16—I was fortunate to do exactly what I set out to do."
For six years, Gorton's ride was the F-100. "In 1956, I was full of attitude and not much brains, and the F-100 was by far the hottest airplane in the inventory at that time. And it had some fascinating idiosyncrasies about it. It taught me an awful lot."
Gorton is the president of the Super Sabre Society, which is dedicated to honoring the history of the F-100 and the men who flew it. The Museum's F-100D is undergoing restoration; it will eventually be displayed at the Udvar-Hazy Center. Under Gorton's guidance, the Super Sabre Society has made a donation to reserve an airfoil. "It's a natural fit for our members to have their names inscribed on an airfoil leading up to the Museum," says Gorton.
Mary Dominiak
Mary Dominiak can't remember a time when she wasn't interested in aviation. "As a kid, anytime I heard an airplane engine, I had to look up and see what it was," she recalls.
Dominiak is a longtime supporter of—and donor to—the Museum. "When I heard they were going to build the Udvar-Hazy Center, I was in transports of delight," she remembers. "The idea of having an air and space museum virtually in my backyard was irresistible." A resident of northern Virginia, she visits the Center frequently, and attends airshows whenever possible. "I think pilots are among the most positive people on the planet. There's a can-do and friendly vibe that you get when you go to an airshow. There's always a very positive mindset, that you can do anything, go anywhere, and achieve anything, and have a gay old time while you're doing it." Dominiak added her name to the Wall of Honor because it combines two of her interests: history and aviation. "When you put those two things together, there's something very powerful. For me it's the chance to give back to something that has given me a lot of pleasure over the years."
Dominiak started working toward her pilot's license in the mid-1990s, but put it on hold without having soloed. "I ran into a problem that afflicts a lot of people: This business of having to work full time really gets in the way," she jokes. Dominiak is determined to complete her pilot's license, but achieving the goal may have to wait until retirement. "In the meantime," she says, "I just keep looking up."
Pam Cain
Pam Cain was almost 13 years old when her father, Air Force Colonel Oscar Mauterer, was reported missing in action over Laos. "I can remember the day like it was yesterday," she says of that winter morning in 1966. "I remember everything about it."
Mauterer piloted a Douglas A-1E Skyraider, providing cover for O-1E forward air controller aircraft. He hoped to enter the space program after his tour ended. But in February 1966, Mauterer's aircraft was hit by enemy fire. About five miles south of Na Phao in Laos, he was forced to bail out. He has never been found.
When Cain heard about the Wall of Honor, she immediately thought of her father. "What better way to honor my dad's name? It seemed a very fitting way to make a tribute to him," she explains.
"I dearly love flying," Mauterer wrote in a 1965 letter to his daughter, "as it is a way of life that is difficult to fully describe but it is exhilarating..."
While Cain isn't sure how her father became interested in aviation, she does know that his fascination with it indirectly influenced her future husband and their son to become pilots.
For more information about the Wall of Honor, visit www.nasm.si.edu/wallofhonor. Funds from this program are used to help preserve and restore the aircraft and spacecraft in the Museum's collections.