How Good Is Your Airline?
Two professors analyze the stats.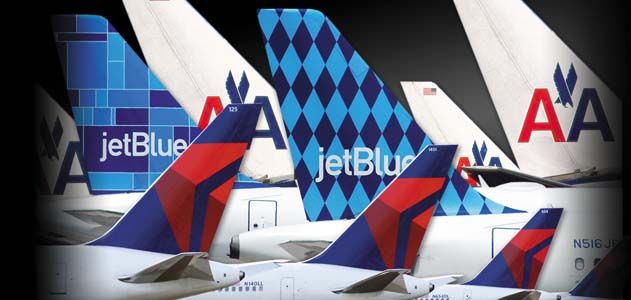 Is JetBlue a better airline than Delta or American? Travel writers and road warriors noisily debate such questions. But 19 years ago, two professors from Wichita State University in Kansas devised a standard measure to provide some answers. It's called the Airline Quality Rating.
Aviation technology professor Brent Bowen and business professor Dean Headley still compile the Rating annually and release it in early April to a voracious public. Their first report might have vanished into academic obscurity but for an ABC News stringer who got wind of it and pitched a story to "Good Morning America." The professors were flown off to New York, and a media sensation launched. Bowen has moved on to Purdue University, while Headley remains in Wichita, but the partnership is intact.
Where they once burned up fax machines coping with an unexpected flood of publicity, they now have a Web site, www.aqr.aero, to deal with 40,000 downloads and more than a million hits in the first few days after the Rating's release, to judge by last year's response. The professors, who still draw academic salaries, have never made a dime off the project. And yes, in case you were wondering, JetBlue consistently trounces the legacy carriers. The Queens, New York-based airline ranked as one of America's top three for quality in the last six years. In the 2009 report, American came in ninth out of 17; United Airlines, 11th; and Delta, 12th.
The bottom of the airline quality list is occupied by regional carriers that feed into national hubs and are typically owned by one of the large, recognized airlines. Says Headley, "The smaller airplanes that regionals fly are prone to weight and balance issues, forcing flight crews to delay takeoffs as they shift customers forward or aft in the cabin." And at outlying airports, such jobs as luggage handlers and other ground crew are often shared among carriers, a situation that can create chaos when many flights arrive at once. Atlantic Southeast Airlines, a Delta property, has logged four straight last-place finishes.
The professors scrutinize airlines that carry more than one percent of U.S. traffic. They avoid international carriers, as data is reported differently across governments or isn't available. Their survey was limited to nine or 10 airlines until 2002, and peaked at 18 in 2006. In recent rankings, newer, smaller entrants dominate. JetBlue and AirTran Airways are joined in the quality circle by Hawaiian and Southwest Airlines and, with a somewhat choppier record, Alaska Airlines. Old-line giants group in the middle of the ranking, with some exceptions: Northwest Airlines marched from next to last in 2002 to fourth in 2007 and 2008.
Has airline quality improved or deteriorated since 1991? Dean Headley's answer will disappoint both optimists and grouches: Neither. Quality runs in cycles. It declines as airlines and airports get busier, and vice versa. The worst year on record, 2007, came right before the bubble economy burst. The post-9/11 decrease in passengers greatly improved airline quality.
Headley's prescription for the ups and downs is an overhaul of air traffic control. "It's the weakest link in a fairly well-developed system," he says of the 1950s technology. NextGen, the GPS-run air traffic control system of the future, can't get here soon enough, he adds. It is supposed to become widely operational by 2018, and is expected to help airports launch and land more airplanes per hour, allow airlines to fly more direct routes, and enable airliners to fly closer to one another more safely. All of this should help reduce delays and improve fuel economy, and thereby boost overall performance of most airlines. Airport infrastructure will need to improve as well: We'll need more runways, and more airports.
Bowen and Headley take zero interest in flight attendants' smiles or the crispness of the rolls (on those flights that still offer rolls). Headley doesn't even enjoy air travel. "I prefer not to fly if I have a choice," he says. "I'm kind of a big guy, and I don't always fit in the seats." The professors track four categories: late arrivals; overbooking, which leads to bumped passengers; mishandled luggage; and complaints from passengers irate enough to formally address the government. The Rating's data is publicly available from the U.S. Department of Transportation and the Bureau of Transportation Statistics. "We get very little criticism from the airlines," says Bowen. "They monitor the same things. If our formula wasn't putting it out accurately, they'd be the first ones to let the world know."
Consumer Reports, J.D. Power and Associates, and other rivals rely on "a more perceptual base" that lets subjectivity creep in, Headley says.
Does the Rating have a dollars-and-cents impact on the airlines? That's hard to gauge. "Business travelers bring in maybe 80 percent of the revenue, and their companies have block agreements with one airline or another," says Helane Becker, an analyst who follows the industry at Jesup & Lamont, an investment house in New York. "Leisure travelers just look for cost and convenience." A top finish is a source of pride nonetheless. When AirTran took first place in 2007, the company suspended operations for 15 minutes at the home airport in Atlanta and called employees onto the tarmac to salute one another. At AirTran gates across the U.S., banners were hung proclaiming the news.
For a carrier wanting that sort of pride, Headley says, everyone from the top executive to the ground crew must commit to the customer. And, he adds, nothing enrages passengers more than a shrug of no-information when they're pinned at an airport gate or on a taxiway. "I flew home last Sunday," he says, "and it was 40 minutes past departure time before they made any announcements. That might make people walk away from an airline."
Bowen and Headley announced the 2009 results on April 12 at the National Press Club in Washington, D.C. Read their report here.
Craig Mellow is a New York-based writer.