First Responders
American World War I pilots joined up early by serving with Britain's Royal Air Force.
The merciless aerial battles taking place along the Western Front at the start of World War I were more than an ocean away, but many a young American dreamed of getting in on the action. Hundreds of them traveled to Britain or Canada, where they learned the art of combat flying with the Royal Flying Corps and the Royal Naval Air Service (the two organizations would merge into the Royal Air Force in 1918).
Timed for this year's World War I centenary, Gavin Mortimer's new book The First Eagles: The Fearless American Aces Who Flew with the RAF in World War I brings his subjects to life by drawing from squadron diaries and from the American pilots' letters and journals.
According to Mortimer, many of the Yanks happily took up the ways of their British hosts. "They bought English boots and leather belts from the officers' store in Oxford, and some took to wearing British tunics with lapel collars instead of the U.S. Army-issue stand-up collars," he writes. "They were also issued with Royal Flying Corps caps bordered with the white cadet band, and they adhered to the behavior expected of a British officer."
In addition to profiles of the American pilots, The First Eagles includes 109 black-and-white archival photographs.
—The Editors
Larry Callahan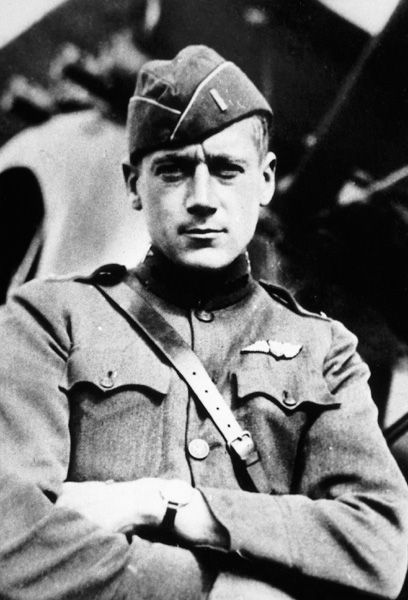 Larry Callahan was a tall, laid-back, 23-year-old from Kentucky who had cut short a career in finance to serve his country. A gifted ragtime pianist, he had a passion for liquor, women, and cards. His talents extended to the air. He and other American pilots trained with the Royal Flying Corps in England before being assigned to Allied airbases in France. As a fighter pilot with the 85th Squadron and the 148th Aero, he became an ace.
Oliver LeBoutillier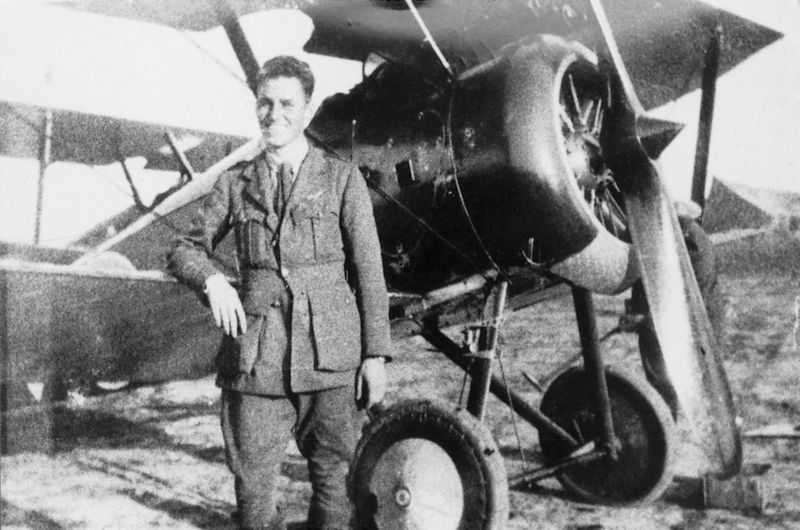 Born in Montclair, New Jersey, in 1894, Oliver LeBoutillier traveled to England in 1917 to receive combat flight training with the Royal Naval Air Service. After completing flight instruction, he was assigned as a fighter pilot to the Service's 9th Squadron, which had been tasked to protect southern England from attack by German bombers. At the end of his first month, LeBoutillier had downed four enemy aircraft.
George Vaughn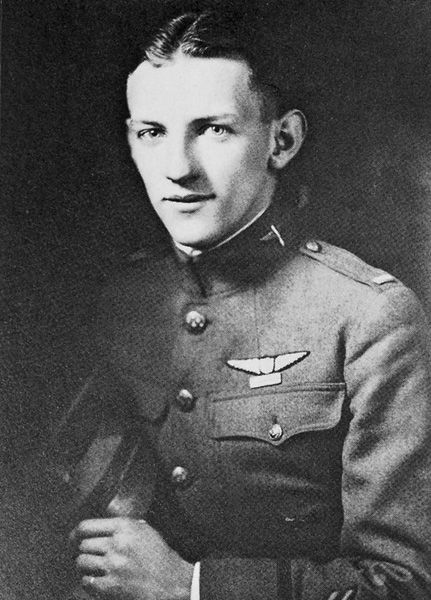 George Vaughn was a student at Princeton University in 1917, when he put his name down to join the fledgling Aviation Corps. He wrote his family on May 4 to explain that after undergoing an equilibrium and eye test, he was subjected to a thorough medical "that has put a good many fellows out of the Corps." In fact, he was one of only 36 Princeton men out of more than 100 volunteers who would meet the rigorous medical requirements to become a pilot. During the war, Vaughn destroyed 13 enemy aircraft. "All you had to do was fly the plane and shoot the guns," he said modestly, shortly before his death in 1989 at age 92.
Eliot White Springs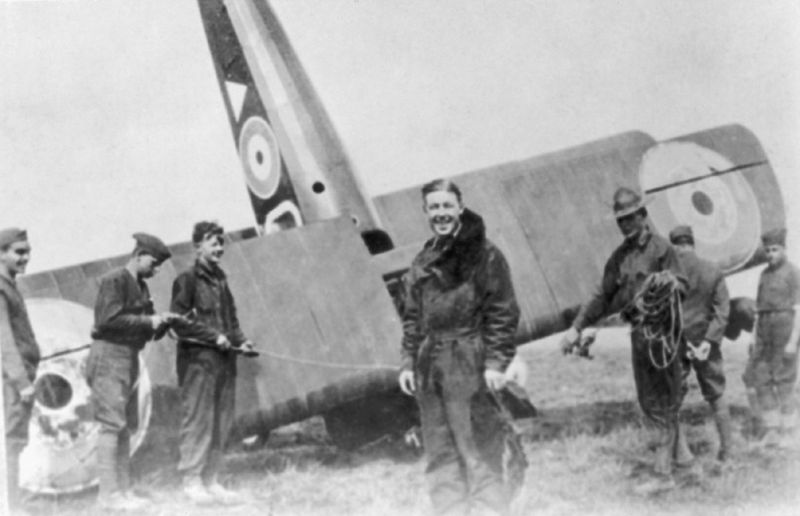 Shown here beaming after walking away from an accident in France, Eliot White Springs, like his friend George Vaughn, was enrolled at Princeton when he started flying. A member of the Princeton Aviation School, Springs quickly became a proficient pilot. "I can't begin to tell you the wonderful fascination of flying and I enjoy it more every time I go up," he wrote his father. "I had control of the plane yesterday for twenty minutes at an altitude of 4,000 feet and I don't know when I enjoyed anything more."
What They Flew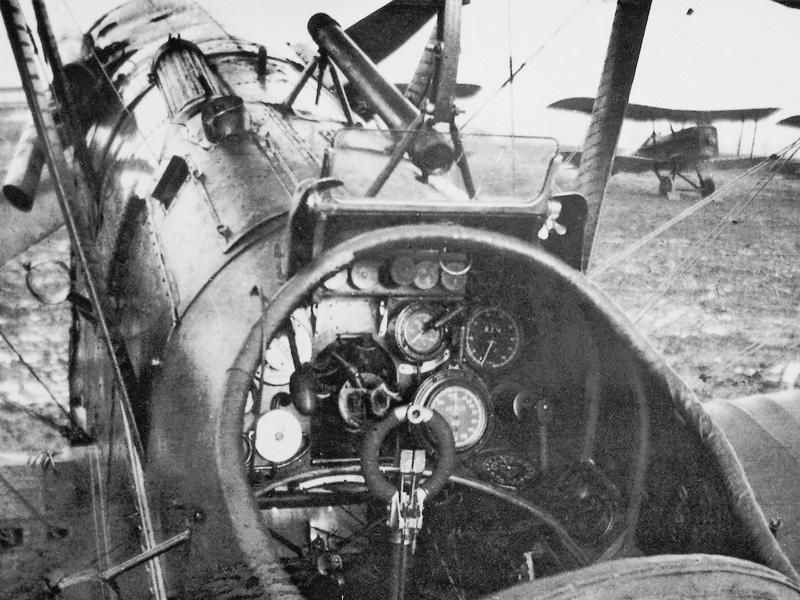 The Royal Aircraft Factory's Scout Experimental 5 was a single-seat biplane with a busy-looking cockpit. Known as the S.E.5, the aircraft entered service with the Royal Flying Corps in April 1917, and quickly proved itself. It could reach 132 mph at 6,500 feet. Armament included a Vickers machine gun that fired through the propeller and a Lewis gun mounted on the top wing.
Lloyd Hamilton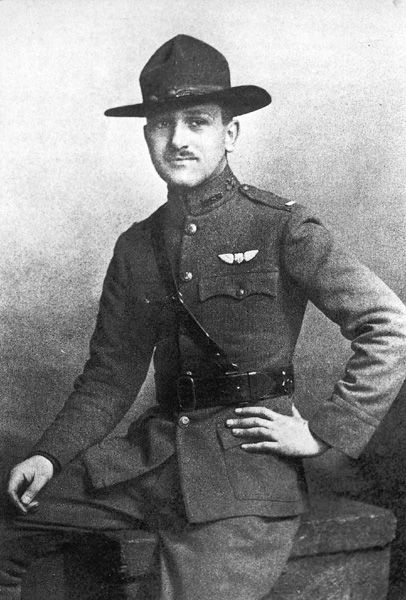 Awarded a Distinguished Flying Cross, Lloyd Hamilton was shot down and killed flying with the 17th Aero Squadron in August 1918. Hamilton's body was identified a year later and interred in an American military cemetery in France. In 1921, at his parents' request, he was exhumed and laid to rest in Pittsfield, Massachusetts. In 1932, the U.S. Army Air Corps dedicated a new airfield north of San Francisco in Hamilton's honor; Hamilton Air Force Base remained active until the 1970s.
The Teacher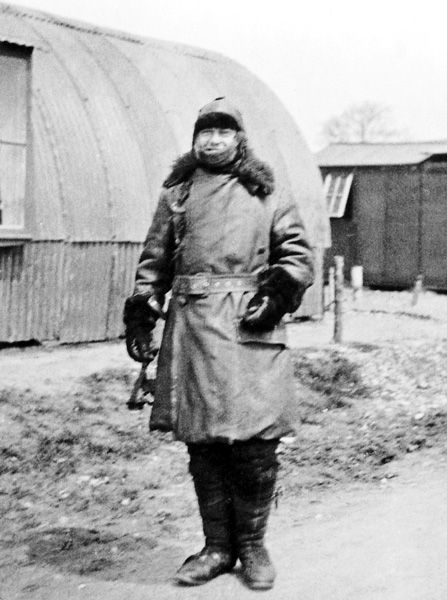 Major John Andrews, commander of the Royal Air Force's 209th Squadron, was a leading British ace who had dueled with both the Red Baron and Max Immelmann (the first German ace of World War I). Andrews was a patient flight instructor to the young American men assigned to his squadron.
Battling the Elements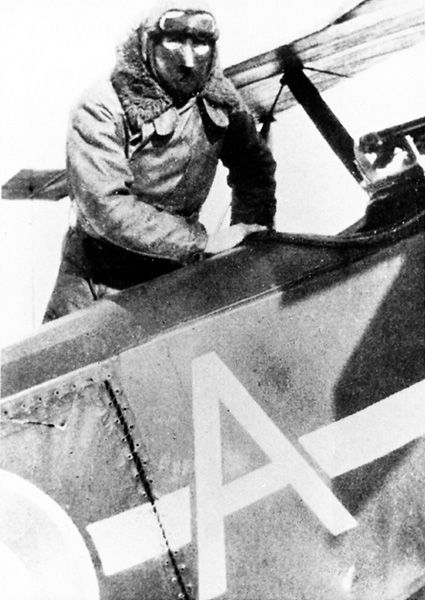 Open-cockpit airplanes offered no protection from the cold, so pilots improvised, as this one did by wearing a leather mask. In a letter to his family, one American pilot wrote: "My ears are very sore from high altitudes and long dives and my eyes are rather sore from flying without goggles." He added that no one wore goggles when "you're out hunting," since painful eyes were a small price to pay for an unobstructed view. Being exposed to the elements resulted in other afflictions: split lips, frostbite, and headaches.
The Enemy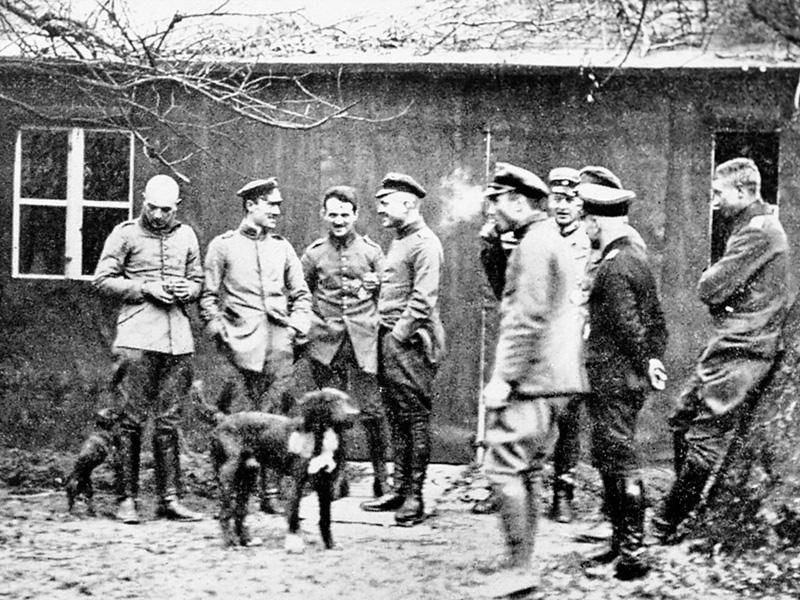 Manfred von Richthofen, fourth from left, chats with fellow pilots a month before he died after being shot down on April 21, 1918. Known as the Red Baron, the legendary German ace wrote his autobiography in 1917, after which it was translated into English. Americans were transfixed by the Red Baron. On April 30, 1917, Ohio's Lancaster Daily Eagle was one of several newspapers to laud Richthofen, describing him as "brilliant and daring." From the newspaper's breathless prose, one wouldn't have guessed that the United States had declared war on Germany less than a month earlier.
Excerpted From