The First Air Force One
When Dwight Eisenhower was president, he traveled in style. Now a team is restoring his airplane to presidential perfection.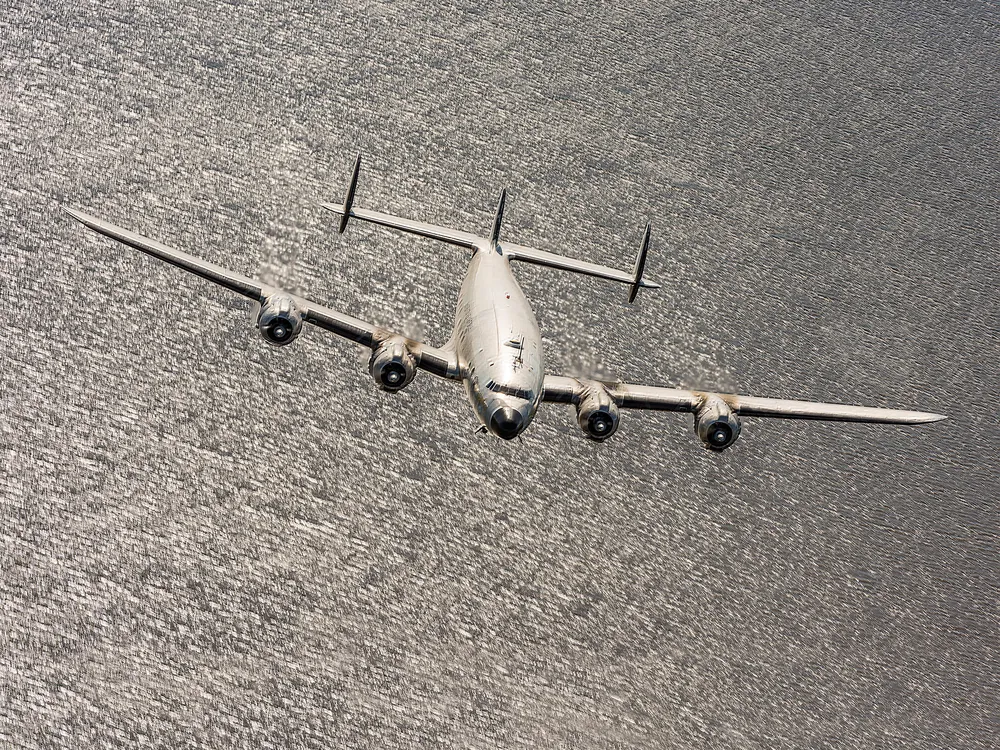 On a sunny day last November, Air Force One was parked inside a hangar 140 miles southwest of Washington, D.C. The large, four-engine transport had logged thousands of miles. Countless VIPs had flown aboard it. Speeches on the peaceful purpose of atomic power had been crafted inside its cabin, and presidential naps taken in its comfy berths.
But this Air Force One was not waiting for the president. No, this airplane, a 72-year-old Lockheed VC-121 Constellation—the first presidential aircraft officially designated as Air Force One—was waiting for resurrection. Named Columbine II, the airplane was the personal transport of President Dwight D. Eisenhower, who flew aboard it in the early 1950s. As could be expected, the aircraft is in need of a nose-to-tail overhaul.
The driving force behind the ongoing restoration is Karl Stoltzfus, founder of Dynamic Aviation in Bridgewater, Virginia. Serving both government and commercial clients, the company is a one-stop shop for aviation services, leasing and staffing its fleet of 140 aircraft for missions that range from military reconnaissance to data acquisition for civilian organizations such as the National Oceanic and Atmospheric Administration.
Hidden away on a pastoral road in rural Virginia, Dynamic is situated on a 750-acre airpark. Numerous hangars house King Airs and Dash 8s, which workers have fitted with photographic equipment to measure snowpack in the Sierra Nevada and to take geographical surveys for mining companies.
Eisenhower's former transport is part of a small number of legacy aircraft that Stoltzfus restores out of a sense duty to preserve his country's aviation history. That includes the C-47 Miss Virginia, which Dynamic flew to Normandy for the 75th anniversary of D-Day last year (see "Return to Normandy," June/July 2019), as well as a Stearman biplane and a T-6 Texan, two aircraft types that taught some of the Stoltzfus family to fly.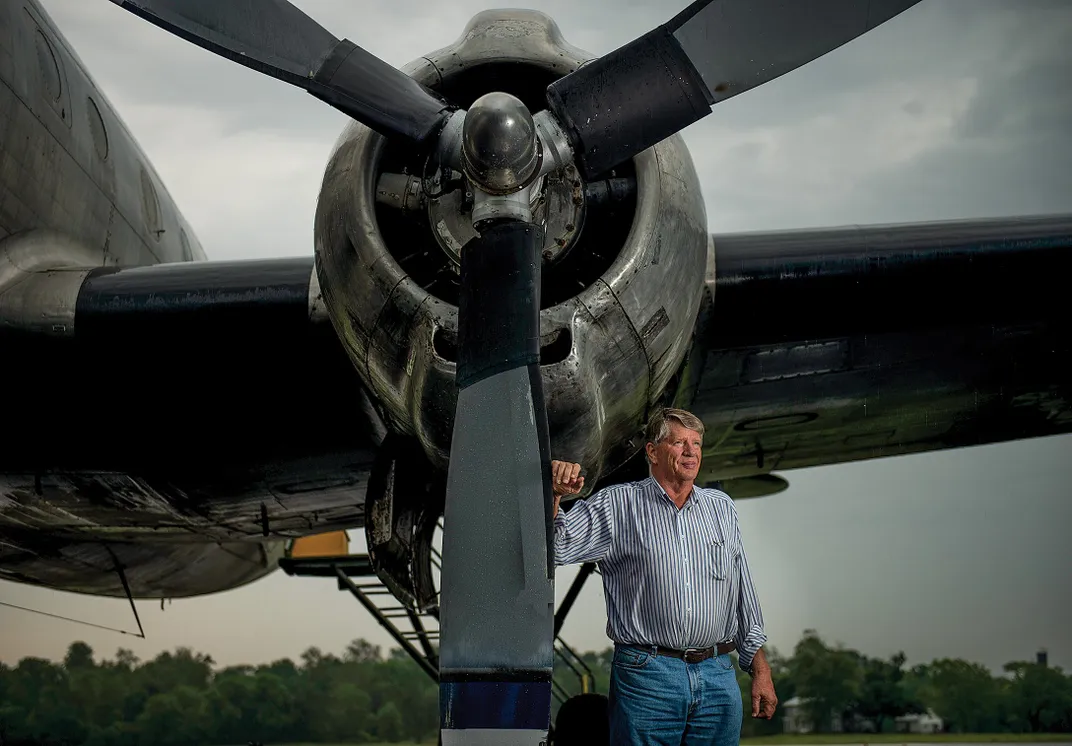 Stoltzfus is an avid student of history in general. He started reading about Eisenhower after purchasing the Connie, and he's come to admire the 34th president. Stoltzfus' slow and steady approach to the restoration seems to mimic Ike's character. "He was using his understated style of diplomacy," says Stoltzfus. "His style was not blustery."
Though it's obvious that Columbine II needs to be rebuilt, the airliner's deteriorated condition cannot obscure its good looks. Lockheed's Constellation is the loveliest of 1950s airliners, with a long, tapered fuselage that brings to mind the bottlenose dolphin. Most of Columbine II is a dull pewter now, except for the belly of its forward fuselage and part of its nose, where its aluminum skin has been polished to a lustrous silver that shimmers under the hangar's fluorescent lights. Its name is painted in mustard-color cursive and underlined by an image of a blooming columbine, the state flower of Colorado and a nod to the home of Eisenhower's wife, Mamie.
"The aesthetics of the Constellation are in a class all by themselves—they were the iconic aircraft of that era," says Stoltzfus. "It's definitely all-American."
The aircraft that would eventually become the first Air Force One rolled off Lockheed's assembly line in Burbank, California on December 22, 1948, and was purchased by the Air Force. Eisenhower used the aircraft for a trip to Korea shortly after he was elected president in November 1952, and the next year the aircraft was converted into a VIP transport for him. The aircraft's transformation included the installation of a mahogany desk that featured buttons to activate a phone that could connect to landlines at airport terminals.
Unlike today's Air Force One, a modified Boeing 747, the Constellation could not hold the president's entire staff plus a gaggle of reporters. The cabin of Columbine II had a scant 16 seats. And because the aircraft flew before the age of digital automation, the flight crew had several more positions than today's crews: radio operator, flight engineer, and navigator in addition to pilot and co-pilot.

Walking through the cabin today, one can see numerous ashtrays dispersed throughout, from the first lady's room at the aft cabin up to the cockpit. It's difficult to tell whether the brown stains on the walls come from years of neglect or the decades of cigarette smoking by many who flew aboard the transport. (Eisenhower, who started smoking during his days at West Point, had quit his three-pack-a-day habit by the time he became president, but he didn't mind if others smoked.)
The interior of the Connie smells like plywood. William Borchers, who is leading the team that is restoring the aircraft's interior, stands in its cabin. When asked about the most exciting part of his job, Borchers exhales deeply. "Oooh boy," he says. "There's a lot to it. You'll see there's a lot of things we're removing, and making them out of metal rather than wood because all the wood is coming out."
By November 1954, Eisenhower had upgraded from his used transport to Lockheed's Super Constellation, making Columbine II the only Air Force One to serve a single president. A year later, the aircraft was transferred to Pan American World Airways for two years before returning to the Air Force. Retired from military service in 1968, it was put into storage at Davis-Monthan Air Force Base in Arizona and sold by auction to a private owner two years later. By 2003, when that owner had failed to find a buyer for Columbine II, the airplane was sent to a boneyard at the Marana Regional Airport near Tucson.
Stoltzfus and his team lead for Columbine II, Bryan Miklos, first visited the aircraft in 2014 at the Marana airport. The once-elegant presidential ferry was coated in an oily grime. Over time, the 70,000-pound aircraft had settled six inches into the sandy soil. Wildlife had invaded the fuselage, and layers of owl pellets coated the cabin floor. "This was a bird condominium," says Brad Holliday, Dynamic's technical maintenance manager for Columbine II. "There were rattlesnakes, some scorpions, other critters—I wasn't too sure what they were—either in it, around it, or under it."
One word came to mind when Stoltzfus laid eyes on the Connie: depression. "It just looked so overwhelming," he says.
Stoltzfus went to bed that night and returned to the boneyard the next day. "I started walking around the front of the airplane and tried to put a new thought process into it," he says. "Every fiber of my body said, 'This is something you're supposed to do. This isn't a financial-consideration thing.' "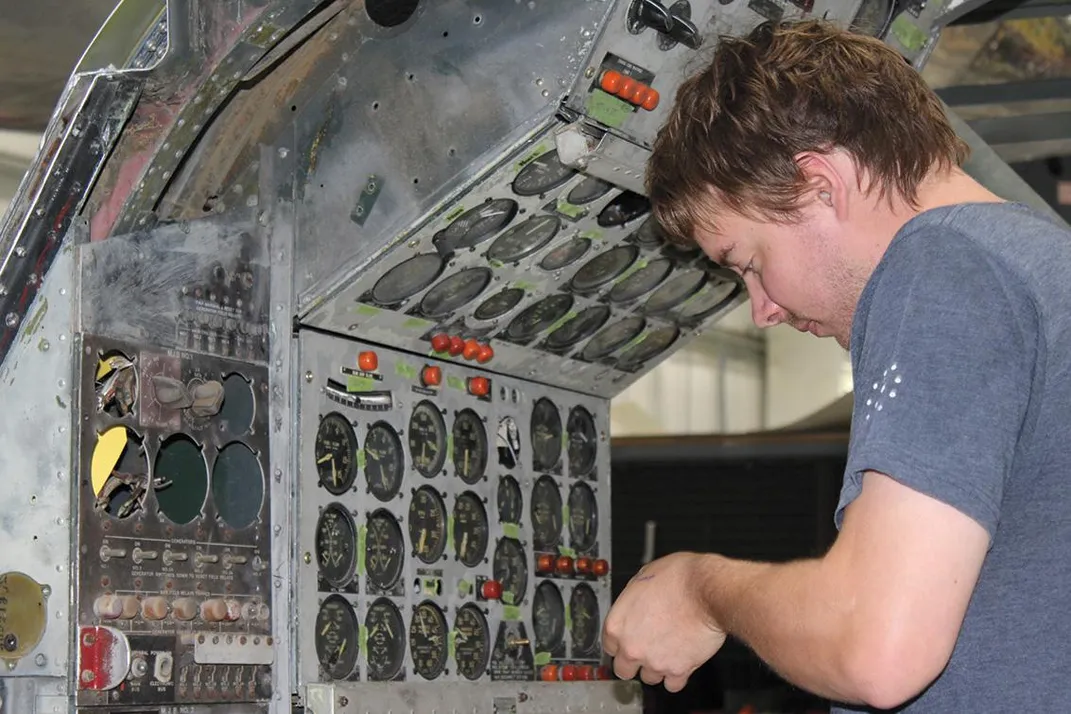 After Stoltzfus decided that the airliner could be saved, he had to craft a plan to move Columbine II from the Arizona desert to Bridgewater. In early 2015, a team of aircraft maintenance experts from Dynamic Aviation flew to Arizona and spent the next three months documenting the Constellation's condition. The team devised a strategy for how to restore Columbine II to airworthiness, and they—along with a group of volunteers from the Mid America Flight Museum in Mount Pleasant, Texas—spent the next year refurbishing the airframe, engines, and the fuel-, hydraulic-, and electrical systems.
On March 22, 2016, the now-revived airliner began a two-day journey to its new home in Virginia. Since then, part of the remaining restoration has focused on returning presidential grandeur to the interior. Helping with historical accuracy is someone who flew aboard Columbine II as a child: Mary Jean Eisenhower, the president's youngest granddaughter. "We first got to know Mary Jean in 2016, when she was working with a museum that had interest in the airplane," says Stoltzfus. "We are delighted with her involvement."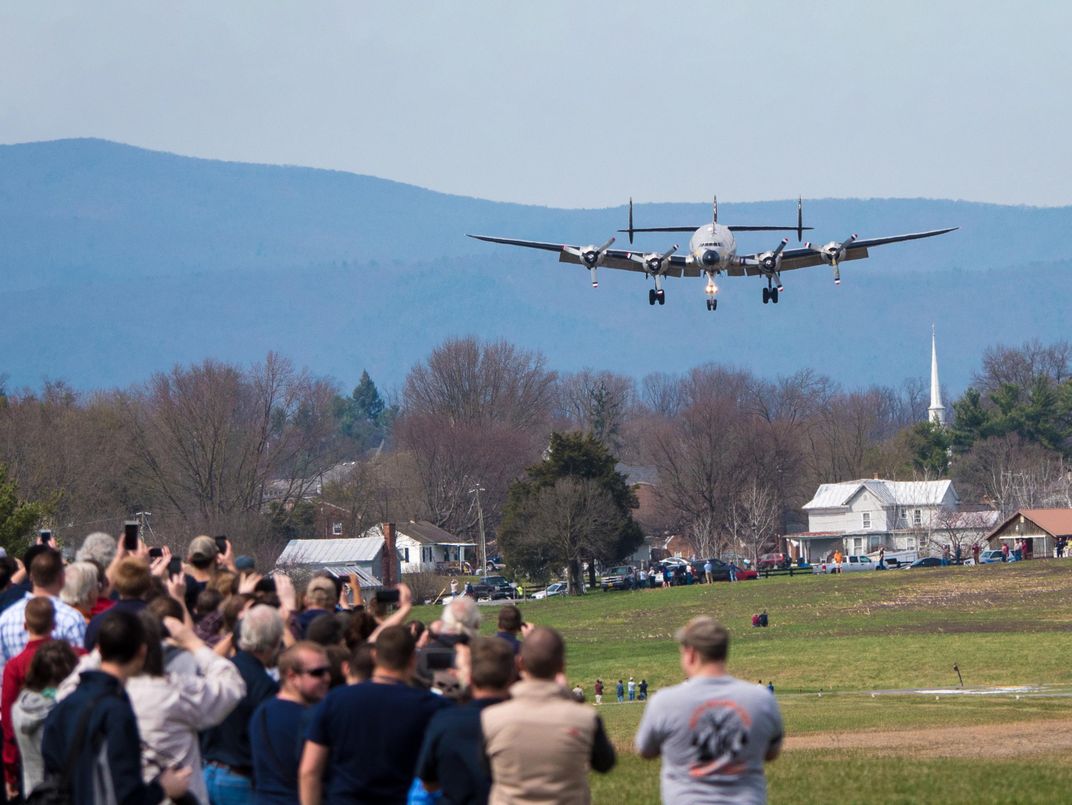 Stoltzfus estimates his company spends about $500,000 a year on the restoration. That excludes a permanent hangar he plans to build for a future aviation museum that will house the Connie, Miss Virginia, and other legacy aircraft in Dynamic's collection.
As for when fans of vintage airliners can expect to see Columbine II once again in the air, the timeline continues to shift. "I think three years from now I could see engines running," said Stoltzfus last November. When the Connie's restoration is complete, he wants to take the airplane to airshows so that visitors can walk through its historic cabin.
Whenever possible, the team does its best to ensure that the restoration remains a thrifty operation. "This is a very frugal model," says Stoltzfus. "If we need a part, we don't just run out and say 'We gotta have it right now.' We say 'Let's figure out what we can do.' "
The ingenuity and self-reliance that Stoltzfus speaks of can be seen in the work being done by Aaron Asche, the project's electrical lead. Asche has been helping to remove, replace, and modify the airplane's electrical systems. That's a challenge when some schematics for the Constellation are no longer available. "I don't have the drawing, but I do have the plane," he says. "So I simply follow the wire and draw it myself."
Using reverse engineering from existing wiring, Asche has been re-creating wiring diagrams using software that enables him to edit the maps by hand. The results are simple and easy to follow, but each map takes days of work. He estimates it took 30 hours to re-create the generator-control diagram.
Asche admits his work can be tedious, but the 31-year-old is an old soul with a love for history. As he lies on the aircraft's plywood floor searching for wiring, Asche is reminded of the magnitude of his job. "Sometimes you lose focus a bit—it's kind of just a plane," he says. "You really do have to think the president was flying on this thing. I'm up there looking at the wiring, and I'm looking at his desk. He was sitting there 65 years ago."
Columbine II is a symbol of the presidency in the time before jets, when air travel was slower but more glamorous, and Constellations were the queens of the sky.