A New Gallery Explores the American Fascination With Speed
From Glenn Curtiss's motorcycle to the SR-71 Blackbird.
The United States is a nation of speed. Throughout our history, we have shaped our lives and our world by embracing technologies that shatter time and distance not only in the air and in space, but also on land and at sea. The new gallery Nation of Speed explores the deep-rooted connection between people and machines through the history they made together. It will be unlike any exhibition you've seen at the Smithsonian's National Air and Space Museum.
During our planning for the galleries that will transform the National Mall building, Nation of Speed emerged as an opportunity for the Museum to explore that central theme in American history. Our colleagues at the National Museum of American History joined us on the curatorial team. Artifacts from that museum and from other public and private institutions and individuals have been combined with our exceptional aerospace artifacts to reveal new and interconnected stories of people and artifacts that define this significant aspect of our national experience. Nation of Speed will open in fall 2022 as one of the Museum's first Transformation exhibitions and is projected to be open for 10 years.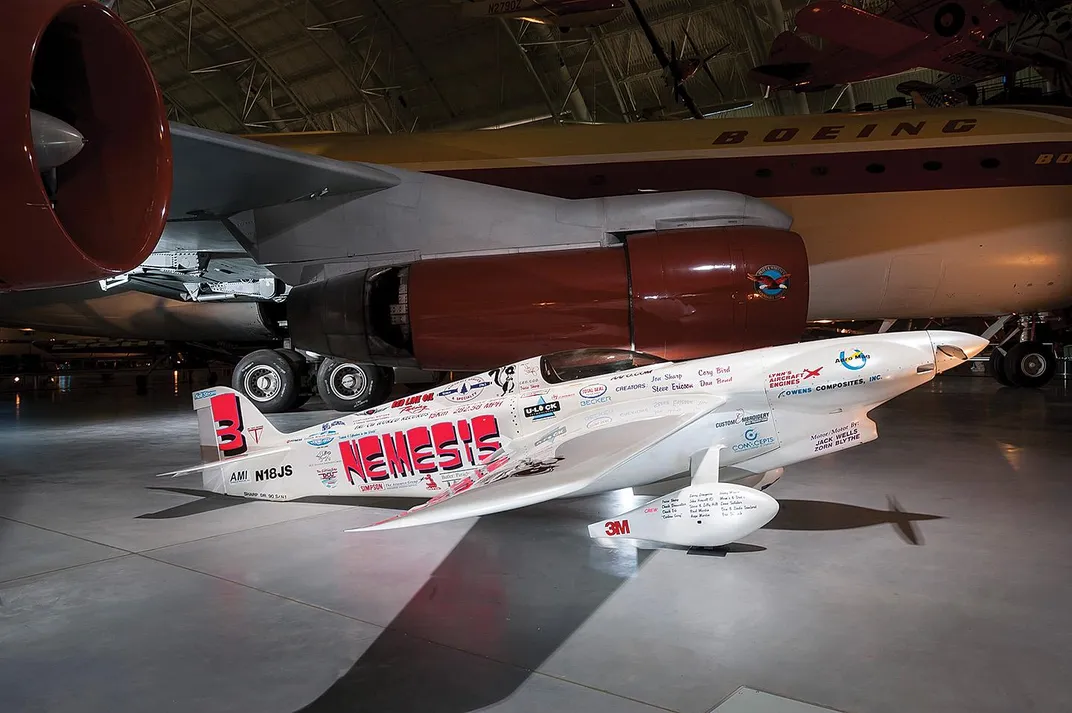 The sheer size of the United States motivated Americans to find faster ways to travel its vast distances. They've been driven to travel the country, the world, and beyond by the needs of commerce and by the need to explore. Americans connected the many diverse areas of the nation and the globe through networks of shipping lanes and canals, railroads, roads and highways, and air and (potentially in the near future) space routes. To enable travel over these passageways, industries developed to build ships, locomotives, automobiles, and aircraft.
As aircraft and automobile speeds increased, U.S. Air Force flight surgeon Colonel John Stapp pioneered safety standards that are reflected every time a pilot safely ejects from a damaged jet or a driver pulls on a seatbelt. His research into the effects of high-speed acceleration and deceleration on human subjects included riding the rocket sled, Sonic Wind No. 1. On December 10, 1954, the rocket sled, with 40,000 pounds of thrust, propelled Stapp more than 3,000 feet in a few seconds. He reached a speed of 632 mph, an experience that earned him the nickname "Fastest Man on Earth." Sonic Wind has been fully restored and will go on display for the first time at the Smithsonian in Nation of Speed.
The American love for speed made motorsports a favorite national pastime. Pilots and drivers, builders, manufacturers, and their racing and record-setting vehicles all became celebrities as they made it to the winner's circle. In their need for speed, many competitors broke through class, gender, racial, and accessibility barriers. Their reach for the competitive edge harnessed the technologies of speed.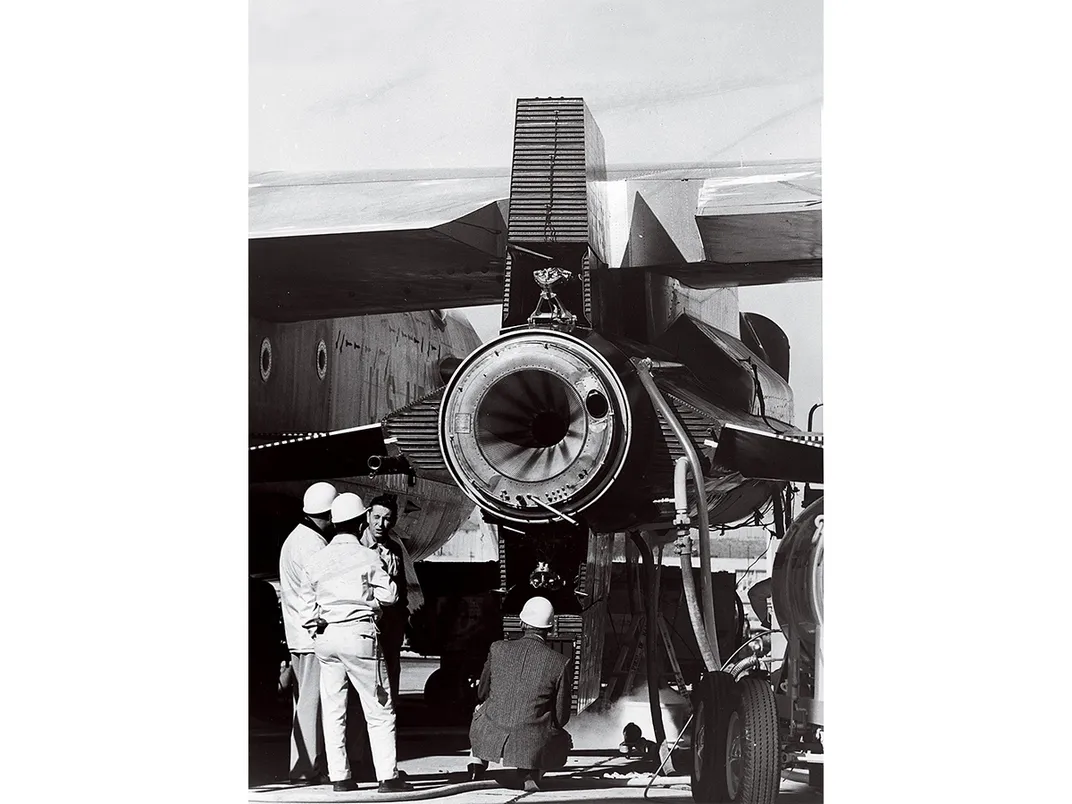 Visitors to Nation of Speed will see an impressive array of winners and their triumphant vehicles: aviation pioneer Glenn Curtiss and his world-record V-8 motorcycle; Roscoe Turner with his mascot Gilmore the flying lion (preserved through taxidermy) and his Thompson Trophy-winning RT-14 Meteor air racer; Indianapolis 500 champion Mario Andretti and the STP Hawk No. 2; NASCAR legend Richard Petty with the Pontiac he raced to his 200th victory; and unbeaten air racer Jon Sharp and the Nemesis DR90. Sharp's Nemesis is the most successful aircraft in air racing history, winning 47 of its 50 contests from 1991 until its retirement in 1999, including nine consecutive Gold-level races at the National Championship Air Races in Reno, Nevada.
Nation of Speed also investigates the barriers that some people had to overcome in order to compete in motorsports and set speed records. The perseverance and tenacity of these competitors—aviator Jackie Cochran, the Black American Racers auto-racing team, wounded Marine-turned-racer Liam Dwyer, and land-speed motorcycle racer Erin Sills— reveal the ever-broadening door to participation for all provided by the pursuit of speed. The artifacts flown or driven by these heroic contenders will be on display in the gallery.
Whether at a racetrack on the ground or watching racers in the sky, spectators are an essential part of motorsports. A new acquisition for Nation of Speed and the Museum included a collection of artifacts worn at the National Championship Air Races in Reno by the raucous, fun-loving, and orange-clad group of fans called Section 3.
From the vantage point of the grandstands, the death-defying risks of speed hold two seemingly contradictory desires among the public. Spectators want to watch brave individuals win and push the limits of technology—but they also thrill to witness a crash when things go horribly wrong. To illustrate the sensational side of speed as spectacle, Nation of Speed will display daredevil Evel Knievel's patriotic red, white, and blue racing suit and Harley-Davidson XR-750 stunt motorcycle.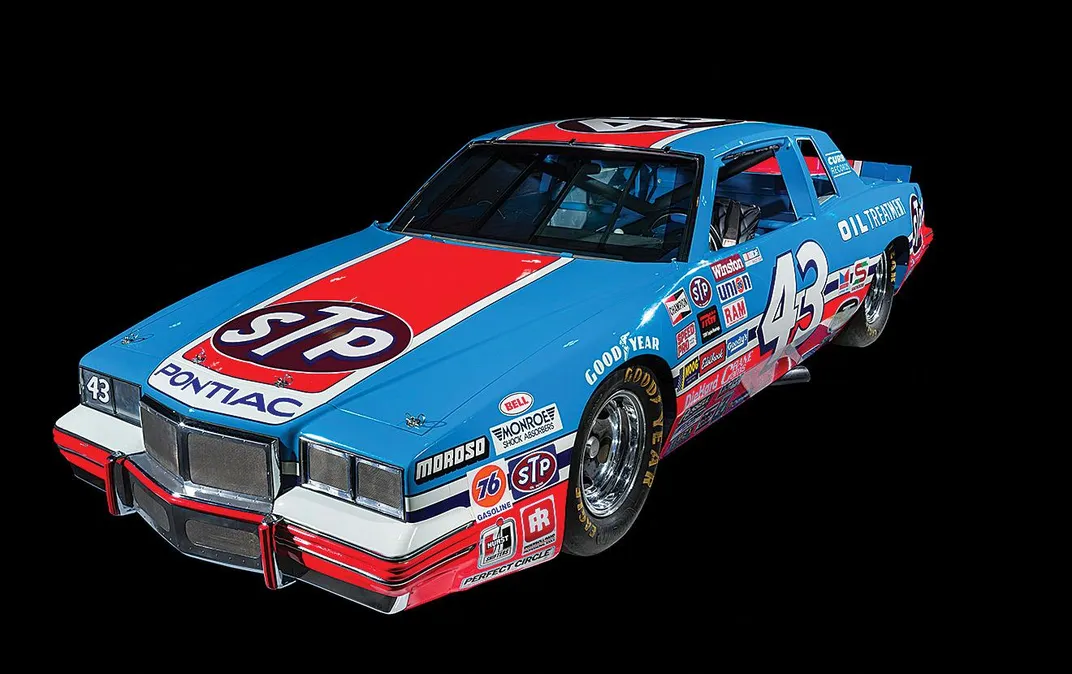 Speed also facilitated national defense during the cold war. Two major military and technological breakthroughs occurred during the decades after World War II: high-speed jet aircraft and the intercontinental ballistic missile (ICBM). The international arms race that fueled their development transformed warfare and promised the potential destruction of the world in minutes rather than the years of devastation caused by conventional warfare. Gallery visitors will see some of the high-speed, cold-war technologies that brought the world to the brink of ruin: a Mark 4 reentry vehicle and XLR-91 engine from a Titan I ICBM and a pressure suit and J58 turbojet engine from the world's fastest jet-powered aircraft, the Mach 3+ Lockheed SR-71 Blackbird. To push the boundaries of performance even highter, test pilots flew high-speed research aircraft like the Mach 2 Bell X-2 and the hypersonic North American X-15, and Hollywood made them legends.
Along the way, speed became an inherent part of American culture. People of all ages and backgrounds embraced speed in all facets of everyday life. This pervasiveness will be reflected in a display of smaller and more personal artifacts and audiovisual and mechanical interactives. For generations, children and adults have played with speed, design, and competition at home and on the playground with their Hot Wheels cars and Barbie Corvettes, rubber-, gas-, electric-, and imagination-powered model airplanes, solid rocket-fueled Estes rockets, and Star Trek and Star Wars science fiction toys that propelled them to galaxies far, far away. The "Need for Speed" interactive explores the cultural embrace of speed in cinema and popular music through the themes of  "danger," "style," and "freedom." The real and mythical lives of speed-hungry pilots, drivers, actors, and musicians featured prominently in Jan and Dean's classic street racing song, "Dead Man's Curve" (1964), funk band War's anthem, "Low Rider" (1975), and the movies Bullitt (1968), Top Gun (1986), Days of Thunder (1990), and First Man (2018).
Nation of Speed also has a fully equipped garage, or "speed shop," featuring devices that will allow visitors to experience work on a fast machine. Among other activities, they will be able to disassemble a Ford Flathead V-8 and change the wheel on a Triumph race car. Overall, they'll learn about the culture of gearheads—hot rodders, tuners, and mechanics—set on building the most stylish and fastest vehicles imaginable.
Jeremy R. Kinney is associate director for research and curatorial affairs at the Smithsonian Institution's National Air and Space Museum. He is lead curator for the new Nation of Speed Gallery.
Nation of Speed is made possible through the generous support of Rolex.