Could You Fly a Sabre?
The challenge of handling a 1950s MiG killer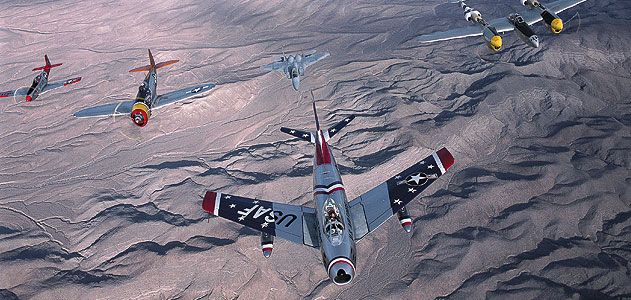 Dominant in dogfights more than a half-century ago, the North American F-86 Sabre reigned long before fighters were designed to be so twitchy that pilots needed computers to fly them. U.S. and Royal Air Force pilots have called the F-86 the best-handling fighter of its time, and today pilots fly it at airshows. So if you want to fly a Sabre, how hard can it be?
You'd certainly need experience flying a high-performance jet, says Steve Kirik, who flew F-15s in the Gulf War and is now one of two Federal Aviation Administration examiners for Sabre pilots. After that, he says, "it's actually a fairly easy airplane to fly. There's no huge amount of skill required, but you'd want to step your way up to it. You'd want to fly the T-33 [two-seat trainer] first. If you can fly that, it's a natural stepping stone to the F-86."
Kirik is a first officer with United Airlines and a demonstration pilot with the Warbird Heritage Foundation, a group formed to preserve military aircraft in flying condition. "If you're a civilian and you wanted to get checked out, you'd go to someone who trains on the two-seat MiG-15, then get ground training and prepare for a practical test," he says. "Then someone like me would mentor you through. The examiner would do either a ground observation or a chase flight."
The Soviet-built MiG-15 is a good precursor for aspiring F-86 pilots because both aircraft share a "systems philosophy," says air racer John Penney of Evergreen, Colorado, the other FAA examiner (and the one who checked out Kirik). "They're both first-generation swept-wing fighters, although the F-86 has no wicked stall characteristics like the MiG-15. It's one of the reasons why the airplane enjoyed such a success rate in the Korean War." (According to the National Museum of the U.S. Air Force, Sabre pilots shot down 792 MiGs in Korea, and only 76 Sabres were lost.)
Of the dozen or so F-86 pilots in the Classic Jet Aircraft Association, "I would say maybe two-thirds of those who are qualified didn't have a former military fighter jet background," says Penney. "They are civilians, but they have experience in the T-33 or the L-39 [trainer, built by Czech manufacturer Aero Vodochody]."
"Any airplane, if you abuse it, can get you into a stall-spin situation," Penney continues. "But the F-86 has excellent control harmony, very good visibility, and good handling during landing approaches. It's a lovely machine."
Flying the F-86 is challenging in another sense though. You first have to find one. Rich Sugden, a former Navy flight surgeon in Jackson, Wyoming, found one of the rarest: He owns the only airworthy FJ-4B Fury in the world. The Fury was North American's Navy attack jet based on the F-86. He also owns a Canadian-built Sabre. "Every time I go to an airshow, Fury pilots come up to talk to me about [the airplane]," says Sugden. "Some of them had flown my airplane."
Only 21 Sabres are registered with the FAA (including some in museums), but Sabre pilots in the Classic Jet Aircraft Association estimate only about a dozen are airworthy in the United States—with about an equal number of active pilots who fly them. Almost all of the Sabres removed from U.S. service have been destroyed; Department of Defense policy is to de-militarize retired combat aircraft, a process that ensures they will never fly again. The only F-86A flying today went directly from the U.S. military to civilian hands, but it was salvaged in 1970, before the de-militarization policy was as carefully observed as it is today. Owned by a company in the United Kingdom today, it appeared at 20 British airshows this year (and is on this issue's cover). Sugden's FJ-4B also escaped destruction and flies at U.S. airshows with the team MiG Fury Fighters.
For most U.S. civilian owners and pilots, the first available Sabres arrived in a group from Canada in the 1970s, along with several CT-33 Silver Star trainers. Both fighters and trainers had been manufactured by Canadair under license and flown by the Royal Canadian Air Force. (Almost all of the 1,000 privately owned military jets in the United States have been imported from other countries, which flew them in their air forces. Sabres, for example, were flown by 31 countries besides the United States and Canada, including Britain, Germany, Italy, Iran, and Pakistan.)
Dale "Snort" Snodgrass, the U.S. Navy's highest-time F-14 Tomcat pilot, has flown both an F-86F and the Canadair CL-13 Mark 6 at airshows. "The Canadair Mark 6 is the ultimate version of the F-86," he says. "It has a slightly shorter wing, so it rolls a little faster. But with the shorter wing, it also turns a little slower." He adds: "It also has a much more powerful engine."
The first Sabres North American built in the late 1940s flew with a General Electric J47-GE-13. Though it was a step up from the piston engines of World War II-era fighters, the J47 was rated at just 5,200 pounds of thrust. On its Mark 6 variant, Canadair installed the Orenda 14 engine, giving the Sabre 7,200 pounds of thrust. "Quite a margin there," says Penney.
At transonic cruise, the pilot of either model will need to be mindful of the slightest control inputs, says Sugden. "Little tiny changes in pitch and roll produce rapid changes in altitude and bank angle. The F-86 is pretty stable, but at high speed it's very sensitive," he says.
Which makes it all the more jaw-dropping that a young Air Force mechanic, who'd barely flown in a small propeller aircraft, would take one up and live to tell the tale. "It would not be unbelievable, but I wouldn't recommend it," says Penney. His advice: If you don't have the training, leave the flying to those who do.
Paul Hoversten is the executive editor of Air & Space. He also wrote "D'oh! 10 Goofs in Space."