Bush Flying in Alaska
The former territory's first pilots didn't let snow, ice, and a lack of runways stop them from building a new industry.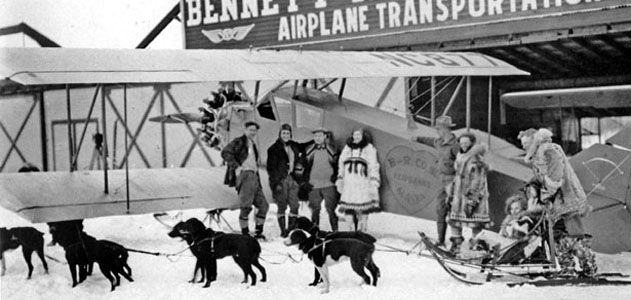 Jim Rearden, a World War II veteran, private pilot, former magazine editor, and resident of Alaska, has written nearly 30 books. His latest is Alaska's First Bush Pilots, 1923–30 (Pictorial Histories Publishing, 2009, $19.95), which documents how pioneering pilots such as Ben Eielson, Noel Wien, Harold Gillam, and Joe Crosson revolutionized transportation in Alaska by crisscrossing the land in open-cockpit airplanes. The following excerpt is from a chapter titled "Noel Wien Arrives at Fairbanks."
Shortly after completing his flight instruction, Noel Wien looked for a job of any kind that involved airplanes. His instructor introduced him to E.W. Morrill, a former Navy pilot who owned a World War I surplus Standard J biplane, which he planned to use for barnstorming. Noel agreed to work as his helper. He would build time as a pilot by helping to fly the Standard J cross-country between barnstorming gigs. He would also help maintain the airplane and collect money from passengers. In exchange, he was to receive food and lodging—no salary.
Early during the barnstorming tour, they arrived at a small Minnesota town over which Morrill performed the usual noisy barnstormer's gyrations to attract the attention of potential passengers. He then headed for a tiny field from which he planned to operate. To Noel, sitting in the front cockpit of the Standard J, the field looked too small to fly safely in and out of. Since Morrill was an experienced pilot, though, Noel wasn't too concerned. But when Morrill tried to land downwind and with a slight crosswind, Noel took notice.
Twice Morrill tried to land, having to pull up at the last moment when it became obvious the biplane wouldn't stop before running into a stand of corn. As Morrill tried the same approach for the third time, it was apparent to Noel that a landing could result in disaster. He seized the control stick, pushed the throttle wide open, and lifted the airplane clear. Once at a safe altitude, he glanced back at Morrill, who, to Noel's surprise, raised both hands, indicating he had relinquished the controls. Noel was now in charge.
He circled, flew an upwind approach over tall trees at the edge of the field, and dropped the Standard J onto the ground with a perfect three-point landing. The biplane stopped a few feet from the corn. Noel cut the engine and looked back at his boss. He had transgressed by seizing control from an experienced pilot, and the owner of the airplane at that. He expected a strong rebuke: Perhaps he would be fired.
Instead, Morrill said, "Good work. I couldn't tell which way the wind was blowing." Morrill further acknowledged Noel's judgment by telling him to fly the biplane out of the field. "We won't barnstorm from here," said Morrill. "The field is too small."
Copyright 2009 Jim Rearden. The book can be purchased from Pictorial Histories Publishing at 1-888-763-8350.
See the gallery at right for more photos.