Little Gems of Aviation History
A collector finds a company's identity in its service pins.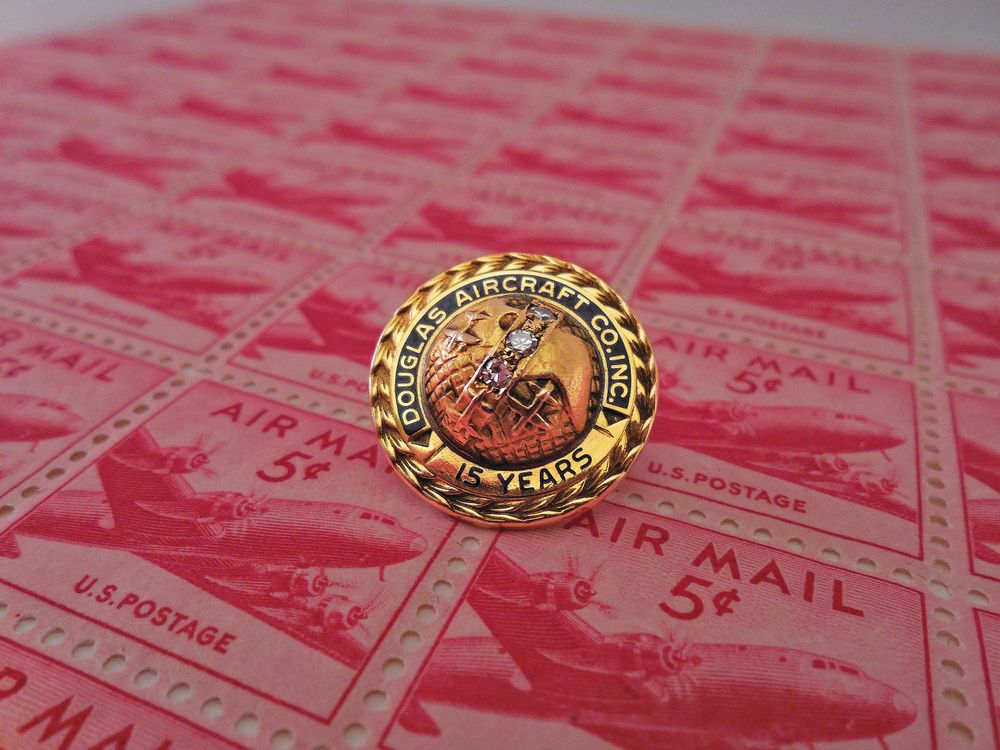 We would not have believed that so much history could be stuffed into so small a package, but Scott Libis convinced us that aerospace history is reflected in his collection of company pins, awarded to employees to celebrate years of service. Libis, a historian who worked in the aerospace industry for 30 years (on projects he's not allowed to name), was awarded a few pins of his own, but these beauties from an earlier age he purchased on eBay. The periodical section of his junior high school library was his favorite haunt; that's where he read copies of Aviation Week and Space Technology and "fell in love with the company logos."
"Each pin is a miniature work of art, bearing the brand logo and rich with symbolism in engraved detail," he says. "Wings and globes abound. Art Deco was a huge influence in nearly every pin design from the very early years of flight and continuing up until the end of World War II. What better way to convey a message of aerodynamics than with the use of streamlining, which was a popular Art Deco style." Libis' collection represents the vitality of the young U.S. aircraft industry and, through symbols of companies that no longer exist, chronicles its historic consolidation. He briefly tells each company's story. —The editors
WRIGHT AERONAUTICAL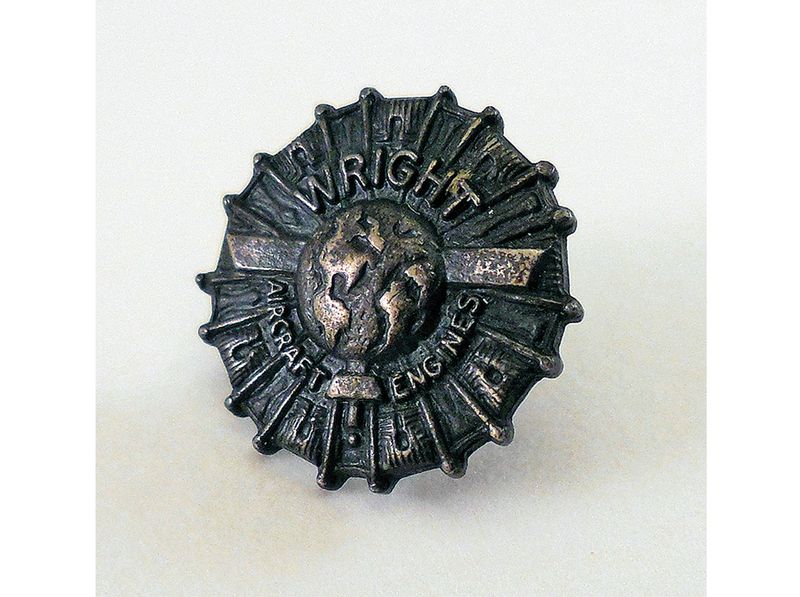 Three years after his brother Wilbur died, Orville Wright sold the company the two had founded in 1909. It became the Wright Martin Company in 1916, and after World War I, Wright Aeronautical, which would go on to become a giant in aircraft engine production. Wright supplied tens of thousands of engines to the U.S. military.
One look at this pin tells you exactly what the company made: radial aircraft engines!
DOUGLAS AIRCRAFT COMPANY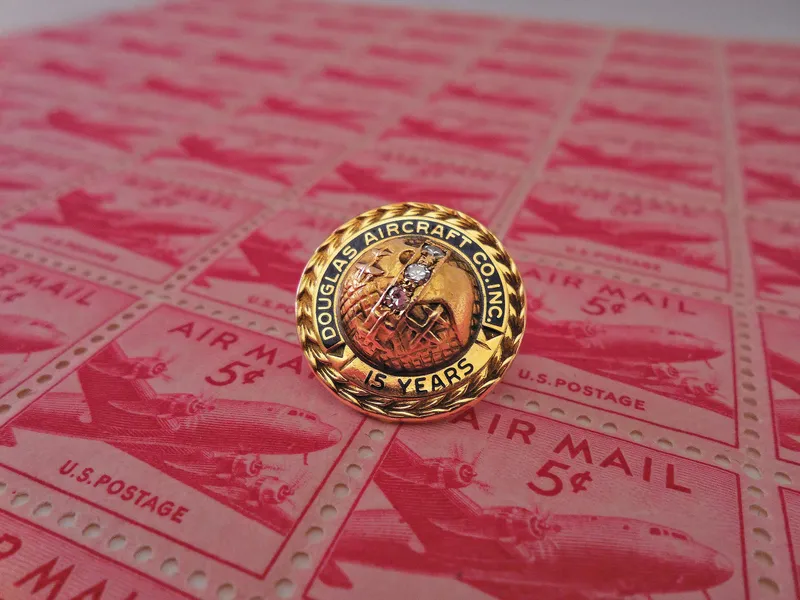 For its attempt to circumnavigate Earth by air, the U.S. Army Air Service selected a modified version of the Douglas DT-2 torpedo bomber. Known as Douglas World Cruisers, the airplanes embarked on their global odyssey in April 1924 and completed it that September. "First Around the World" became the company motto, symbolized on the pin (opposite) by three aircraft circling a globe.
Company founder Donald W. Douglas would build on this success by developing an airplane aimed solely at the commercial transportation market. The DC-3 gave his company a virtual lock on that market for the next three decades. Douglas ruled commercial and military aircraft sales with their innovative propeller-driven transports up until the late 1950s, when Boeing entered the scene with the pioneering, jet-powered 707.
CURTISS AEROPLANE AND MOTOR COMPANY
Glenn Curtiss started his company in 1916 and made it the largest aircraft manufacturer in the United States. Production surpassed that of the Wright Company (and later Wright Martin), which had chosen to pursue patent infringement lawsuits in an attempt to collect royalties, rather than to engage in research and development.
In 1911, five years before forming his company, Curtiss had been awarded the Collier Trophy for inventing the "hydroaeroplane," a landplane mounted on floats. He later developed the first successful flying boat, which didn't require floats because it could land in the water on its hull-like fuselage. When he perfected that design with the Model F flying boat, he received his first major order from the Navy. With a new surge in government orders at the onset of World War I, Curtiss built military trainers and Navy aircraft.
In 1929, the company merged with Wright Aeronautical, garnering top billing in the new Curtiss Wright Company. The "Curtiss" script on this pin was not a copy of Glenn Curtiss' signature; it was designed by one of his employees.
CURTISS WRIGHT CORPORATION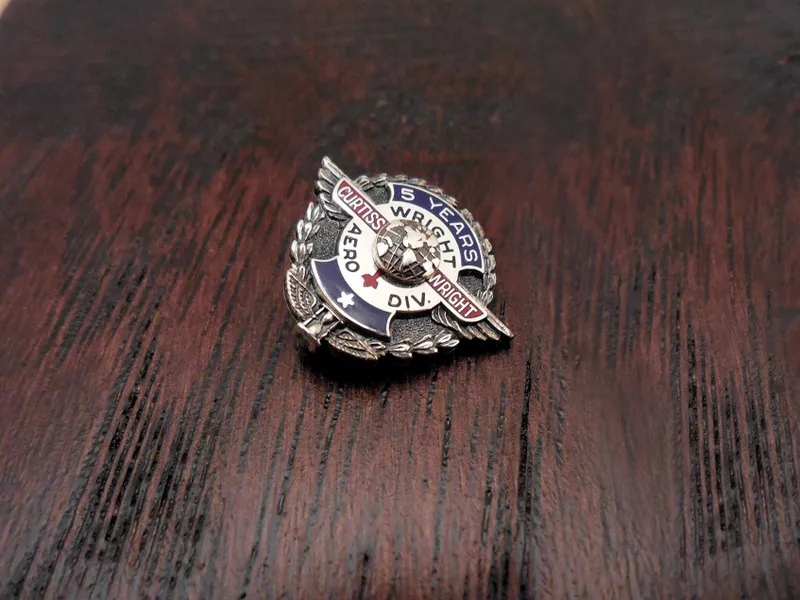 Curtiss Wright's most famous aircraft, the P-40 Warhawk, always calls to mind the exploits of Claire Chennault and the American Volunteer Group, the fabled Flying Tigers, who painted shark's teeth on the long snouts of their fighters. In the 1930s, the P-40 was the most advanced fighter of its time and, in a dive, the fastest in the world. Curtiss Wright also manufactured the C-46 Commando, a rugged military transport, and the SBC Helldiver, a two-seat replacement for the Douglas Dauntless. The three types contributed to an impressive sales total during World War II: more than 29,269 airplanes. Sales of Wright Aeronautical engines during this time period were also staggering, reaching a total of 142,840. Sales of Curtiss Wright aircraft and engines during World War II ranked the company second in earnings from U.S. government contracts, right behind General Motors.
Following the war, as the Jet Age beckoned, the company couldn't keep up with innovators like North American and Lockheed. Today, Curtiss Wright is no longer in the business of making aircraft or engines: It builds products for the energy industry and aviation parts.
THE GLENN L. MARTIN COMPANY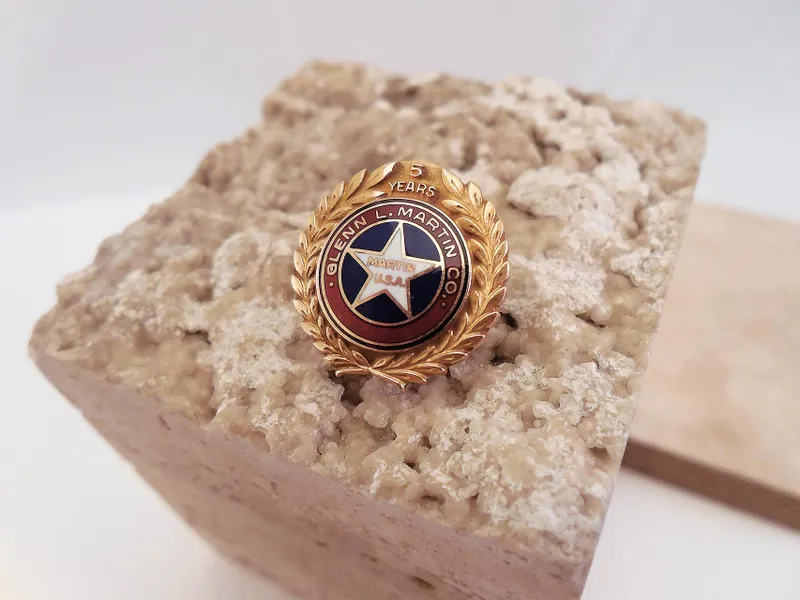 The Balfour Company designed a pin for Glenn Martin worthy of Julius Caesar: Olive branches wreathe its central star, and it is enameled in jewel colors: ruby and sapphire.
Flamboyant in dress and manner, Martin was one of aviation's founding fathers. He built his first airplane, with some assistance from his ever-present mother, in 1909. A gifted self-promoter, he quickly moved into stunt flying at carnivals, and even landed a flying gig in a Hollywood movie. He formed his first company in 1912, which later merged with the Wright Company. Disillusioned with what Wright Martin had become, he left and formed another company. Based in Cleveland, Ohio, the second Glenn L. Martin company became a springboard for aviation giants: Donald Douglas, Larry Bell, James McDonnell, and Dutch Kindelberger all worked there.
Martin's company created the first U.S. purpose-built bomber and during the 1930s and '40s became the preferred supplier of Navy flying boats. After World War II, Martin moved the company from military work into what he thought would be a more stable market. He invested in developing commercial transports, but built fewer than 150 before closing the lines. Martin died in 1955, just before the company shifted into the fledgling space market. In 1961, the company merged with American Marietta Corporation, becoming Martin Marietta, with spacecraft, missiles, and electronics as its new line of products. With the 1990s came a massive consolidation within the aerospace industry, and in 1995, Martin Marietta merged with the Lockheed Corporation, forming the industry giant Lockheed Martin.
GRUMMAN AIRCRAFT ENGINEERING CORPORATION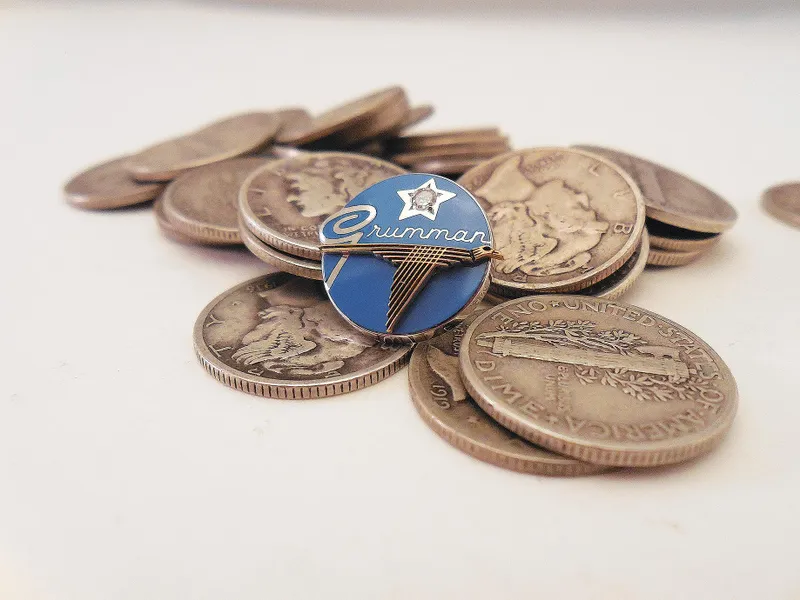 As a young naval aviator in 1917, Leroy Grumman was assigned as an engineer and test pilot to Loening Aircraft in Philadelphia. He devoted his subsequent career to building aircraft that could bring other young naval aviators back to the ship. Grumman became famous for its 'cats—Wild, Hell, Bear, Tiger, and Tom—which helped the Navy ensure military air superiority for generations. The company's crowning achievement occurred on July 20, 1969, when Grumman's Lunar Excursion Module safely delivered two astronauts to the surface of the moon; later it launched them back to the mothership. Grumman merged with Northrop in 1994, forming Northrop Grumman.
NORTH AMERICAN AVIATION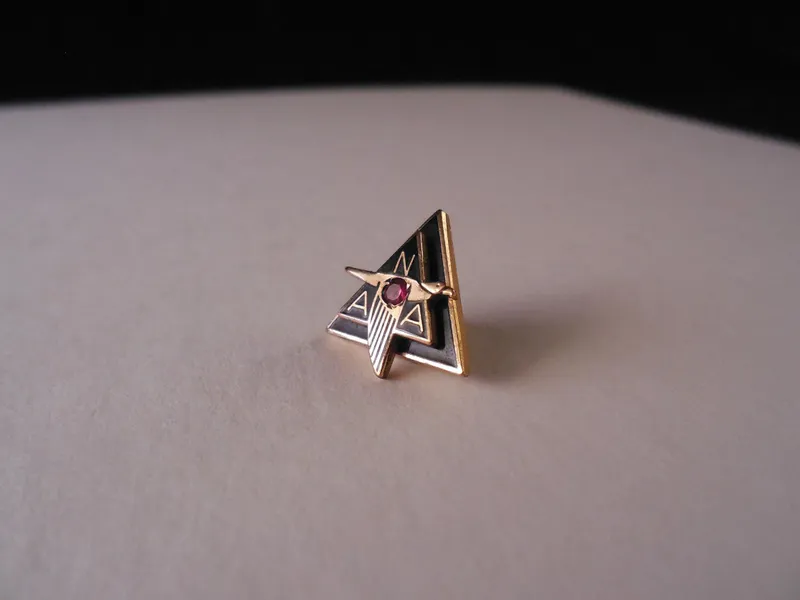 Creating a holding company is a common way to buy and sell interests in and manage related businesses, but in 1934, the U.S. government ruled that certain aviation holding companies were monopolies, charging excessive rates for airmail contracts. The resulting divestiture produced North American Aviation, which brought in James Howard "Dutch" Kindelberger to run the company. Kindelberger, along with Lee Atwood, would shepherd the company from the 1930s to the 1960s, producing some of the most iconic aircraft of all time: the T-6 Texan, P-51 Mustang, F-86 Sabre, and Apollo spacecraft. In 1967 North American Aviation was sold to Rockwell Standard, and then renamed Rockwell International. Rockwell International's Defense and Space Divisions would eventually be sold to Boeing in 1996. Stylized eagles (see Grumman's pin) were popular in aviation symbology.
VULTEE AIRCRAFT CORPORATION
The Aviation Corporation (AVCO) holding company financed the formation of Gerard "Jerry" Vultee's Aviation Development Corporation in 1932. Vultee's prior experience in aviation had been with Lockheed Aircraft, where he worked with then up-and-coming engineer John Northrop on the design and construction of the wing for the fast Lockheed Vega. In 1936, the Aviation Development Corporation was renamed Vultee Aircraft Corporation and became an autonomous subsidiary of the AVCO, as directed by the Air Mail Act of 1934. Vultee's company became a big supplier of trainer, bomber, and fighter aircraft for U.S. and foreign military customers throughout the 1930s and '40s. Vultee would perish in an airplane crash long before his company's merger with Consolidated Aircraft formed Consolidated Vultee in 1943.
SEVERSKY AERO CORPORATION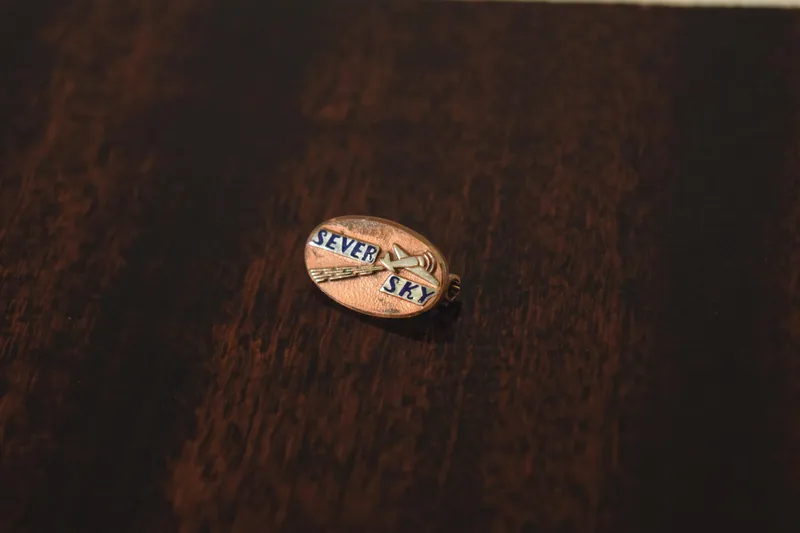 Shortly after World War I, famed Russian aviator and combat pilot Alexander P. de Seversky found employment with the U.S. War Department. Assigned to General Billy Mitchell, Seversky helped further the doctrine of airpower's ability to sink a battleship. In 1923, he founded Seversky Aero Corporation and created the beautiful, all-metal experimental SEV‑3. It dominated air racing in the late 1930s, achieving in 1937 an unheard-of average speed of 257 mph. One year later, Seversky's board of directors met in secret and removed him as company president, an action brought about by his poor management and secret dealings with Japan. The company was renamed Republic Aviation Corporation, and the SEV-3 evolved into the superlative P-47 Thunderbolt. The pin is the most recent acquisition, and the most expen­sive: It cost $136.